Griffins stumble into playoffs to face Mounties
Updated: February 23, 2016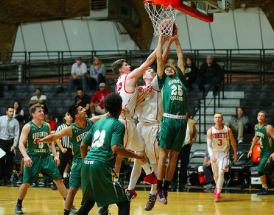 Grossmont battles Palomar on Jan. 22 / Hugh Cox photo
2015-16 GROSSMONT COLLEGE MEN'S BASKETBALL
By Chris Davis
© East County Sports.com
EL CAJON (2-23-16) — Four Pacific Coast Athletic Conference Northern teams – including the Grossmont Griffins – made the CCCAA men's basketball playoffs that are set to begin on Wednesday (Feb. 24) at various sites around Southern California.  That is one of the benefits of having the second best RPI in the State of California.
The PCAC North had the second-highest rated conference in the state power rankings. The Griffins' berth was the beneficiary of being in such a strongly-rated league. The Griffins (14-13) will face 14 seed Mt. San Antonio (16-10) out of the South Coast – North conference where they were co-champions with East Los Angeles.
PCAC North champion Mt. San Jacinto (25-5) was seeded fifth and will host 12th seed Cypress College on Friday (Feb. 26) in the second round of the playoffs.
Palomar College (17-10, 15th seed) will host Citrus College (14-13, 18th seed) on Wednesday at "The Dome" in San Marcos.
Sixteen seed MiraCosta (14-13) finished two games ahead of Grossmont for third place in the PCAC North and will host 17 seed Glendale Community College (12-14).  Glendale finished tied for third in the Western State – South.  The game will be held in Oceanside on Wednesday.
Grossmont was originally seeded 17th but due to conference foes not being able to face each other in the first game, they were flipped with Glendale.    ELAC was seeded fourth and will face the Cerritos/Venture winner on Saturday.
The Griffins lost their last four games of the regular season.  While Mt. SAC has won their last seven and five straight at home.
Grossmont and Mt. SAC have four common opponents: El Camino (both teams defeated the Warriors), Long Beach City (Mt. SAC def, Grossmont lost), El Camino-Compton Center (Mt. SAC swept the league series, Grossmont lost one game) and Imperial Valley (both teams defeated the Arabs, Mt. SAC at a neutral site, GC at IVC).
As far as records against teams in the playoff field, the Mounties played 11 games against teams that are in the CCCAA Northern and Southern California playoffs brackets.  Their record in those games was 4-7 with wins over College of the Sequoias, Fresno, Citrus and East Los Angeles (losses were to City College of San Francisco (twice), Santa Rosa Junior College, Fresno, Citrus, Chaffey and East Los Angeles).  Grossmont had 13 games against playoff qualifiers with a record of 4-9.  In those games, the Griffins had victories over San Diego City (twice), West Hills and MiraCosta.  Losses were to San Bernardino Valley, Mt. San Jacinto (three times), East Los Angeles, Palomar (twice) and Mira Costa.
Winners from Wednesday's games will play again on Saturday.  All game times on Wednesday are at 7:00 p.m.
Wednesday, Feb. 24 Schedule (All games at 7:00 p.m., unless doubleheader with women's playoff game)
(20) Ventura (19-9) at (13) Cerritos (20-9)
(19) Grossmont (14-13) at (14) Mt. San Antonio (16-10)
(18) Citrus (14-13) at (15) Palomar (17-10)
(17) Glendale (12-14) at (16) MiraCosta (14-13)
Saturday, Feb. 27 Schedule (All games at 7:00 p.m., unless doubleheader with women's playoffs game)
Glendale/MiraCosta winner at (1) Saddleback (27-1)
Citrus/Palomar winner at (2) San Bernardino Valley (28-3)
Grossmont/Mt. San Antonio winner at (3) Chaffey (22-6)
Ventura/Cerritos winner at (4) East Los Angeles (24-3)