Unstoppable Stowers gets Pats past Lancers
Updated: February 24, 2016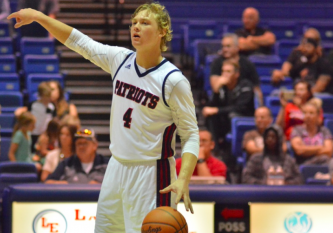 Stowers
2015-16 EAST COUNTY PREP BOYS BASKETBALL
By Bill Dickens
© East County Sports.com
EL CAJON – The Christian Patriots were led by 27 points from KYLE STOWERS to set down the Hilltop Lancers, 63-58, and advance the Pats to Thursday's (Feb. 25) Division III quarterfinal against Bonita Vista at the RAC at 6 p.m.
Due to a conflict with the San Diego CIF Masters wrestling tournament this weekend, the Patriots of Christian have had to jockey their basketball practices and playoff games in the Division III encounter.
Since the wrestling event is held at the Ryan Athletic Center, home of the Christian High basketball teams, the first round playoffs were moved up a day.
The Patriots (18-8) pranced in front of visiting Hilltop (13-16) 23-15 in the first quarter, but saw their lead shaved to 32-30 by intermission.
In the third quarter Christian swung the momentum back into its huddle with an 18-11 scoring spread.
"We played pretty well out of the gate – kept control of the game," said Patriots assistant coach TIM BROWN.
However, the Lancers kept pecking away, leaving the Patriots with a 55-54 edge with three minutes left in the game.
Once again Stowers came up big, sinking an and-one to make it a four point lead.
"It made it a two possession game the rest of the way," Brown said.
Power forward TRAVIS BALLARD banged in 14 points, crashed the boards for 12 caroms and rejected two shots for Christian.
DOMONIC BRISTOL rolled an impressive double-double of 15 rebounds and 10 points for the Patriots.
Christian:  Kyle Stowers 27 (3 reb, 2 ast, 1 blk), Travis Ballard 14 (12 reb, 1 ast, 2 stl, 2 blk), Dominic Bristol 10 (15 reb, 3 ast, 1 stl), David Todd Jeremiah 7 (6 reb, 3 ast, 1 stl), Jacob Sandusky 4 (2 reb), Grant Taylor 3 (2 reb), Layne Larsen (1 reb, 1 ast).