Eagles advance to semis; Patriots head to finals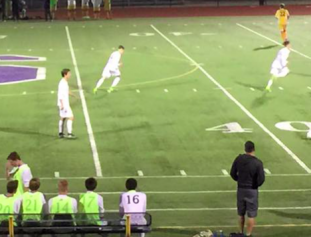 Santana competes in its playoff game with Serra on Saturday night in Santee.
San Diego Section Championships
DIVISION II
Quarterfinals—Saturday's Results
Granite Hills 4, Escondido 0 – The Eagles led 3-0 at halftime and will face San Marcos on Wednesday, March 2.
Richard Flores scored twice for the Eagles, while J.J. Gaeir and Nick Matthews also scored for Granite Hills.
Semifinals—Wednesday's result
San Marcos 3, Granite Hills 2 – The Eagles were eliminated  in a shootout after the teams finished tied, 2-2.
Granite Hills led 1-0 at halftime.
J.J. Gaeir and Aaron Shein scored for the Eagles in regulation.
DIVISION V
Semifinals—Saturday's Results
Christian 4, Brawley 3 (OT) – The Patriots advanced to the championship game in a wild finish with Brawley that went to overtime. The Patriots led 1-0 at intermission on the road.
Final—March 4, 7:30 p.m., Madison High
DIVISION III
Quarterfinals—Saturday's Results
Del Norte 2, West Hills 1 – The game was tied at halftime.
DIVISION IV
Quarterfinals—Saturday's Results
Preuss UCSD 2, Helix 1 – The Highlanders lost on the road.
Serra 2, Santana 1 – The Sultans lost to Serra on their home field after leading at halftime, 1-0.