Matadors have trouble guarding Crescenta's Shinn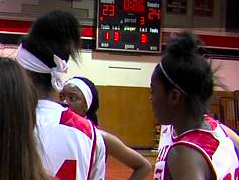 Mount Miguel girls huddle during a time out early in the third quarter Wednesday night in Spring Valley.
2015-16 PREP GIRLS BASKETBALL – SoCal Regional Playoffs 
By James McHugh
© East County Sports.com
SPRING VALLEY (3-10-16) – The Mount Miguel Matadors met the same fate as every other girls basketball team in the San Diego Section on Wednesday night (Mar. 9), the end to their season.
The Matadors played a tough Crescenta Valley team close for most of the night, battling back from as much as an 11-point fourth quarter deficit to close within striking distance. The Falcons walked away with a 57-55 victory however, and Mount Miguel's lack of a point guard came back to haunt them once again. When the Matadors lost LAILA SMITH to an ACL & MCL tear earlier in the season they knew there was an uphill climb ahead.
On Wednesday night, SATERA BATES once again tried to put the Matadors on her back with a 14-point performance but the Falcons were simply too much for the Matadors to muster. DESTINI ANDERSON led Mount Miguel with 18-points on 6-11 shooting and 6-9 from the free throw line. CAMARA DOUGLAS put together a solid night as well, bringing down six rebounds and connecting on 5-8 shots from the field for 12 points.
Mount Miguel limited Crescenta Valley's leading scorer Alisa Shinn to three first half points. Shinn was also a dismal 1-5 from the charity stripe in the first two quarters. In the second half Shinn came to life and guard Michelle Gee weaved her way through Matador defenders to get several open looks for Shinn in the middle. Shinn finished the night with game highs of 26 points and 16 rebounds.
Josie Brock also nabbed 10-rebounds for the Falcons, but Mount Miguel limited the Falcon captain to just 2-13 shooting on the night, including a trio of shots blocked by Douglas.
Crescenta Valley carried a six point lead into the second quarter at 19-13, Mount Miguel countered to take a one point lead into the break at 23-22. The Falcons used a 9-4 run to close out the third with a 41-35 lead.
Midway through the fourth quarter things seemed to have completely unraveled for the Matadors. Josie Brock banked a, well off center, three-pointer for Crescenta Valley and the Falcon lead grew to 52-41. Mount Miguel wasn't quite done yet. Destini Anderson, Satera Bates and TIAJA BENNETT led a 6-0 run and pulled the Matadors within four when Camara Douglas landed one of two free throws.
With 30.4 seconds to play the Matadors got a shot at a game tying three-pointer but the attempt by Bates was long. With just 2.4 to play the Matadors found themselves down three but at the free throw line. Destini Anderson made the first attempt to close within two points. At that point Mount Miguel had little choice but to miss the final free throw on purpose and hope for a miracle. Anderson missed and the Matadors came up with the offensive board but couldn't manage to get a final shot off before the buzzer sounded and the lights dimmed on their 2015-2016 campaign.
After the game coach ROBBIE SANDOVAL discussed the San Diego Section playoff system which saw his team play two section playoff games after they were defeated by Torrey Pines in the quarter finals of the Open Division. "I liked playing the extra games, I could go with it either way. I think maybe if we did it like the Southern Section does where you have a consolation bracket but then once you lose you're done, that might work."
"It's tough, we lost our point guard and Satera is probably trying to do too much but that's not her fault, she's been thrust into this role where she doesn't get to play her natural position," Sandoval said of his offense which seemed stagnant at certain points on the night. Though Douglas and ROZLYN PIERCE set a number of screens for Bates on the night, the majority of Bates' shot opportunities still had to be manufactured.
Destini Anderson was the lone Matador who continued to find holes in the Falcons' defense in the paint on the night. Anderson was 6-9 on her free throw attempts and completed six of her nine shots in the paint as well, slipping right past Shinn of Crescenta Valley on a number of occasions.
Mount Miguel would have likely had a rough road ahead with Mater Dei of Santa Ana looming in the next round. Instead the Lady Matadors will take a seat with 12 other San Diego Section squads and see if the county's Open Division teams can manage a better stroke of luck than that which befell them on Wednesday night.
Destini Anderson 18 (3 blk, 2 ast, 2 reb, 1 stl), Satera Bates 14 (6 reb, 4 blk), Camara Douglas 12 (6 reb, 6 blk), Tiaja Bennett 4 (3 stl, 2 reb, 1 blk), Michelle Corley 4 (4 reb, 1 ast, 1 stl), Amber Hard 3 (3 reb), Rozlyn Pierce (5 reb)