Back on at Petco: Monarchs, Wolf Pack, Braves play April 25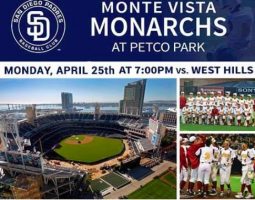 2016 EAST COUNTY PREP BASEBALL
By Chris Davis
© East County Sports.com
BALBOA PARK (4-15-16) — The San Diego Section of the California Interscholastic Federation has announced that the Monte Vista Monarch baseball team will indeed play at PETCO Park this year after all.
The Monarchs were scheduled to play West Hills last week.  However, since rain fell in San Diego and the Padres wanted to make sure that the field at PETCO was not overused during a time of vulnerability, all seven games were not played.
The CIF-SDS has worked out a new date for the make-up games at the home of the 2016 MLB All-Star game for a pair of Monday's.  Monte Vista will now face West Hills at 7 p.m. on Monday (Apr. 25).
El Cajon Valley will also play their rained out game vs. Lincoln at Petco Park at 10 a.m. Monday (Apr. 25).
CIF-SDS officials have stated that the tickets for the rained out games will be good on the new date.