ROUNDUP: Eagles extend win streak; Helix, El Cap, Henry win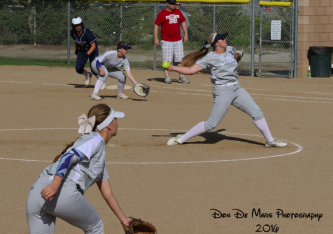 Granite Hills delivers to Steele Canyon on Friday in Spring Valley.
2016 EAST COUNTY PREP SOFTBALL
By Adam Paul
© East County Sports.com
SPRING VALLEY – In Grossmont Hills action, Friday (Apr. 15) the Granite Hills Eagles extended their winning streak to six games, as they soared their way past the host Steele Canyon Cougars, 7-2.
The Eagles looking to extend their monster roll got it going in the top of the first as leadoff batter KAREN CREECH (2-3, 2 R) drew a walk, CASSIDY SHEW (2-4, 2 R) singled, HALLE KYLER (1-3, 2 RBI, R, 2B) sacrificed both over, JESSIE LAPIERRE (1-4, RBI, R) hit a ball to short where SAMANTHA MILLER committed an error which allowed Creech to score to make it 1-0 and Shew to move to third and Kyler advance to second base. The next batter RACHEL RILEY (1-3, 2 RBI) was able to work the count before drawing a walk that scored Shew to give the Eagles a 2-0 lead. This would be all they would get before the inning ended.  However the lead didn't last for the Eagles as starting pitcher CATIE DOBBS walked both AUDREY BAGGE (1-3, R) and ASHLEY TAVIZON (run). Dobbs retired the next two batters but JJ VENZOR (1-3, 2 RBI) would rip a two out triple to right field that would score both Bagge and Tavizon to knot the score at 2-2.
The Eagles in the top of the third inning were able to push across a run to give them the lead of which they wouldn't relinquish. KAYLA MACK (1-4, RBI, R) laced a one out single up the middle to center field, MADISON CALDWELL stepped to the plate where she worked the count and fouled off a ton of pitches before she smashed a ball to left field but MACKENSIE PEARLSTEIN misplayed it which allowed Mack to score to give the Eagles a 3-2 lead. Granite Hills in the top of the fourth tacked on a couple more runs as Kyler blasted a 2-run double that scored both Creech and Shew to extend the lead to 5-2.
The final couple of runs came in the fifth and sixth innings for the Eagles.  Kyler who had come into relieve Dobbs did her work in the circle shutting down the Cougar offense and did so with her brand of dominance.
Dobbs tossed 2 innings, giving up 2 runs of which both were earned while walking 3 and striking out 1. Kyler came in and tossed 5 innings for the victory in which she gave up only 1 hit, 0 runs, walked 2 and fanned 7.
Taking the loss was NIKKI DEPAOLA who went 2/3 of an inning, giving up 2 runs on 1 hit while walking 2 and striking out 2. Relieving her was MAKAYLA MCCARTHY who tossed 6 1/3 innings, giving up 5 runs of which 3 were earned on 8 hits and struck out 3 on the day.
*
HELIX 14, MOUNT MIGUEL 0 – The Helix Highlanders traveled to Spring Valley, Friday (Apr. 15) to take on the host Mount Miguel Matadors in Grossmont Valley league action and came away with the 14-0 victory in 5 innings.
Doing a lot of damage for the Highlanders was DESTINI BULLOCK who went 1-3 while scoring 3 runs and wreaked havoc on the base paths as she swiped 4 bases. She also drove in a couple of runs as well. VICTORIA CYMAN drove in 3 runs as well for the Highlanders.
Garnering the victory was SHAREENA LACHANCE as she tossed 5 innings of 2 hit ball while fanning 9 on the day.
By Adam Paul, © EastCountySports.com
*
EL CAPITAN 22, EL CAJON VALLEY 0 (5 innings) – The El Capitan Vaqueros traveled to El Cajon Valley Friday (Apr. 15) and found their offensive groove in their 22-0 victory in 5 innings.
The Vaqueros found their mojo offensively as they scored runs a plenty in the run-rule victory.
By Adam Paul, © EastCountySports.com
*
PATRICK HENRY 7, CHRISTIAN 5 – In an Eastern league tilt the Patrick Henry Patriots traveled to El Cajon to take on the Christian Patriots and had to rally late for the 7-5 victory, Friday (Apr. 15).
Things early on looked like a major upset in the making as the Christian Patriots were able to take a 2-0 lead early over the Patrick Henry Patriots in the bottom of the second inning. Leadoff batter ANNA SHERBURNE (2-3, 3 RBI, 2 R, 2 HR) smashed a solo blast and SHANNON MCMAHON (1-3) singled and she would come into score a couple of batters later when LAUREN SHERBURNE knocked her in on a sacrifice fly. They tacked on another run in the bottom of the third when SILENT RAIN ESPINOSA (2-4, 2 R) singled and would come into score when ASHLEY CARTER (1-3, RBI) roped a double to make it 3-0.
Patrick Henry finally broke through in the top of the fifth inning as they rallied to take a 4-3 lead. Leadoff batter CASSIE VAN TIL (2 R) walked, HANNAH MCEWEN (3-4, 2 RBI, 2 R, HR, 2B, SB) singled, CRISTIONA CACCAMISE (1-3, RBI, R) singled scoring Van Til, DANI ROMERO singled in McEwen and ANDREA WRIGHT (2-4, 2 RBI) singled in both Caccamise and Romero.  However the Christian Patriots would retake the lead in their half of the fifth when Espinosa singled, a couple batters later Carter sacrificed her over and Anna Sherburne blasted a 2-run bomb to give Christian a 5-4 lead.
More excitement occurred in the top of the sixth as leadoff batter TATYANA GUERRERO drew a walk, Van Til reached on a fielder's choice as Guerrero was forced out. Next up was McEwen who worked the count in her favor 2-0, she proceeded to on the next pitch club it into right field all the way to fence which scored Van Til, McEwen was speeding around the bases managed to get all the way around for a inside the park homerun. The 2-run inside the park tripper gave Patrick Henry a 6-5 lead. Next up was ANYA VANDERSIP (2-4, RBI, R, HR) who promptly jacked a shot over the fence for the unconventional back to back trippers which extended the lead to 7-5.
Henry ace MADISON JAMES who came into relieve RUBY GONZALEZ in the 5th inning was able to shut down the Christian offense in the sixth and seventh innings. In the seventh inning she retired Christian 1-2-3 including a strikeout to end the game.
James got the victory for Patrick Henry as she tossed 3 innings, giving up 2 runs of which both were earned on 3 hits while striking out 2.  Gonzalez who started tossed 4 innings giving up 3 runs of which 2 were earned on 5 hits while striking out 3.
By Adam Paul, © EastCountySports.com
*
SCRIPPS RANCH 7, SERRA 1 –  The Serra Conquistadors traveled to Scripps Ranch to take on the Falcons and unfortunately dropped a 7-1 Eastern league contest, Friday (Apr. 15).
Serra scored its lone run in the top of the fifth as AMBER WOZNIAK (2-4, R) singled, advanced to second on the walk by VIVIAN TOMOVICH and would score on a Falcon error. This put the score at 3-1 Falcons, however Scripps Ranch tacked on 4 more runs over the next two innings to round out the scoring. Unfortunately that was the only run on the day for the Conquistadors as they couldn't muster enough offense.
By Adam Paul, © EastCountySports.com