Knights' Lewis strong in start until miscues aid Olympians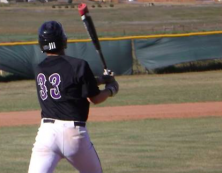 2016 EAST COUNTY PREP BASEBALL
By Ramon Scott
© East County Sports.com
CHULA VISTA (4-20-16) — Two big innings were enough for Olympian High School to take a 10-2 victory over Foothills Christian in a non-league contest on Tuesday (Apr. 19).
Foothills got a strong three innings from sophomore starter BAILEY LEWIS, as he took a 1-0 lead into the bottom of the fourth.
The Eagles' Austin Mead, however, came up big at the dish and on the hill, as he racked up three RBIs on two hits. He doubled in the fourth inning and tripled in the sixth inning.
Mead struck out eight hitters and allowed one earned run on seven hits and one walk over six innings.
Foothills' KONNER VON DER LEITH went 3-for-3, while junior teammate BAILEY LINK went 2-for-3 with a run scored. JELANI BROWN and LIAM CAREY also singled for the Knights (5-8).
Everything was working at the plate for the Eagles, as they scored six runs. Olympian (10-8) scored in the fourth on an RBI single by Ian Spillane, an error, a two-run double by Gabe Malagamba, and an RBI double by Mead.
The Eagles added four more runs in the bottom of the sixth, as Mead tripled, bringing home Brandon Ridgels and Malagamba to kick things off.
Lewis struck out five over five innings for FCHS, but the Foothills' defense committed six errors in the contest.
<pre>
EAGLES 10, KNIGHTS 2
Foothills Christian (8-5) 001 010 0 –  2 7 6
Olympian           (10-8) 000 604 x – 10 9 1
Lewis, Stallard (5) and unvail. Mead, Serrano (7) and unavail. WP-Mead. LP-Lewis.
</pre>