Master technician Rios gets PCAC award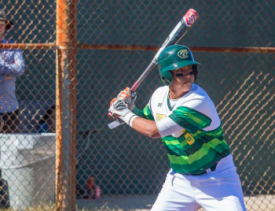 2016 GROSSMONT COLLEGE BASEBALL
By Chris Davis
© East County Sports.com
SAN DIEGO (5-10-16) — ANDREW RIOS had a heck of a Sunday (May 8), he went 4-for-7 over the course of two games against Cerritos College.  That performance earned the sophomore Pacific Coast Athletic Conference Co-Male Athlete of the Week, for the week of May 2-8.
Rios (Mater Dei, San Diego) went 2-for-4 in the second game of the three game CCCAA Regional round against Cerritos.  Both hits were doubles in the 3-2 victory by the Griffins.
In game three of the series, the outfielder ignited the offense in a 6-2 victory with his fourth home run of the season.  He added a single an inning later.
Fifth-seed Grossmont (29-10) will host nine-seed Bakersfield (28-10) this weekend for single games on Friday, Saturday and Sunday (May 13-15) at Noel Michelsen Field.