Griffs' Strong heads local list of PCAC weekly awards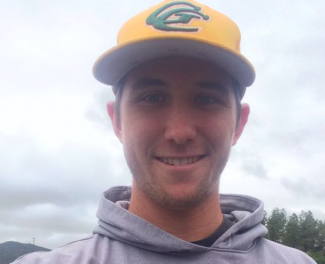 Grossmont P Alan Strong
2016 GROSSMONT COLLEGE BASEBALL
By Bill Dickens
© East County Sports.com
SAN MARCOS (5-17-16) — Grossmont College baseball pitcher ALAN STRONG has been named Pacific Coast Athletic Conference Men's Athlete of the Week for the week of May 7-15.
Strong, a sophomore right-hander from Santana High School who has signed with UNLV, threw seven innings of three-hit ball, striking out 13 batters and walking three, as the Griffins won 5-2 in the first game of a 2-0 Super Regional sweep over Bakersfield.
Strong ran his win-loss record to 5-2. For the season, he's surrendered only 79 hits in 91 1/3 innings, striking out 91 and walking 19, and has an ERA of 2.36. He helped boost Grossmont into the upcoming weekend's Southern California Divisional Series on the road against Cypress.
Honorable mention went to track & field athletes Chris Ross and Laronn Hill of San Diego Mesa, and track & field athletes ALEX TEMPLETON and OSCAR SOTO from Cuyamaca.
Ross, a freshman, won the javelin with a throw of 188 feet, ½ inch (52.29 meters) at the Southern California Community College finals at Antelope Valley College.
Hill, a sophomore out of El Camino High School, got out 168 feet, 3 ¼ inches in the hammer throw to finish second in the SoCal finals.
Cuyamaca's Templeton, a freshman from Poway High School who also punts for the Grossmont College football team, cleared 6-9 ½ (2.07 meters) for second in the high jump at the SoCal meet.
And Soto, a freshman from El Cajon Valley High School who was the PCAC cross country champion in the fall, finished third in the 800 meters by running 1:53.38.
Ross, Hill, Templeton and Soto all advanced to the CCCAA State Community College Championships this upcoming weekend at Mesa's Merrill Douglas Stadium.