Foothillers come out slugging, stay alive; Helix, Valhalla out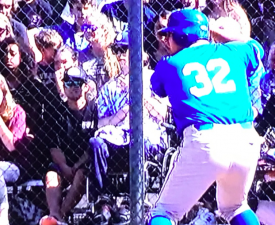 2016 EAST COUNTY PREP BASEBALL
By Bill Dickens
EastCountySports.com
LA MESA – The Grossmont Foothillers will not be denied. That is, when they have their backs to the wall they continue to scramble and now find themselves within two games of the San Diego Section CIF Open Division finals.
The Foothillers riddled La Jolla Country Day with a 15-hit attack in the third round of the playoffs and routed the Torreys, 9-2
Leadoff man KYLE PINEDA carried a heavy load with 2 hits and 4 RBI for Grossmont. He also delivered a 3-run homer in the fifth inning to help break the game open.
It turned into an offensive slugfest for the Foothillers who followed Pineda's lead to an 8-2 advantage.
STEVEN OUELLETTE, who has been a late season hitting star for the Foothillers, was 4-for-4 with 2 RBI and a run scored.
JESSE GARCIA also joined the hit parade with a 3-for-3 offensive surge.
KANNON ROMERO, who began the season as a closer coming out of the bullpen, limited LJCD to 6 hits and 2 runs while striking out 8 in a complete game effort. He improved his record to 7-2 overall.
RANCHO BERNARDO 7, HELIX 6 – Disaster struck the Helix Highlanders with two outs in the bottom of the seventh in Saturday's (May 28) San Diego Section CIF Open Division third round of the playoffs.
It was a total knockout as Jacob Gorman slammed a home run over the left field fence, Connor O'Brien slammed one to right center and Noah Kagaan drilled a walkoff shot to left center for the third home run in succession for the Broncos, which added up to a Rancho Bernardo victory.
It was a bitter defeat for the Highlanders, who were suddenly eliminated from the playoffs. The loss was pinned on sure-handed left-hander CONNOR KONISHI who was tagged for all three homers.
ERIC SMELKO was 3-for-5 with 3 runs scored and MATTHEW RICHARDSON was 2-for-4 in the losing effort for Helix (19-12).
TORREY PINES 6, VALHALLA 1 – The Valhalla upset train was derailed at Torrey Pines in Saturday's (May 28) Division I of the San Diego Section CIF playoffs.
Valhalla's offense sputtered with only 3 hits in what would be its final game of the season.
Despite coming up short against Torrey Pines, the Norsemen made a stronger showing in the post-season than they did in the regular season.
Valhalla received a strong pitching effort by CASEY O'SULLIVAN who surrendered only one run and 2 hits while striking out 3 in a three inning outing.
RILEY O'SULLIVAN did not have as much luck as he got cuffed around for 5 runs and 5 hits in a losing effort.
The Norsemen avoided the shutout in the fourth inning. LEWIS DIRKES singled to right and moved up a base on a sacrifice bunt by COLE HOWARD. COLE HENDERSON then singled to center and Dirkes raced to third. BROCK MOSIER then was safe on a squeeze bunt as Dirkes scored.
Fri., May 28, 2016
SDCIF – Third Round
Open Division
FOOTHILLERS 9, TORREYS 2
LJCD            ab r h bi Grossmont      ab r h bi
Greene dh        3 1 3 0  Pineda 2b       3 1 2 4
Springer p       0 0 0 0  Ouellette ss    4 1 4 2
Frankel rf       2 0 0 0  Lopez 3b        3 0 1 0
Nance p-c-cf     3 1 1 1  Farris rf       4 1 1 1
Holl c           3 0 0 0  Van Every rf-lf 0 0 0 0
Dhus 3b          3 0 1 0  Hulett lf-rf    4 1 1 0
Howe lf          3 0 1 0  Garcia 1b       3 1 3 1
Wylie 1b         2 0 0 0  Lombardo dh     4 0 0 0
Punches 1b       1 0 0 0  Tedokon c       3 2 2 1
Kawano 2b        3 0 0 0  Buchanan cf     2 2 1 0
Carvantes ss     3 0 0 0
TOTALS          26 2 6 1  TOTALS        30 9 15 9

  La Jolla Country Day (20-11) 101 000 0 – 2  6 2
  Grossmont            (22-11) 001 341 x – 9 15 0

GWRBI-Pineda (3).
E-Wylie, Dhus. DP-LJCD 2. LOB-LJCD 4, Gro 9. 
HR-Nance 3rd, solo; Pineda (2) 5th, two on. SB-Greene. 
 
PITCHING SUMMARY
LJCD              ip  h  r er bb so
 Nance           3.1  8  4  4  3  2
 Greene  L       1.1  5  4  1  0  1
 Springer        1.1  1  1  0  0  0
Grossmont
 Romero  W(7-2)  7.0  6  2  2  1  8
HBP-by Nance (Lopez).

BRONCOS 7, HIGHLANDERS 6
Helix            ab r h bi Rancho Bernardo ab r h bi
Smelko lf         5 3 3 0  Otsuka cf        4 0 1 2
Stronach 3b       3 0 1 0  Williams ss      4 1 2 0
Konishi cf        3 0 1 1  Mitchell rf      3 0 0 0
Richardson ss     4 1 2 1  Gorman 3b        3 1 1 0
Isbell c          3 0 0 1  O'Brien dh       4 2 3 1
Padilla dh        2 0 0 0  Kagaan lf        3 2 2 3
Brogan 1b         3 0 0 0  Coast c          1 0 0 0
Kovalcheck rf     2 1 0 0  Escobedo c       2 0 2 0
Peterson 2b       2 1 1 0  Walsh c          0 0 0 0
Chase p           0 0 0 0  Dean 1b          3 0 0 0
                           Sato 2b          3 1 1 1
                           Holcomb 1b       0 0 0 0
                           Hill p           0 0 0 0
                           Pelio p          0 0 0 0
                           Marquez p        0 0 0 0
TOTALS           27 6 8 3  TOTALS         30 7 12 7


  Helix          (19-12) 130 200 0 – 6  8 0
  Rancho Bernardo (24-9) 100 300 3 – 7 12 1

GWRBI-Kagaan. 
E-Coast. DP-Hel 1, RB 1. LOB-Hel 11, RB 7. 
2B-Otsuka. HR-Gorman 7th, solo; O'Brien 7th, solo;
Kagaan 7th, solo. S-Brogan. SF-Isbell.

PITCHING SUMMARY
Helix               ip  h  r er bb so
 Chase             6.0  9  4  4  1  0
 Konishi L(8-3)    0.2  3  3  3  0  0
Rancho Bernardo
 Pelio             1.0  2  3  3  4  0
 Marquez           3.0  4  3  2  1  0
 Hill  W           3.0  2  0  0  2  5
HBP-by Chase (Gorman, Kagaan). WP-Hill, Marquez 2.

Division I
FALCONS 6, NORSEMEN 1
Valhalla        ab r h bi Torrey Pines   ab r h bi
Dirkes 2b        3 1 1 0  Bramlett lf     4 0 1 0
CHoward rf       2 0 0 0  Reeves pr       0 1 0 0
Henderson ss     3 0 1 0  Rutledge rf     3 0 1 0
Mosier cf        3 0 1 1  Hurt 3b         2 1 0 0
CSt.Clair 1b     3 0 0 0  Trausch 1b      3 2 2 1
RO'Sullivan 3b-p 3 0 0 0  Bingham cf      3 1 1 2
Hageman dh       2 0 0 0  McCaskill c     2 1 2 2
CO'Sullivan p    0 0 0 0  Kim pr          0 0 0 0
Barba 3b         0 0 0 0  Patrick 2b      3 0 0 0
Tardiff p        0 0 0 0  Galuzzi dh      3 0 0 0
Heider c         2 0 0 0  Spencer p       0 0 0 0
Dunnam lf        2 0 0 0  Boone ss        3 0 0 0
TOTALS          23 1 3 1  TOTALS         26 6 7 5

  Valhalla      (5-28) 000 100 0 – 1 3 3
  Torrey Pines (20-12) 010 140 x – 6 7 1

GWRBI-None.
E-Henderson 2, CHoward, McCaskill. LOB-Val 2, TP 4. 
2B-Trausch, McCaskill. 3B-Bingham. SB-Kim, Reeves. 
S-CHoward, Mosier. SF-McCaskill.

PITCHING SUMMARY
Valhalla             ip  h  r er bb so
 CO'Sullivan        3.0  2  1  0  0  3
 RO'Sullivan L(0-1) 2.0  5  5  4  1  2
 Tardiff            1.0  0  0  0  0  1
Torrey Pines
 Spencer  W         7.0  3  1  1  0  9