NEW SUMMER LEAGUE PROMISES TO BRING SAN DIEGO TO BIG TIME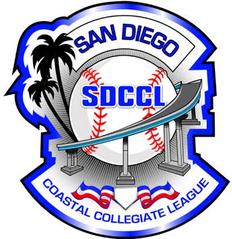 SDCCL
By Chris Davis
© East County Sports.com
SAN DIEGO (5-30-16) — In San Diego there has been traditionally just one summer baseball league in town.  The Western Baseball League was founded in 1998.  Then Team San Diego brought the Southern California Collegiate League to San Diego in 2012.  Welcome the new kid to town.  The San Diego Coastal Collegiate League (SDCCL) that begins play this week.
The SDCCL will bring talented baseball players from around the country right here to San Diego.  Most of those players tho are San Diegans that don't want to leave their hometown.
One of the big things that the SDCCL found out that most of the players that call San Diego home wanted more than anything was little to no travel.  So they got together with Grossmont College and worked out an agreement that five of the ten teams will be playing their games at Noel Michelsen Field.  The other two facilities that will be used primarily will be Madison High and Coronado's Silver Strand Elementary (home to Coronado High).
With players also wanting more in the way of better equipment, the SDCCL has worked out a deal with NIKE to outfit the players with high quality gear.  As a special to the inaugural season, all players will be able to keep their jerseys.
Scouts really wanted to make sure that they were looking at the right players.  So, the SDCCL has guaranteed that the correct rosters and schools will be available to the scouts at all games.
The greater San Diego baseball community has really gotten behind this league.  JP Longball has worked out a deal for the players to use their facilities at a discounted rate.  The Suites on Paseo has worked out a deal for the players to have a nice place to live near SDSU.  MLB has provided tickets to Fan Fest that is being held in conjunction with the MLB All-Star Game.  San Diego Athletics has joined the league as the official strength and conditioning partner.  San Diego Cryotherapy is on board as the official recovery therapy.
A few of the players that are going to be a part of the inaugural season are Specner Griffin (has the possibility of being drafted), Cory Gallegos.  Some colleges that are sending players are Division I powers Santa Clara and Washington.  Division II schools such as Holy Names, Point Loma Nazarene Univ., Rogers State, CSU San Marcos.  Division III and NAIA schools such as Arizona Christian and Wilkes Univ.
Junior Colleges sending players are Wharton Community College from Texas, Grossmont, Santa Ana, Ventura, Hartnell and about a dozen others.
Coaches that are in this league come from PLNU, South Mountain CC, Georgetown College, Grossmont College, San Diego State, Holy Names, Santa Barbara City College.  The league will also have extra coaching available from Jim Skelton (a highly regarded mental coach that has worked with such colleges as CSU Fullerton, UC Irvine, UCLA, California-Berkeley and worked with the Angels in their World Series year of 2002).  Also on the extra coaching staff is John Peabody.  Peabody has coaching experience from all levels from High School to the Pros.
The inaugural season will be 30-32 games that begins on June 4 with the regular season concluding on July 19.  Playoffs will be from July 20 through 24th.  Tommy John (the player that the surgery is named after) will be on hand Sunday, June 5 to throw out the first pitch.  He will spend some time with the players prior to throwing out the first pitch.  No games will be played on Mondays so that the players from out of town will be able to get out and enjoy the city.
If you would like to check out their website, please check out sdcoastalcollegiateleague.com.  They are also available on twitter under the handle of @SanDiegoCCL.  Check out their twitter feed as they will be live streaming all games that are being played at Grossmont College's Noel Michelsen Field.  Admission prices are $5 for adults, $3 for Veterans/Seniors/Youth.  A season pass good for all SDCCL games is available for $100.