Keirsey, Jr. named frosh All-American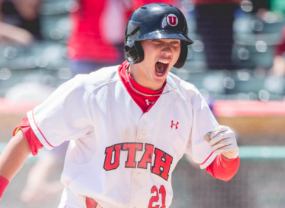 2016  EAST COUNTY 4-YEAR BASEBALL 
By Bill Dickens
© East County Sports.com
SALT LAKE CITY (6-9-16) — Helix graduate DaSHAWN KEIRSEY, Jr. made a major impact in his freshman season in the University of Utah baseball program.
The awards were numerous for the 6-foot-2, 185-pound outfielder. He was named a Louisville Slugger Freshman All-American and landed a berth on the Pac-12 All-Conference team. Other highlights for Keirsey included earning Pac-12 Player of the Week for spinning a shutout against the University of Washington to complete a three game series, and batted .467 (7-of-15) in the sweep.
Keirsey batted .293 with a home run, 30 RBI and tied for the Utes' lead with 8 stolen bases. In addition he was named to the All-Defensive Team for Utah's conference champion team.
Keirsey has been a winner throughout his career. As a senior at Helix he was named to the All-EastCountySports.com First Team. He batted .333 with 3 shutouts and a 3.17 ERA. He also participated in the Area Code Games.
Two other East County players were on the Utah roster this season – junior OF Josh Rose and sophomore P Jayson Rose – both from Granite Hills High. Jayson went 8-5 with a 2.89 ERA in 16 starts (109 innings), while Josh hit .290 with six HRs and 33 RBI.