Bush inks one-year deal with Bills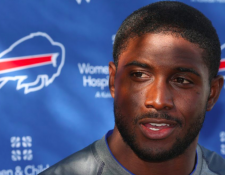 From wire reports
PITTSFORD – They have history, Reggie Bush and Rex Ryan. It's the kind you would have assumed might make their being together on the same team unlikely, if not impossible.
Time (along with money) apparently does heal some wounds, however, because on Monday Bush signed a one-year contract to join Ryan's Buffalo Bills … "Hot Sauce" controversy notwithstanding.
In 2012, when Ryan coached the New York Jets, he said his defense "had to put some hot sauce" on Bush when the running back played for the Miami Dolphins. Bush believed Ryan was saying his team intended to injure him in the game. In fact, Bush went as far as to point out the Jets were hit by bad karma when their star cornerback, Darrelle Revis, wound up suffered a season-ending torn ACL and Bush made it through healthy.
"Hot Sauce" came up when Bush and Ryan met at the Bills' St. John Fisher training camp Monday.
"Me and Rex have had some battles, going back a long time, so we have history obviously from New Orleans (where Bush began his NFL career) to Miami," the running back said. "But I've always been a fan of Rex, and now getting the chance to play for him, I think's going to be pretty cool and getting the chance to share some stories and some experiences and a lot of our battles going back."
Before the signing, Ryan said the flap with Bush was a "respect thing" that got lost in translation. "You know what's funny, literally, it was (about giving) more of our attention (to Bush)," the coach said. "I think he misunderstood me and ran for like 100 yards against me the next time we played, so that wasn't good."
Bush, 31, is expected to take part in Tuesday night's practice. His contract, according to a source, could be worth up to $3 million with incentives mainly tied to his production as a punt returner. After Monday morning's practice, Ryan said the Bills' return game was "not really good" and lacked a "true return specialist."
In 10 NFL seasons, the 6-foot, 205-pound Bush has returned 100 punts for 781 yards (an average of 7.8 yards per return) and four touchdowns. However, 98 of the punt returns came during his first six years in the league. His only two returns since 2011 came last season with San Francisco.
"I'm 100 percent ready for any and everything, and the coaching staff and I, we've expressed the same things in that respect," Bush said. "So I'll definitely be back to returning punts and kicks, if they need me to. And whatever else it is that they need me to do, I'm ready and prepared to just go out there and be a factor in any way, shape possible."
"As I have previously commented, we are always looking to improve our roster," Bills General Manager Doug Whaley said in a statement. "We had targeted Reggie because we feel a player of his caliber can help us in a variety of areas."
Besides Bush, the Bills also signed wide receiver Kain Colter, and released wide receiver Davonte Allen and kicker Marshall Morgan.
Bush's arrival addressed a need for depth at running back after the NFL announced last month it was suspending Karlos Williams for the first four games of the season.
Before Monday morning's practice, Whaley spoke at length with starting running back LeSean McCoy about Bush's role as a running back. Offensive coordinator Greg Roman is known to be looking forward to the chance to have McCoy and Bush on the field at the same time in certain sets, looking to take full advantage of each player's open-field elusiveness on running and pass plays.
"Yeah, we've talked about that as well with the coaching staff," Bush said. "Obviously, we haven't gone into great depth or detail about it, but that's definitely I think a package that you'll see this year on the football field."
Bush said he returned to full strength "months ago" from a torn meniscus he suffered during the 49ers' loss at St. Louis on Nov. 1.
"Now, I'm in shape, in full-strength and ready to go, so I should have no limitations on the football field," he said. "I'm here, I'm ready to go. I'm not sure how much I'll do at practice, but I'll definitely be out there learning, getting used to the verbiage from the play calling standpoint and just gaining experience about the new system. I guess the good thing is I've been around long enough to where I've pretty much been through every offensive system possible, so I'm sure that there's nothing in this system that's going to surprise me or be too difficult."
The Saints made the former USC star out of Helix High the second overall pick of the 2006 draft. He also played for the Miami Dolphins and Detroit Lions. The East County legend famously won the Heisman Trophy while with the Trojans, only to give it back to the Downtown Athletic Club after an improper benefits scandal.
In 121 career games (including 96 starts), Bush has gained 5,493 yards on 1,274 carries, an average of 4.3 yards per rush. He has 35 rushing touchdowns.
Bush also has caught 470 passes for 3,508 yards 18 touchdowns. He has 32 career fumbles.
"Yeah, I'm very excited to be here," he said. "I'm very excited to be back to playing football and back on the team. This has been the first offseason I've spent without going to minicamp and OTAs, and it was kind of nice actually to take a little break.
"But it's good to be back to football and I felt like the opportunity here is special for me and for the team, for the coaching staff, and for the fans as well, so I'm looking forward to getting on the field and helping out this team."