Heavy-hearted Patriots face new football challenges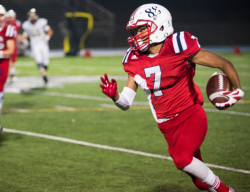 BEN GOODWIN / photo by TRyan Photography
2016 EAST COUNTY PREP FOOTBALL – PREVIEWS
CHRISTIAN PATRIOTS
By Ramon Scott
EastCountySports.com
EL CAJON – The Christian Patriots exhibited a brave heart last season, finding the emotional fortitude to sweep through its four City Conference opponents while mourning the eventual loss of stricken teammate JASON LYON.
While the players went through the emotional highs and lows that come with sharing love and compassion with a friend that they knew was going to leave them soon, coach MATT OLIVER's squad still went out and outworked their league opponents at the critical time of the season.
Look no further than the Pats' overtime win at Morse and come-from-behind win over Patrick Henry that would eventually be the difference in being crowned the champ.
#Lyonhearted will always be a beloved rallying cry for this generation at Christian High, but this season's group can set out to make history again in what will be another tough league season, if not tougher, at least on the field.
The Patriots will face Morse, Lincoln, Scripps Ranch and Mission Bay on this year's Eastern League schedule.
Christian, which went 8-4 overall, but was eliminated by Valhalla in the second round of the San Diego CIF Division II playoffs last December, will compete in Division III in the postseason. Of course, league change scenarios are nothing new at Christian High, where Oliver has posted a 138-60-2 career record over a few different alignments.
Senior leaders JOEY MORONES (RB/LB) and JONATHAN STINE (OL/DL) are back to provide some of the major links to that championship run, leading a group of 10 returning starters and some key new members from a junior varsity team that went 10-0 in 2015.
"We don't have as many guys overall as we have had in the past," said the 6-foot, 230-pound Morones of the Pats' less than 30-man roster. "We've also got a lot of young guys, some going both ways, who have a lot to prove out there.
"They've even probably got a lot more in the tank than some of us 'old' guys."
Morones was a second-team all-East County selection last season and first-team all-league defender. He rushed for 402 yards and seven touchdowns last season, averaging 6.8 yards per carry.
Stine, at 6-2, 255, was an all-league second team performer last season.
Speedy two-way star BEN GOODWIN is one of the fastest players in the county. The 6-1, 170-pound WR/DB caught 47 passes for 702 yards and seven touchdowns last season and made second team all-league.
Goodwin, Stine and Morones are being recruited to play at the college level, according to Oliver.
Junior TE/DE GARRET NIELSON landed on the all-City Conference second team last season on offense after catching 16 passes for 169 yards.
Another retuning award winner from last season is senior DL/OL AUSTIN MANION (6-0, 265), who made the second team all-City Conference.
The defensive line and linebacking core are among this year's Patriots greatest strengths, according to Oliver.
Returning starters from the 2015 squad are RB/LB ISAAC ROSENTHAL and WR/DB ETHAN CONTRERAS.
In charge of the Patriots' offense is junior quarterback BRAD JEREMIAH, as the line family signal callers continues at CHS. He threw for over 1,200 yards as the starter on the undefeated JV squad.
During the summer, Christian High won the Southwestern College Passing Tournament national bracket.
Sophomore two-way players BRYCE RIEPL and ALEX GONZALEZ combined to rush for 861 yards and 13 TDs for that junior varsity squad in '15, while Riepl, a linebacker, was second on that team in tackles with 35.
Another newcomer to watch is diminutive senior RB/DB TSHOMBRE CARTER, a transfer from Point Loma.
The Patriots will scrimmage against Hilltop in the SDFNL Kickoff Classic on Saturday night at La Jolla Country Day.
Christian will also travel face Monte Vista for the first time ever in a week two matchup. Another first-time opponent visits Granite Hills stadium two weeks later when the Fallbrook Warriors come to town. The Patriots also host Stellar Prep, of Oakland, on Sept. 30.