Hard to out-work humble Monarchs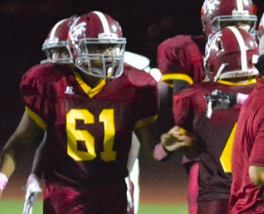 MONTE VISTA SENIOR JOSE GONZALEZ
2016 EAST COUNTY PREP FOOTBALL – PREVIEW
MONTE VISTA MONARCHS
By Ramon Scott
EastCountySports.com
SPRING VALLEY – The Monte Vista Monarchs barely have enough players to field a full-team scrimmage.
It's a good thing they have veteran coach Ron Hamamoto at the helm.
The proven teacher, with 208 career wins to his credit, has won from USDHS to Rancho Bernardo to Lincoln to right here in the heart of Spring Valley. His teams always seem to get the most out of every available resource.
It's already worked here just three years ago when he guided a 7-6 Monte Vista team all the way to the Division 4 title game.
It was a rare event last season that one of his teams was one-and-done in the postseason, but the Monarchs return just enough experience that could prove better suited for a playoff run in D-4, providing they survive the rough-and-tumble league schedule.
All-Grossmont Valley League second team defensive choice JOSE GONZALEZ (5-11, 195) leads a group of 16 seniors, many of which will play on both sides of the ball.
"It's going to be very tough," Gonzalez said. "We're are just going to have to pull through as a team and unite. Last year, we were very inexperienced, but this year we are all coming back together."
Senior lineman CURTIS STEVENS (6-3, 300), an all-Valley honorable mention performer last season is the kingpin on both sides of the line of scrimmage.
Senior defensive back JAMEZ MCCLENDON (5-9, 160), another all-league honorable mention in '15, is expected to see his role increase in the offensive backfield this season.
"I think we're smarter and we've got a little more speed on us, too," McClendon said. "We're ready to play and we're just trying to get some wins out here."
After a defection at quarterback, senior JUNIOR PITOAU, who shined at safety and on special teams coverage last season, will be called on to run a modified wing-T.
Senior RASHAUN WILLIS-BROWN (5-4, 152) had 36 carries last year, but will be a featured back in the attack now.
Stevens is joined on both sides of the line by 5-11, 285-pound senior EDUARDO GONZALEZ.
Sophomore RB/DB JAHMON MCCLENDON (6-2, 200) appears to have the pedigree to be a long-time contributor to the program.
New sophomores to the team JONATHAN GULLEY (RB-LB), BLAKE SCHMIDT (TE-DL) and JOVANNI MENDOZA (RB-LB) give the Monarchs a bright, long-term future, but are said to be able to contribute immediately.
Returning senior two-way linemen include BRIAN SHELL (5-8, 240), DAVID YBARRA (5-8, 185) and VICTOR ICU (5-7, 185) and senior tight end CARLOS ZAVALZA (5-10, 190).
Also returning is senior LB-TE JESUS ZUNIGA and junior DB-RB TORREY MACK.
Another newcomer to watch is junior DB-RB ERNEST DAWN.
SANTIAGO FIGUEROA handles the kicking duties, making 11 of 13 PATs last season as a sophomore.
The Monarchs have home non-conference games against Christian and Patrick Henry, while facing Hoover, Crawford Kearny and Valley Center out-of-league on the road.