2016 EAST COUNTY FEARLESS FORECASTER Week 2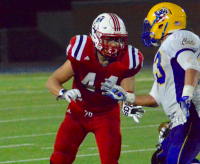 CHRISTIAN HIGH'S JOEY MORONES
2016 EAST COUNTY PREP FOOTBALL
FEARLESS FORECASTER

Week 2
By Bill Dickens
© East CountySports.com
EL CAJON (9-1-16) — In a game that resulted in a shootout, Christian clobbered Brawley 42-21 a week ago. The Patriots (1-0), led by JOEY MORONES and first-year quarterback BRAD JEREMIAH, breezed past the Wildcats. More of the same will likely happen this week as Christian should manhandle Monte Vista. However the Monarchs (1-0) clobbered Hoover 51-0 in their opener as RASHAUN WILLIS-BROWN ran roughshod over the Hoover Cardinals with four touchdowns. That won't be the case against Christian . . .  Christian 48-14.
HELIX (0-1) vs. CLAYTON VALLEY (0-1) – Honor Bowl at Mission Viejo, 4 – Both teams suffered stunning opening season losses. The Ugly Eagles lost a narrow 27-26 setback to Folsom, while Helix succumbed to Timpview, Utah by a touchdown. "They liked to run the ball a lot," said versatile senior defensive back SCOTTIE YOUNG, who scored two touchdowns on 66 and 62 yards. Young caught 10 passes for 262 yards against the Utah bunch, which will surely attract attention in Clayton Valley. The Ugly Eagles do not figure to let Young run wild on Saturday (Sept 3). "I wouldn't expect that," said Young. "But that's ok. At least I know how to get open and I know how to catch a pass."
Clayton Valley returns nine guys on defense from last year's state Division I runner-ups. Helix quarterback CARSON BAKER, in his first varsity start, completed 18 of 26 passes for 361 yards for 2 touchdowns. "We know they'll put pressure on our quarterback and they will try to take away our drop deep game," said Young. Look for Helix to prevail  . . . Helix 20-17.
WEST HILLS (0-1) at SANTANA (0-1), 7 – One thing is for sure about Santee's perpetual trophy, the Jack Dale Cup. It stands to be a high-scoring game on Friday (Sept. 2). A year ago when these teams collided the Wolf Pack won 45-42 in an offensive free for all. Two years ago West Hills slugged the Sultans 53-11 and have previously won four straight games in the series, which currently stands at 19-8 in favor of the westsiders. Of course, the personnel have changed face. In a battle for possession of The Bridge, the game is a toss-up . . . West Hills 28-21.
STEELE CANYON (0-1) at MADISON (0-1) , 6:30 – The Warhawks suffered a stunning 20-9 loss in their opener at Vista Murrieta, but Steele Canyon doesn't think Madison will be an easy mark. "We will be tested to the max against a bunch of Division I players," said Cougars junior defensive end MIKEL OLIVER. The Cougars' offense sputtered against Torrey Pines. . . . Madison 13-12.

GRANITE HILLS (1-0) at VALHALLA (1-0), 7 – In a battle for the banner, the Norsemen will host Granite Hills Friday night (Sept. 2). This is annually a struggle to the finish. Since 2009 Valhalla has won four times and Granite has won three. Another head knocker is promised in the upcoming contest. Versatile Valhalla quarterback BRYAN MADRIZ passed for 161 yards, 12 of 20, and rushed for 88 yards on 4 carries, one of which turned into a score. The Eagles ball hawked three interceptions and a fumble recovery in their victory over San Pasqual. Valhalla wins this one . . . Valhalla 21-6.

GROSSMONT (1-0) at OTAY RANCH (0-1), 7 – A new look Grossmont Foothillers outfit appears to be a bit more conservative than those in the past. The Foothillers rushed for 290 yards led by SHEVELL STERLING (11-for-135 and a touchdown) and JAMES MACKY (12-for-94). The duo spearheaded the rushing game. CHRIS LAETHEM was the kingpin of the Grossmont defense with 10 tackles, 1 sack and 3 tackles for loss. The Foothillers will surely continue their defense Friday (Sept. 2) against Otay Ranch, which lost to Mt. Carmel 34-0. . . Grossmont 31-6.
MONTGOMERY (0-1) at EL CAJON VALLEY (1-0), 7 – The Braves are looking to run their record to 2-0 for the first time since 2012 on Friday (Sept. 2). That should not be a problem this week as El Cajon Valley faces a team that was hammered 43-0 in the opener. The Braves, on the flip side, clubbed Kearny 40-22 a week ago. Give the edge to . . . El Cajon Valley 35-6.
MATER DEI CATHOLIC (1-0) at EL CAPITAN (0-0), 7 – It was a scoreboard scramble for the Vaqueros a year ago as they defeated Patrick Henry and received a forfeit win over Mater Dei despite losing to the Crusaders, 28-14. The Vaqueros will look to their defensive line for strength Friday (Sept. 2) against Mater Dei's superstar back, as coach RON BURNER noted the unit is "progressive and very quick." OSCAR VALENZUELA (6-3, 218) is a hard-nosed senior linebacker who will anchor the defense along with JARED STONE (6-4, 265). In a close call give the edge to . . . Mater Dei 21-17.
POWAY (1-0) at MOUNT MIGUEL (0-1), 7 – Mount Miguel played a game of comeback in a narrow 35-30 loss to Chula Vista in their opener. On the flip side Poway bullied Bonita Vista 33-14. Despite a finger injury to starting quarterback Tristan Hughes, the Titans still managed to put up three touchdown passes on the board but relied on a powerful running game for their victory. Mount Miguel, led by quarterback BENNY VALADEZ, will engineer a spread offense Friday (Sept. 2) against the Titans. The issue will be decided whether the Matadors can put the brakes on the Poway defense . . . Poway 28-16.
ARMY-NAVY (0-1) at MOUNTAIN EMPIRE (0-1), 6:30 – The Red Hawks must develop some offense to right their ship. After a tough loss to Crawford, Mountain Empire has a solid chance to knock off Army-Navy Friday (Sept. 2), which dropped its season opener to Brentwood School. Give the nod to . . . Mountain Empire 21-7.

Fearless Forcaster's Record
Last week:  6-8 (.429)
Season:      6-8 (.429)