Cougars steer 'Horns right into ground
Updated: September 17, 2016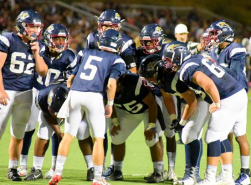 Steele Canyon huddles Friday night against Rancho Buena Vista. / photo by Chris Parks
2016 EAST COUNTY PREP FOOTBALL
STEELE CANYON 41, RANCHO BUENA VISTA 6
By Bill Dickens
© East County Sports.com
RANCHO SAN DIEGO (9-17-16) — The Steele Canyon aerial express continued to fly Friday night (Sept. 16) as the Cougars clobbered visiting Rancho Buena Vista 41-6 in a non-league punch-out.
The Cougars (2-2) turned an early 7-6 advantage into a runaway rout in a game that ended with a fourth quarter running clock.
"Our coaches talked about this game as being more than just for us, but for East County as well," said Cougars quarterback THOMAS FISHBURNE, who completed 11 of 21 passes for 197 yards and 3 touchdowns.
"(North County) has a superiority complex when it comes to East County," he noted. "So to beat them like we did today is a real pleasure."
Fishburne hooked up with JACOB JONES on touchdown passes of 7 and 19 yards. The junior also cast a scoring strike of 16 yards to BRENDEN WILLIS to cap the Cougars' scoring in the third quarter.
"I had a couple of plays called back that would have been touchdowns, but I'll settle for three scores any time," said Jones, who finished with 3 catches for 31 yards and 2 touchdowns in addition to a 4-yard scoring burst in the second quarter.
"It's my job to get open and Fish puts the ball right in there. He's not all that big but he knows how to throw the ball on target."
Willis did more than just catch passes. He was an excellent downfield blocker.
Offensively DEONTAE McKINNEY anchored the ground game with 115 yards and a touchdown on 12 carries.
NATHANIEL GORDEN rushed for 51 yards on 3 carries and caught 2 passes for 32 yards.
JORDAN ANDERSON caught 4 passes for 88 yards to lead the supporting cast for Jones.
"North County has this persona about them, but we as East County cannot be in awe of them," noted Jones.
On the defensive end, WAYNE BARELA notched 5 tackles and a sack, while DARIN WALTON accounted for 4 tackles, JHAELON BRAZILE snagged an interception as did JAVON WOODBRIDGE. AMADI CASS-WILLIAM recovered a fumble.