Undefeated Braves rush, pass to forefront
Updated: September 17, 2016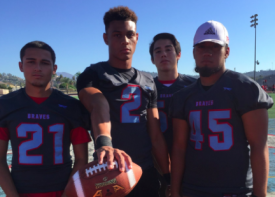 El Cajon Valley's LUIS MORALES, TYSON SMITH, OSCAR GARCIA and FAAMAMA LAUIFI prior to Friday night's game in El Cajon. / photo by MBA Sports
2016 EAST COUNTY PREP FOOTBALL
EL CAJON VALLEY 34, CRAWFORD 21
By Jim Lindgren
© East County Sports.com
EL CAJON (9-17-16) — Make no bones about it, El Cajon Valley coach PARRIS PISIONA really doesn't care to throw the ball very often. Not if he doesn't have to … usually.
Still, for a run-happy team that lines up in a double-tight-wing offense, the Braves' TYSON SMITH actually tosses the pigskin pretty well, and LUIS MORALES shows serious promise as a pass receiver.
The Smith-to-Morales combo was 3-for-3 for 93 yards and two touchdowns – all in the first half – as undefeated El Cajon Valley created fits for previously undefeated Crawford in a 34-21 victory on Friday night (Sept. 16) in a nonleague contest pitting two of the premier teams in Division IV this season.
El Cajon Valley (4-0) is off to its best start since the 2008 team started 4-0. The 1997 Braves opened the season 6-0. Crawford, which lost to Coronado in the Division V San Diego Section championship game last year, fell to 3-1.
El Cajon had attempted only seven passes in its first three games this season, resulting in four completions for 133 yards and two touchdowns. On Friday, the Braves threw twice on their first three plays.
After a Crawford fumble on its second play of the game was recovered by YASER ZAFARI at the 28-yard line, Smith hit Morales for an 18-yard gain.
After Smith bobbled the next snap and was tackled for a 6-yard loss, the senior quarterback rolled right and found Morales on an out-route for a 16-yard touchdown, Morales diving just inside the end-zone cone for the score. Smith ran in the 2-point conversion for an 8-0 lead.
El Cajon Valley takes the lead 8-0 over Crawford with a strike from @Tyson_S2 to Luis Morales #sdfnl16 pic.twitter.com/3XFlfg6sL2

— SDFNL Magazine (@SDFNLMagazine) September 17, 2016
Later, Smith ran a designed play-action fake handoff, and Morales made a nifty, over-the-shoulder leap-and-catch near midfield that he turned into a 59-yard, one-man race to the end zone for a 16-8 lead with 21 seconds to play in the first half. Another Smith 2-point conversion made it 16-8 at intermission.
"That was a big play, huge play," Braves coach PARRIS PISIONA said. "That gave us some great momentum going into the second half."
Smith and Morales proved they can run a bit, too. Smith came into the contest with an East County-leading 601 yards and six touchdowns. On the first play of the second half, after a failed onside kick attempt, Smith scampered 51 yards for a touchdown and a 22-8 lead.
Smith finished with 120 yards on 20 carries, including three kneel-downs at the end of the game.
Midway through the third quarter, Morales scored a third touchdown on a 33-yard reverse run, deftly squeaking through multiple defensive players and nimbly staying inbounds for the score and a 28-14 lead.
"They started catching up and I didn't want that to happen," Morales said. "So I just put my game face on, and I had to do it."
In four games this summer, Smith is now 7-of-10 passing for 226 yards and four touchdowns.
The brother of last year's QB Charles Smith, Tyson Smith was the only returning Brave to have scored a touchdown last year in a 5-6 season that was the best record El Cajon has produced since the 2005 team went 11-3 after losing to Oceanside 31-21 in the Division II championship game in Qualcomm Stadium.
Coincidentally, the star of that 2005 dream team, ABRAHAM MUHEIZE, who had over 5,000 total yards that season, was honored at halftime Friday for his fund-raising efforts for the school.
Like Muheize, Smith's uncanny ability to create big plays was on display often until the entire Braves nation got a scare early in the fourth quarter. After an 8-yard gain, Smith was leveled and bent awkwardly backwards before trainers tended to an injured left knee for several minutes.
With help, Smith hobbled off the field. His backup, sophomore DeANDRE KELMON, flashed some brilliance, too, running eight of the next nine plays for 65 yards, culminating in a 15-yard touchdown for the youngster to give the Braves a final score.
"He was running so well, why should we do anything differently?" Pisiona said.
With 6 minutes to play @ECVHS stretches the score to a 34-21 lead with a TD by Soph qB Kelmon #sdfnl16 pic.twitter.com/xlMnguNz9F

— SDFNL Magazine (@SDFNLMagazine) September 17, 2016
On the ensuing kickoff, Kelmon put a monster hit on the Colts' return man, dropping him at the 24-yard line.
To the relief of everyone, Smith came back on the field on defense and moments later intercepted a pass that went for an apparent 58-yard TD return, only to have it called back on a personal-foul penalty with 2:44 left to play.
No matter, the Braves had this one in the bag.
And their star seemed to be fine.
"He's so tough," Pisiona said. "He's getting banged up quite a bit, but he keeps coming back."
El Cajon, which did not attempt a pass in the second half, finished with 377 total yards and 14 first downs. MAQUEL GARNER had 76 yards on 11 carries. Morales added 35 yards with four touches.
Give major credit to El Cajon's blockers – VINICIO ARAYA, MOSE KALEUATI, MASON TILEIA, DEVED SHAMOUN, JOSE GONZALEZ, FAAMAMA LAUIFI, MICHAEL MALONE and Zafari – as the Braves have already racked up 1,335 rushing yards this season.
Not to be outdone, the Braves' defense limited Crawford to 215 total yards and only seven first downs. BRANDON ROBINSON had a sack for minus-10 yards, and GREGORY JONES had back-to-back near interceptions.
Out of a wildcat offense, Crawford's big-bodied Kwali Purvis had a 52-yard touchdown run. He finished with 121 yards on 16 carries. Quarterback Shawn Balala scored the Colts' first TD after he double-pumped faked a pass and ran up the middle for a 7-yard TD run that tied the game at 8-8.
Jaden Sanders scored on a 9-yard run early in the fourth quarter to make it 28-21, but Kelmon's heroics put the game out of reach with 6:21 left to play.
"It was a good win," Pisiona said. "We grinded. Our defense played well. We wore them down in the second half.
"We're just playing good old-fashioned football."
El Cajon travels to Orange Glen (2-2) and Chula Vista (3-1) the next two weeks before opening Grossmont Valley League play at Mount Miguel (0-4).