ROUNDUP: Cougars stumble at finish, Injured Hawks fall, Knights win
Updated: September 24, 2016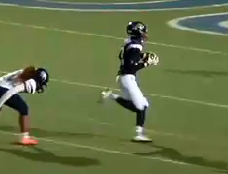 2016 EAST COUNTY PREP FOOTBALL
OTAY RANCH 33, STEELE CANYON 14
By Chris Davis
© East County Sports.com
SPRING VALLEY (9-24-16) — It was close for three quarters, but then the wheels fell off the cart for the Steele Canyon Cougars as they dropped a non-league contest to the Otay Ranch Mustangs 33-14 on Friday (Sept. 23).
THOMAS FISHBURNE completed 18 of his 35 passes for 218 yards with a pair of touchdowns, that was the good news.  The bad news is that he also threw a trio of interceptions.
"I tried to tell our kids that we were playing a wounded dog," coach SCOTT LONGERBONE said during his post-game comments.  "We had a couple of key injuries and it turned into a M*A*S*H unit out there.  Kudos to them, they kept pounding us out."
Otay Ranch (1-4) came out to the East County and jumped out in front on a 63-yard pass from Cristian Zamudio to Josh Lira with just under three minutes to go until halftime.
STEELE CANYON (2-3) closed out the half with a 38-yard pass from Fishburne to JACOB JONES to tie the game up after a JOHN LAUTNER extra point.
The second half kickoff was returned 48 yards to put the Mustangs into Cougar territory.  The only problem was that there was a personal foul against the Mustangs after the play.  That penalty was not a rare blip on the radar as Otay Ranch was flagged 11 times for 83 yards.  The personal foul was a distant memory for the Mustangs as Lira ripped off a 56-yard run on the first play from scrimmage.  That set up a 7-yard pass from Zamudio to Nate Castro.
After both teams went three and out, the Cougars went on a 12-play, 68-yard journey that culminated in a BRENDEN WILLIS 30-yard reception from Fishburne to tie the game up at 13-all.  Lautner secured the extra point to give Steele Canyon the 14-13 lead with 3:18 remaining in the third quarter.
That would be the last lead that the Cougars would enjoy.
The Mustangs would outscore Steele Canyon 20-0 in the final 12 minutes.
SOUTHWEST (SD) 38, MOUNTAIN EMPIRE 3 – The Red Hawks were a "walking wounded" heading into Friday night's contest at Southwest High.
Junior captain WYATT MANN was among the Mountain Empire players sidelined with injuries, or in some cases, playing at less-than-full strength for the contest.
The Raiders scored on their first two drives and eventually led 30-0 at halftime.
Junior WYATT AGUILAR booted a 37-yard field goal for put the Red Hawks on the board in the third quarter.
Southwest held the Red Hawks to just 24 yards on the ground, which included several sacks. Star back BLAKE JARRELL was a game-time decision with his injured ankle, but he toughed it out. He struggled in his running, but managed to post a team-high eight tackles.
Sophomore GABRIEL HYDORN kept his monster pace on defense for Mountain Empire with 7 1/2 tackles, a sack, another forced fumble, which he recovered once again, as he has done several times this season.
Hydorn led the offense with 3 receptions for 48 yards, while sophomore DALLAS PRINCE had three receptions for 18 yards. Senior ANDREW POWELL had two catches for 15 yards.
CAMERON WILL added seven tackles for the Red Hawks, who face Temecula Prep on the road next week. Providing the troops heal in time, Mountain Empire will be facing a team they beat 44-0 last season at home.
 – Ramon Scott, EastCountySports.com
FOOTHILLS CHRISTIAN 50, DESERT CHAPEL CHRISTIAN 6 – The Knights scored 22 points in the first quarter and improved to 4-1.
Foothills rushed for a touchdown and passed for a touchdown in the second quarter to extend the lead to 36-0.