Griffins, Cougars renew acquaintances
Updated: September 30, 2016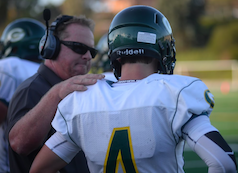 Photo by Christopher Smith - MBA Sports
2016 GROSSMONT COLLEGE FOOTBALL
By Bill Dickens
© EastCountySports.com
VALENCIA (6-30-16) — Grossmont College will travel to Valencia on Saturday (Oct. 1) for a 6 p.m. start against perennial power College of the Canyons for a non-conference encounter.
Grossmont's strength is its defense. The Griffins are allowing 310 yards per game, but only 85 yards rushing. They've created 18 turnovers compared to losing only 8.
This is a gang tackling bunch led by ALEX CARSWELL, JAMES JULIUS, COLE KIDD and defensive ball hawk JORDAN ELLIS with 5 interceptions. As a team the Griffins have amassed 12 interceptions. Others who have had a hand in the Grossmont defense are KURTIS BROOKS, LOGAN DARBY and TYLER CLANTON.
If Grossmont (3-1) is to be successful against College of the Canyons, they must fire up their offense, which sputtered all afternoon, finishing with 351 yards and 10 points in 86 plays.
Quarterback BRAD CAGLE takes the reins after completing 23 of 44 attempts for 223 yards against Chaffey.
ADRIAN TOLBERT continues to lead the Griffins in receiving with 12 catches for 288 yards and 2 touchdowns.
Ten other Griffins have caught passes but finding the endzone has been difficult of late.
College of the Canyon comes in with a 2-2 record, having defeated Antelope Valley 32-19, and Orange Coast 42-19. The Cougars have since lost to Fullerton 59-14 and Long Beach City 41-14.
The Cougars look to quarterback CJ Williams to provide the spark as he's completed 41 of 81 for 552 yards and 6 touchdowns. However, he's been sacked 9 times, which should help the Griffins set him in their sights. Wide receiver Marquise Brown has 14 receptions for 265 yards and 5 touchdowns.
GRIFFIN GRAFFITI:  Grossmont leads the all-time series over College of the Canyons 6-3 . . . Grossmont won the last meeting between the two 38-14 in 2011 . . . Griffins receiving SCFA honorable mention are wide receiver ADRIAN TOLBERT (Castle Park) who caught 7 passes for 96 yards against Chaffey. . . On the defensive side JORDAN ELLIS (Valhalla) received SCFA honorable mention recognition for an interception, giving him 5 picks in four games. . . These teams have collided in bowl games a couple of times including the 2005 Southern California Championship won by the Griffins 24-19. . . Grossmont went on to win the state championship that year by defeating City College of San Francisco that year 41-38. . .  It was the second state title claimed by the Griffins, who captured the 1974 crown with a 34-17 victory over Orange Coast. . . Grossmont has captured 12 conference championships. . . Grossmont is ranked No. 8 in the Southern Conference-National Division while Canyons is ranked No. 11.