Jernigan was East County softball coaching legend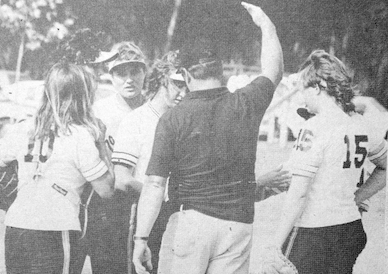 Pete Jernigan instructs El Capitan players during a game.
2016 IN THE COMMUNITY
By Vince Denny
Special to EastCountySports.com
RENO — Those of you who have been around the game of fastpitch girls softball for as long I have will remember PETE JERNIGAN, a San Diego native who took the game to a much higher level here from the mid '60s to the early '90s.
Pete lost his battle with lymphatic cancer recently, but not without a hard-fought battle. Pete was a fighter. I should know. I've had a few beers with the guy in pretty much every local tavern in East San Diego County.
Named in 1984 "Mr. Youth Sports" by the El Cajon Parks and Recreation Dept. for his work in girls athletics in the '60s and early '70s, Jernigan went on to coach high school ball and was one of the most successful San Diego County has ever had.
His teams won the Grossmont League (back then one league of nine teams) three times, won the San Diego CIF title with Santana High in 1984, and finished second in the CIF finals twice. His career high school coaching record was 118-41-4.
Pete might best be known in softball circles for starting San Diego Power, which for 9 years was pretty much the only 18-under travel team out of San Diego worth mentioning. However, because the qualifying process from 1985 to 1993 was much tougher than it is today, Jernigan's teams never qualified for ASA Nationals.
After Jernigan quit in the fall of 1993, Power began to deteriorate into the USSSA team it is today – something Jernigan would not have allowed to happen had he been able to find players that respond to his raspy style matched only by ASA coaching legend Phil Bruder.
After his high-school coaching career, Pete moved to Grossmont College, where he coached until 1993. He had success there, but again because of the take-what-you-can-get limitations of JC ball, his success was limited.
Since leaving the coaching scene, Jernigan married former San Diego Power, El Capitan High and Cal State Fullerton pitcher ANJIE BRYANT.
Prior to his coaching career, Pete played several years playing minor league baseball, nine of which were in the AAA level.
He was originally property of the Boston Red Sox, then was briefly in the Dodgers organization before he finished his minor league career playing for Phoenix, which in the late 60s was the Triple-A team of the Giants.
I think the only reason Jernigan never made the bigs was because he refused to take a sign from the third-base coach. He wanted to hit the ball as hard as he could every time.
Plus, he was pretty rowdy.