Thompson gets little help from his Herd
Updated: October 11, 2016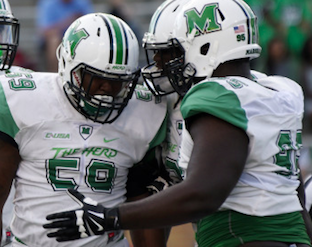 Marshall's Gary Thompson against North Texas last Saturday.
2016 EAST COUNTY FOUR-YEAR FOOTBALL STANDOUTS
By Bill Dickens
© East County Sports.com
LA MESA (10-11-16) — Former Helix standout GARY THOMPSON, a 6-foot-2, 260-pound defensive lineman at Marshall University, is making an impact for the Thundering Herd.
Thompson recorded 10 tackles, 6 solo and 2.5 sacks. He also forced a fumble and recorded a fumble recover in a 38-21 loss to North Texas State.
–
Grossmont HS graduate ANTHONY LAWRENCE completed 10 of 14 passes for 191 yards and one touchdown as the Toreros drilled Davidson 52-3 on Saturday (Oct. 8).
–
Six-foot-6, 215-pound NICK KURTZ formerly of Valhalla/Grossmont College caught 3 passes for 27 yards for the BYU Cougars in a 31-14 upset of Michigan State.
–
Former Grossmont College wide receiver SERGIO BAILEY reeled in 5 passes for 99 yards for Eastern Michigan University and also rushed twice for 20 yards, but it wasn't enough for the Eagles to overcome the Toledo Rockets 35-20.
–
Versatile Granite Hills standout SETH COLLINS caught 3 passes for 27 yards for Oregon State but the Beavers lost to Cal in overtime 47-44.
–
Senior defensive linebacker MAURICE PAYNE (Helix) recorded 4 tackles, 2 for loss as the Tabor College Blue Jays defeated Southwestern College (Kan.), 42-14.
–
KENNY KEYS (Helix/UNLV) had 9 tackles, 8 solos as the Rebels lost to San Diego State 26-7. MEKHI STEVENSON (Helix/UNLV) also made his homecoming to play in the Q on Saturday night.
–
Humboldt State wide receiver JOHN TODD (Valhalla) caught 2 passes for 44 yards as the Lumberjacks defeated the Central Washington Wildcats 42-17.
–
Six-foot, 225-pound linebacker WILLIE FAIR (Steele Canyon) had 3 tackles and a fumble recovery for Azusa Pacific as the Cougars overcame Colorado School of the Mines 27-23.
Meanwhile, also in that game, linebacker JABRION BURNSIDE (Helix) had 5 tackles for Azusa Pacific.
–
Five-foot-8, 170-pound senior defensive back RAYVON OWENS (Christian HS) had 2 tackles for the Willamette Bearcats in a loss to Pacific Lutheran 30-10.
–
VIRNEL MOON (El Cajon Valley) caught 3 passes for 50 yards and a touchdown for Colorado Mesa University Mavericks lost to Black Hills State 48-34.
–
KEITH ROGERS (Valhalla) had 3 tackles for the Jamestown Jimmies as they lost their homecoming game to Presbyterian College, 34-25.
–
ALEX LILLIARD (Grossmont HS) rolled up 4 tackles as the Dixie State Red Storm defeated Western State Colorado 28-20, while TAJ BROOMFIELD (West Hills) had one catch for 8 yards for Dixie.
–
NOAH YLAGAN (West Hills) rushed for 39 yards on 19 carries, and 7 punts for a 30-yard average for the Briar Cliff Chargers in a 56-0 loss to Concordia.
–
Hastings sophomore wide receiver JORDAN JOHNSON (Steele Canyon) had 7 receptions for 75 yards in a 36-22 loss to Midland University.