Roundup: Red Hawks wilt at Calipatria; Knights quiet Lions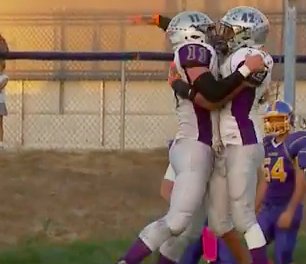 Foothills players celebrate the decisive touchdown Thursday afternoon.
2016 EAST COUNTY PREP FOOTBALL
CALIPATRIA 28, MOUNTAIN EMPIRE 7
EastCountySports.com staff report
CALIPATRIA – Mountain Empire High got within five yards of tying their game during the second half at Calipatria High here Friday night.
But a deflected pass in the red zone resulted in an interception, as the Red Hawks took a severe blow to its playoff chances in a 28-7 loss in the desert.
Mountain Empire's WYATT AGUILAR had an interception int he first quarter as the teams exchanged early turnovers.
The Hornets recorded three interceptions of their own in the game.
Calipatria (6-3, 2-1 Manzanita League) put together a swift drive following the key turnover and converted a third-and-12 during the march en route to a score to make it 22-7. The Hornets would add a late touchdown.
Senior MICHAEL STODSGILL had the Red Hawks' TD on a 45-yard run in the third quarter. He had 67 yards on 11 carries for the contest.
Mountain Empire quarterback VICTOR PARRA was 19-for-35 from the air for 173 yards. He found six different receivers on the night.
DALLAS PRINCE, a sophomore captain, had four catches for 56 yards.
The busy Red Hawks defense was led by tackling machine BLAKE JARRELL (17 tackles) and CAMERON WILL (15 tackles).
GABRIEL HYDORN recovered another fumble to add to his season total, giving him an East County-leading six.
Junior end SAWYER ERNSBARGER recorded the sack, causing the ball to come loss.
---
FOOTHILLS CHRISTIAN 28, SAN DIEGO JEWISH ACADEMY 20
EastCountySports.com staff report
SAN DIEGO – The Foothills Christian Knights outscored San Diego Jewish Academy, 14-0, in the second half on Thursday en route to a critical and dramatic 28-20 Ocean League win.
Foothills Christian improved to 8-1 on the season.
The teams traded a pair of touchdowns each in the first quarter and it looked like the track meet was on.
But the Knights defense made the adjustments to shut down the Lions after trailing 20-14 at halftime.
CALEB TARVER rushed for a touchdown five minutes into the second quarter which gave the Knights a 14-6 lead after a two-point conversion, also on a run.
SDJA tied the game just a minute or so later with a touchdown pass, followed by a passing conversion.
With under a minute to go before halftime, the Lions scored on another touchdown pass, but failed on a two-point attempt.
Five minutes into the second half, the Knights' JOSH GATE scored a rushing touchdown to tie the game, but a two-point try was unsuccessful.
With three minutes left in the game, Tarver scored the decisive touchdown on a run. Gate carried in the two-point conversion for the final margin.