EAST COUNTY FEARLESS FORECASTER – Week 11
Updated: November 3, 2016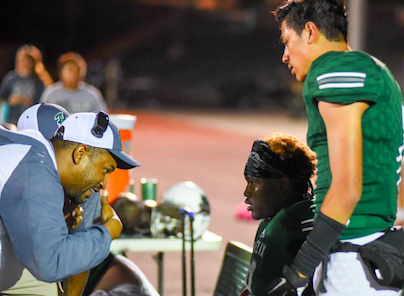 Photo by Chris Parks
2016 EAST COUNTY PREP FOOTBALL FEARLESS FORECASTER
By Bill Dickens
EastCountySports.com
LA MESA – The Helix Highlanders flipped the script when it came to last Friday's winning formula to knock off previously unbeaten Grossmont in the biggest game of the East County football season.
The Scotties were expected to head into the Grossmont Hills League showdown with the Foothillers ready to trade aerial bombardments with the Hillers' electric spread offense.
However, Helix didn't take the runway approach.
Instead, Highlanders relied heavily on an unheralded run game, led by the brothers Noa.
Helix, which came in averaging 142 yards on the ground, churned out 344 yards of rushing offense behind EZEKIEL and ELELYON "Fatto" NOA, and the Scots' front line pounded on Grossmont in the second half.
Helix (4-0 Grossmont Hills League), 7-2) took control of the championship chase, but one nearly-immovable object remains in the Valhalla Norsemen (3-1 GHL, 8-1).
The Norsemen have based their reputation on the strength of their defense, led by the sack exchange group of JACE MANNING, DYLAN MARSH and JOSH MCNISH-HEIDER. Valhalla can't necessarily pin its ears now that Helix has shown its offensive versatility in a big-time matchup.
And still, fourth-ranked Helix has one of the most formidable passing attacks led by quarterback CARSON BAKER.
The key for the whole operation is the impressive rotating offensive line group of ROBERT HUNTER, MATTEW AVII, PAKA ROJAS, BLAYKE DE LA ROSA, ISAIAH MANN, CHRISTIAN FLETCHER, LONNIE GIBSON, WILLIAM PAYNE, ADRIAN GODINEZ and CHRIS ALVARADO.
Valhalla turned heads early and has impressed throughout, with its only loss coming at the hands of Grossmont.
Still, despite that league loss, a victory here would give the 14th-ranked Norsemen a share of the circuit championship, while the Highlanders can clinch the patch outright.
The Highlanders' defense bobbled a bit in the big game against Grossmont, but the Norsemen don't necessarily pose the same type of offensive threat as the Hillers. The Scotties' EVAN PERKINS swung the momentum his team's way last Friday with a pick-six off a missed connection early in the second half.
Running back JEROME JOHNSON is a workload runner for Valhalla, while quarterback DENNIS DAHLIN has stepped in admirably as the starter over the last few weeks.
The Norsemen handled their business last week in a tougher-than-expected rivalry win at home against struggling Steele Canyon.
This game also features two of the top kickers – yes, I said kickers – in the East County in Valhalla's JACOB PAAPE and Helix's MATTHIAS LAYTON. Paape, who also has emerged as one of the leading receivers in the area – leads the east with eight field goals this season, while Layton is a perfect 24-for-24 on point-afters.
Valhalla sits precariously as the seventh-seed in the San Diego CIF Open Division playoffs.
Helix has won six-straight in this series by an average score of 39-6, but it should be closer this time… HELIX 38-23.
GRANITE HILLS (3-0, Grossmont Valley League, 5-4) at EL CAJON VALLEY (0-3, 5-4), 7 – The Eagles can wrap up the outright league championship by taking down the Braves in the battle on Madison Ave.
It has been quite an accomplishment for Granite Hills football to take down a second-consecutive league title.
The Eagles turned away challenger Monte Vista in impressive fashion, 35-7, last Friday night in Spring Valley.
Granite Hills quarterback JAKE SIEGFRIED has developed into a pleasantly-surprising dual threat. He totaled another 250 yards of total offense in the win over the Monarchs.
The Eagles' TYLER GONZALEZ, a junior, leads the East County with 10 1/2 sacks, while senior defensive back BRENDEN QUILL leads all locals with four interceptions.
El Cajon Valley's running quarterback TYSON SMITH has found the footing a bit more treacherous against his league foes and Granite Hills should pose a similar threat.
Despite the thrilling start to the season, the Braves are currently ninth in the Division 4 power rankings, putting their playoff chances in tumult.
The Eagles have rolled in this series since it resumed six years ago following a league-determined hiatus. Granite has won the half-dozen meetings by an average score of 32-13… GRANITE HILLS, 27-16.
WEST HILLS (1-3 GHL, 5-4) at No. 8 GROSSMONT (3-1 GHL, 8-1), 7 – The Foothillers could still gain a share of the title with some help across town, but first they have to take down the hard-fighting Wolf Pack.
First order of business for West Hills will be to avoid turnovers against a Grossmont team that is setting records for taking the ball away from its opponent.
The Foothillers have already equaled the San Diego CIF record for most fumble recoveries in a season with 26. The trio of ANDREW MINK, ANDREW LIRA and CHRISTOPHER LAETHEM have accounted for 10 of those recoveries. But perhaps more importantly, 14 other Foothillers have recovered fumbles.
And the Hillers are sure to be at peak alert following last week's humbling loss to Helix.
Grossmont's HUNTER GAINES and DOMO GUEVARA are the East County's leading quarterback-to-receiver tandem.
West Hills' bash-and-slash running back combo of GRIFFIN GUINN and JOVAN BEA should look to replicate what Helix did on the ground to Grossmont last week… GROSSMONT 42-14.
MOUNT MIGUEL (1-2, GVL, 2-7) at SANTANA (2-1 GVL, 6-3), 7 – The Sultans could still share the league crown with a win and some help, but the latter is out of their hands. However, Santana would likely ensure a first-round bye in the San Diego CIF Division 4 playoffs with a victory.
It has been an awesome season for the Sultans and a win over the Matadors would put an exclamation point on the regular season. Even better news is that Santana is considered a top contender for the section division championship.
Santana quarterback JOSH OEDEWALDT and his terrific receiving tandem of ANDERS TOLHURST and AIDEN RASMUSSEN have been lighting the tote most of the season. Oedewaldt is second in the East County with 24 touchdown passes.
Santana's losses have been to undefeated Bishop's, cross-town rival West Hills and league champ Granite Hills. They would seem poised to take down the Matadors.
Despite seven losses, Mount Miguel sits as the No. 12 seed in Division 2. They need this win badly to qualify for the postseason.
Mount Miguel will have to overcome an 0-4 road mark this season against the Sultans. Quarterback BENNY VALADEZ and running back SHEMAR GREENE may need to try and turn the scoreboard into an old-fashion pinball machine.
Defenders CAM HANSON, ANTHONY YAROROUGH and DAMIEN YURENA have the task of trying to slow Santana.
The Matadors know they are better than their record indicates after playing a tough schedule this season. They also know all they need is an invite and they can compete it the postseason… SANTANA 38-32.
MISSION BAY (0-3 Eastern League, 4-5) at No. 10 CHRISTIAN (3-0 Eastern, 9-0), 6:30 – We learned over Halloween that Patriots' touchdown machine JOEY MORONES is apparently not too fond of haunted houses.
Therefore, the only chance the Bucs might have to stop the locomotive that is the Christian High offense may be to fill the end zone with ghouls, ghosts and zombies.
Morones now has 25 touchdowns this season after finding the end zone a couple of more times last week in a non-league win at Point Loma. He leads San Diego County in scoring with 152 points this season.
Meanwhile, dangerous receiver and kick-return man THEO GOODWIN is a long-distance ghostbuster.
Christian is averaging 47 points at home this season and there's little to think they aren't good for another six or so scores against last-place Mission Bay at Granite Hills Stadium.
Now the Patriots are ready to sweep through yet another league season undefeated. After winning at least a share of another circuit title, Christian can't seem to find a league that can put an end to their consecutive-title run.
ISAAC ROSENTHAL, DAVID MORENO and JON STINE and ETHAN CONTRERAS lead a senior group set to play their last regular season home game Friday night, but the playoffs and a championship run await to Pats.
Mission Bay's offense relies on playmakers Kenyon Sims, Joseph Duran and Charles Hicks.
The Bucs are coming off a 55-25 demolishing over Scripps Ranch, a team the Patriots defeated, 61-7, at Granite Hills Stadium two weeks ago… CHRISTIAN, 45-21.
STEELE CANYON (0-4 GHL, 2-7) at EL CAPITAN (1-3 GHL, 4-5) – A matter of pride for the league season actually ends up as a key playoff tuneup for the Cougars and Vaqueros.
El Capitan, by way of schedule strength, is set to be one of the top seeds in Division 2, while Steele Canyon could earn a home game in the first round of the Division 1 playoffs with an upset in Lakeside Friday night.
The Cougars showed they have plenty of fight left after putting Valhalla through the ringer before the Norsemen escaped with a 21-14 home win.
The Vaqueros, meanwhile, picked up their first league win of the season at West Hills, as junior JOHNNY HAYNES made his presence felt with a 44-yard touchdown catch-and-run, while senior safety COLTON SANDOVAL stopped two Wolf Pack drives with interceptions.
Freshman quarterback WICK HAUSER continues to impress against solid defensive teams. He is averaging nearly 200 yards per game, thanks in part to talented senior target JAVIER VIDALEZ.
Steele Canyon held the Norsemen offense to a season-low point total last week behind senior end DARIN WALTON and junior safety JAVON WOODBRIDGE
The Cougars are winless away from home, but junior quarterback THOMAS FISHBURNE is the type of guy you want in a two-minute drill. His top target, senior BRENDEN WILLIS, is having a terrific campaign with 33 receptions and five touchdowns.
This one rates very close… EL CAPITAN 24-21.
MONTE VISTA (6-3) at VALLEY CENTER (8-1), 7 – A tough task for the Monarchs indeed, but they are sure to gain some great experience from the trip to the North County Friday in time for the postseason.
Monte Vista is likely to receive a first-round bye in the Division 4 playoffs win-or-lose against the Jaguars. A worst-case scenario would be a first-round home game against a bottom-seeded opponent next week.
So expect the visitors to stick to the script, which means a lot of running with JAHMON MCCLENDON and RASHAUN WILLIS-BROWN.
Monte Vista's defense will try to recoup from allowing 35 points in a big league showdown loss at Granite Hills. The Monarchs' defense has two budding stars in sophomores BLAKE SCHMIDT and JONATHAN GULLEY.
The Jaguars have a balanced attack led by senior back Daniel Belcher and sophomore QB Rikki Mazzetti.
The Monarchs have outscored the Jags and allowed fewer points than them as well, but may come up just short… VALLEY CENTER, 31-24.
VINCENT MEMORIAL (2-1 Manzanita League, 4-5) at MOUNTAIN EMPIRE (1-2 Manzanita, 4-5) – Don't give the Mountain Empire Red Hawks the ol' "everybody makes the playoffs these days" line.
Heading into the week, the Red Hawks are the only East County team on the outside looking in on the CIF's postseason puzzle.
MEHS currently sits 13th in Division V, so Friday night's game against current ten-seed Vincent Memorial is the biggest must-win game on the local slate.
Given how the Hawks played last week in another crucial win – against Lutheran – there certainly optimism that a repeat performance could be in the offing.
Sophomore Red Hawk DALLAS PRINCE is the smallest player on the field, but you'll have no trouble spotting him.
The 5-6, 130-pounder had two long TD receptions and also returned an interception for a touchdown in the win last Friday.
Senior running back MICHAEL STOGSDILL had a 173 yards of total offense last week, as well.
The Scots' Eduardo Valenzuela and Daniel Rizzo have combined for 15 touchdowns this season. Valenzuela, a duel threat QB, has just four interceptions in 174 attempts. Vincent's Adrian Navarro has nine of the team's 31 sacks this season.
This one should be a nail-biter… MOUNTAIN EMPIRE, 29-28.
Fearless Forcaster's Record
Last week:  4-2 (.667)
Season:      72-18 (.800)
NOTE: A production error omitted last week's El Capitan-West Hills preview. We regret the error.