2016 EAST COUNTY FEARLESS FORECASTER – SDCIF SEMIFINALS
Updated: November 25, 2016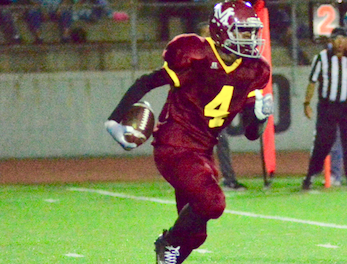 MONTE VISTA sophomore JAHMON MCCLENDON
2016 EAST COUNTY PREP FOOTBALL FEARLESS FORECASTER – Week 14 SDSCIF SEMIFINALS
By Bill Dickens
EastCountySports.com
SPRING VALLEY – Few may have considered the Week 8 matchup between the Monte Vista Monarchs and Santana Sultans to be of championship caliber, but anyone who follows the San Diego CIF power rankings knew that the Grossmont Valley League foes could easily end up clashing in a big playoff elimination game come November.
And that week has arrived Friday night (7 p.m.) in Spring Valley, when the 7-4 Monarchs host the 7-4 Sultans for the right to complete in the SDCIF Division 4 title game next Friday at 3 p.m. at Southwestern College.
And while the offenses that night were of the quality that make these teams among the tops in the division, the defenses resembled more of a flag football game.
The two teams combined for 10 plays of 30 yards or more, with six of those being 50-plus-yard plays. The Monarchs had four plays go for 65 or more yards.
Junior JOSH OEDEWALDT, the Sultans' 6-foot-3, 185-pound signal caller, delivered four scoring passes in a key league game at the time, won by the Sultans, 46-40. Oedewaldt piled up 66 rushing yards to go with his 341 passing yards.
Santana's school record-breaking running back BOBBY WALLACE, a senior, finished with 95 yards on 18 carries and one touchdown, as he had success running to the left side.
On the Monarchs' offensive side, 6-foot-2, 200-pound sophomore running back JAHMON McCLENDON, who has burst onto the scene in a big way this season as one of the top backs in the East County, rushed for 258 yards and 3 touchdowns on 36 carries.
He racked up over 200 yards on 20 carries last week before getting the second half off in a 39-12 quarterfinal win here over Serra.
In the regular season meeting, Santana built a 31-19 lead in the second quarter, but Monte Vista trailed 31-26 at halftime.
Santana senior ANDERS TOLHURST caught two of the scoring passes from Oedewaldt, as the pair were in synch all evening. Tolhust finished with eight receptions for 121 yards, while teammate BROCK ELLIS had five catches for 107 yards.
In the third quarter, Oedewaldt hit senior AIDEN RAMSUSSEN on a skinny post for a 70-yard score to make it 37-33 in favor of the Sultans.
The key to both units, and a main reason for such offensive success by both teams all season, is the seasoned-play of both teams' senior-laden offensive fronts.
Oedewaldt's crew is seniors MATTHEW WHITCOMB, BRYCE MARTIN, TRENT FORSTER, ADAM VARGO and DYLAN BROWN.
While opening the way for the Monarchs whiplashing running game are senior linemen EDUARDO GONZALEZ, VICTOR ICU, BRIAN SHELL, DAVID YBARRA and CURTIS STEVENS.
And while both teams have linemen going both ways, the offenses were on full throttle that night. The tempo forced Monte Vista to get away from what it usually does, and this is control the clock.
Running back RASHAUN WILLIS-BROWN had a 75-yard touchdown for Monte Vista, while brothers Jahmon and JAMEZ MCCLENDON, both had 68-yard touchdown runs.
And even though the Monarchs rarely toss a pass, they did so successfully against the Sultans as ADERO JOHNSON completed a 50-yard score to sophomore tight end BLAKE SCHMIDT.
Santana senior defensive lineman DOMENIC DEHOYOS led the busy Sultans' defense with 16 tackles, while STEPHEN ROE recorded 10 stops. Ellis recorded an interception.
Meanwhile, last week's defensive star in the Sultans' 44-0 shutout of Coronado was DALE GENSCHAW, a hard-working junior who finally got his just due with a three sack performance, while Ellis returned the opening kickoff for a touchdown.
Monte Vista has a special teams threat of their own in junior EARNEST DAWN, who ran a kickoff back for a score against the Sultans.
The Monarchs' were putting the stops on the Conquistadors last Friday night led by linebackers JESUS ZUNIGA, JOSE GONZALEZ. Junior defensive back TORREY MACK had an interception, while Schmidt racked up a sack.
The Monte Vista program earned a CIF title game berth back in 2013, while the Sultans last championship game was in 2011.
The winner advances to meet either La Jolla Country Day or Southwest (El Centro)… MONTE VISTA, 28-26.
RANCHO BERNARDO (11-0) at HELIX (9-2), 7 – This ain't no Turkey Bowl.
The second-seeded Highlanders host the third-seeded Broncos in a San Diego CIF Open Division playoff clash on Jim Arnaiz Field at Benton Hart Stadium.
Helix earned the home game by way of their CIF power ranking, but the Broncos come in with a 20-game winning streak. Rancho Bernardo won the SDSCIF Division 2 championship last year then went on to capture the CIF State Division 3-A crown.
Helix's only losses this season have been to Open Division top-seeded Cathedral Catholic and Utah powerhouse Timpview. The Highlanders have won seven-straight, including back-to-back home wins against Valhalla to clinch the Grossmont Hills League title, then in the division quarterfinals last Friday.
The Broncos' Milan Grice has rushed for over 1,400 yards this season and has scored 18 touchdowns. Last week, in the quarterfinals against Oceanside, he carried the ball 34 times and rushed for 177 yards, including 2 touchdowns.
RB quarterback Mark Salazar missed three games due to an injury, but has since returned, and enters the game with 11 touchdown throws against one interception. That efficiency could prove key against the county's top secondary, bar none.
Helix seniors EVAN PERKINS and SCOTT YOUNG, along with juniors RASHAD SCOTT and ISHA PARISH, lead the stout secondary group. Perkins' late pick last week dashed any comeback dreams that the Norseman may have had against Helix.
Junior Malcolm Ross-Turner is the receiver to keep an eye on for the Broncs, as he had 32 catches with eight of them going for touchdowns this season.
The Scotties' superstar is EZEKIEL NOA, who was nominated this week for the KUSI Silver Pigskin Award, which is given to the top player in San Diego County.
He anchors the Highlanders' defense and was also the team's main rushing option, until his younger brother, freshman ELELYON "Fatto" NOA, came onto the scene four games ago. The younger Noa is averaging nearly 115 yards per game since his arrival to the varsity.
Still, the Highlanders are more known offensively for their passing attack led by junior quarterback CARSON BAKER. Baker has thrown for over 2,200 yards and 18 touchdowns this season. Young and Scott have combined for 92 catches and 14 touchdowns.
Rancho Bernardo has one of the top rush men in the county in senior in senior Matt Roehrig, who has 13 sacks. The Broncos also have 14 interceptions as a team.
The teams share a common opponent this season, but both squads blasted Eastlake on the road, with Helix claiming a 42-7 win over the Titans, while RB beat them 38-0.
The winner earns a berth in the Open Division championship on Saturday, Dec. 3, at Southwestern College at 7 p.m.
Can the Scotties break RB's 20-game winning streak? …  RANCHO BERNARDO, 24-22.
LINCOLN (7-4) at CHRISTIAN (11-0), 7 – There is no reason to indicate the fourth-seeded Hornets can turn the tables on the top-seeded Patriots in this Division 3 semifinal, after Christian swatted the Hornets at Player Stadium, 35-17, back in mid-Oct.
Lincoln would need to pull an upset at Valley Stadium in order to stop the Patriots from getting back to another CIF championship game after the Pats rolled 50-27 over Hilltop in the quarters last week.
JOEY MORONES piled up five of his 28 touchdowns in that week 8 meeting at Lincoln, as the Patriots won the key game in their Eastern League championship sweep.
The Hornets led 17-14 early in the third quarter of that game as the lead changed hands a couple of times in the game into the fourth, but Morones scored three of his TDs in the fourth quarter.
Christian junior quarterback BRAD JEREMIAH completed four passes to senior THEO GOODWIN, all in some crucial situations.
Goodwin has 52 receptions and 12 receiving touchdowns this season to go along with his four kick returns for scores and one rushing TD.
The Patriots have an impressive and disciplined offensive front of JONATHAN STINE, AUSTIN MANION, JAMIR HAILEY, CHASE HANDLEY and DUNCAN HUNTER.
Senior linebacker DAVID MORENO and sophomore defensive end GARRETT ROSENTHAL lead the Patriots' defense, while ISAAC ROSENTHAL, JOE MARKOWICZ, CJ KIRWAN and ALEXANDER GONZALEZ are standouts that had strong performances, especially in the second half, in the win over Lincoln.
The Hornets needs a near-miracle to win their quarterfinal last Friday against fifth-seeded Santa Fe Christian, as, junior quarterback Asante Hartzog hit Daelyn Dunn with a 12-yard score, then on the PAT,  star back Micah Edwards took a direct snap and rushed in the conversion for a 29-28 victory.
Edwards has rushed for over 3,000 yards rushing in his career and has scored 10 touchdowns over the Hornets' last three games.
The winner will face either second-seeded and undefeated Bishop's (11-0) or third-seeded Valley Center (10-1) on Sat., Dec. 3 at 11 a.m. at Southwestern College.
The Hornets used to crucify the Patriots in nearly a decades worth of beatings back in the '80s, but its a different story now… CHRISTIAN… 31-22.
Fearless Forcaster's Record
Last week:  6-1 (.857)
Season:      85-25 (.772)