2016 EAST COUNTY FEARLESS FORECASTER – CIF FINALS
Updated: December 1, 2016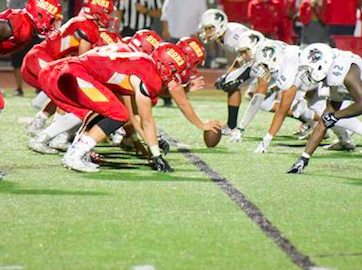 Helix and Cathedral Catholic square off in Week 4. / photo by Chris Parks
2016 EAST COUNTY PREP FOOTBALL FEARLESS FORECASTER – SDCIF CHAMPIONSHIPS
By Bill Dickens
EastCountySports.com
CHULA VISTA – The is no question the Helix Highlanders will miss superstar senior EZEKIEL NOA when they take the field Saturday night (7 p.m.) against championship rival Cathedral Catholic in the CIF Open Division title game at Devore Stadium.
After all, Noa is the reigning section defensive player of the year, and his expanded role in Helix's offense this season has resulted in over 600 yards rushing, good for an average of over 10 yards per carry.
But the pain Noa felt when he injured his ACL joint in a non-contact injury in last Friday's 28-10 home semifinal win over previously unbeaten Rancho Bernardo probably pales in comparison to the anguish the Scotties' captain has felt this week leading up to another high-profile matchup with the top-seeded and undefeated Dons.
Noa learned not long after the win over the Broncos that his high school football career was over and he wouldn't get a chance to help his team defend its Open Division title.
And while he is one of the greatest players to ever don a Helix uniform, the Highlanders are in the envious position of having a football program overflowing with talent in both upper and lower classmen.
Take Noa's defensive position of linebacker for example. Despite losing their leader, the Scotties still feature senior LONATHAN MILSAP, juniors REE REE PATANE and LARS LASH, as well as, rising sophomore star MICHAEL SHAWCROFT.
The Highlanders' defense has had an impeccable season with four shutouts.
Senior safety SCOTT YOUNG seems to be reaching the pinnacle of his career each time he steps on the field. His intensive film work has him stopping opponents' plays before they happen.
Meanwhile, senior corner EVAN PERKINS is also making the biggest plays of his career during the Scots' championship drive.
In week four of this season, Cathedral overcame a 21-0 deficit to defeat the Highlanders, 35-28, on its home turf. Helix had eliminated the Dons in the Open Division semifinals in both 2015 and '14. In fact, Noa had a huge interception in the win over the Dons last November.
Still, Saturday night's showdown appears to be about the offenses.
Helix junior quarterback CARSON BAKER matches up with the Dons' TATE HAYNES.
Now Helix will most likely rely on freshman ELELYON NOA to bolster the Highlanders' running game, while Baker spreads around his passes to a bevy of targets including junior receiver RASHAD SCOTT and senior tight end JAYLEN ARNOLD.
Sophomore running back Shawn Poma has rushed for over 900 yards this season in the Dons' Wing-T attack. CCHS runs the ball at a 4-to-1 ratio, but when they get into the red zone, watch out, as 19 of the Dons' 77 completions have gone for touchdowns.
Cathedral also has a strong pass rush led by seniors Moroni Anae and Jack Cavellier, while senior Jordan Genmark-Heath is one of the most impressive two-way stars in the county.
Bottom line is, Helix still has a tremendous amount of championship experience and the depth to at least admirably fill Zeke's shoes… HELIX, 27-24.
CHRISTIAN (12-0) vs. BISHOP'S (12-0), Sat., 11 a.m. – You don't need us to sell you on this one, as the undefeated small school juggernauts meet at Southwestern College in the Division 3 championship game.
If you even needed a selling point, let's start with the offenses, which combine to average almost 90 points per game combined.
Christian senior running back JOEY MORONES has rushed for over 1,000 yards this season and scored 26 touchdowns on the ground, while his running mate, senior TSHOMBRE CARTER has over 550 yards and 10 scores.
That has opened things up all season for junior signal caller BRAD JEREMIAH.
The latest extension of the Jeremiah quarterbacking tree has blossomed brilliantly in 2016, throwing for over 2,000 yards with 21 touchdowns and just six interceptions.
Senior receiver THEO GOODWIN is almost a poorly-kept secret, believe it or not. Despite his 60 catches and 18 totals touchdowns, including four on kickoff returns, Goodwin almost seems overshadowed when you hear talk about the county's elite play makers, but his speed is literally unmatched.
The Patriots also possess an array of two-way stars, including senior JON STINE, who has a team high six sacks this season, and sophomore linebacker BRYCE RIEPL, who has five sacks, as well as, 26 catches and three touchdowns on offense.
Sophomore defensive end GARRETT ROSENTHAL, who has five sacks this season, is already playing like a three-year vet. Another Patriots' rising star is sophomore lineman DUNCAN HUNTER.
Knights' junior quarterback Jeffrey Jackson, meanwhile, has numbers that would intimidate most defenses with 3,300 yards through the air and 39 touchdowns, with just three interceptions.
Jacob Jackson has 54 receptions and 12 touchdowns for Bishop's, while junior wide receiver Mozes Mooney has 55 catches at 14 touchdowns.
Junior running back Hasant Moses-Hillman has rushed for a team-high 825 yards and 10 touchdowns for the Knights.
The Patriots have a championship pedigree dating back many, many classes, while the Knights have only recently risen to the top, putting together an undefeated season just two years ago. The programs haven't faced one another since Christian beat up the Knights, 56-28, at Valley Stadium in 2013.
Christian should return to the CIF winner's circle for the first time since 2014… CHRISTIAN, 35-28.
SANTANA (8-4) vs. LA JOLLA COUNTRY DAY (10-3), Fri., 3 p.m. – Most any fan of the San Diego County scene is familiar with the Torreys' Arizona-bound gunslinger Braxton Burmeister, but for many, this will be the first time they'll really get a chance to see the Sultans' unheralded junior QB JOSH OEDEWALDT.
It should be a busy afternoon for the statisticians.
Braxton has notably racked up record after record in the section record book, but we're here to tout our man.
Oedewaldt has been truly impressive at the helm of the Sultans' tempo-based attack. He's thrown for over 2,700 yards and 31 touchdowns, leading Santana to its second-ever CIF title game.
And he came up big in the clutch last week against East County foe Monte Vista, connecting with "Energizer Man" BROCK ELLIS on the go-ahead, game-winning score with just over a minute left on the road in the section semifinal.
Oedewaldt has a top possession receiver in senior ANDERS TOLHURST, who has caught 64 passes for nearly 800 yards, including 11 receptions for touchdowns this season. However, the Sultans have missed fellow wide out AIDEN RASMUSSEN, who suffered an ankle injury late in the season, causing him to miss the playoffs.
Ellis stepped up in his absence last week with a career-high receiving performance of nine catches for 176 yards and two scores.
Of course, the Sultans have long relied on running back BOBBY WALLACE, who has broken nearly every Santana school rushing record this season. He's relished in sharing the spotlight with the other weapons in Oedewaldt's arsenal.
The Sultans have been saddled with some defensive setbacks this season, and just slowing Country Day is going to be a task not easily accomplished.
But seniors DOMENIC DEHOYOS, ADAM VARGO, STEPHEN ROE and NOAH JACKSON, along with juniors DALE GENSCHAW and LANDON WOOD, will look to make big plays, knowing their offense is capable of keeping pace with the Torreys.
Burmeister's targets feature senior receivers Casey Maricucci and Brennan Goring, along with sophomore Jaden Dir.
The Sultans lost to Valley Center in the 2011 Division IV title game under coach DAVE GROSS. Will they bring the first-ever CIF football trophy back to Santee? … LJCD, 45-35.
Fearless Forcaster's Record
Last week:  1-2 (.667)
Season:      86-27 (.761)