Matadors, Hillers, Eagles, Knights get tourney wins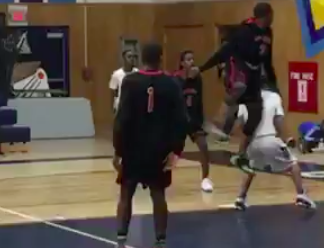 A Mount Miguel player gets up in the air during a play underneath by Bonita Vista on Wednesday.
2016-17 EAST COUNTY PREP BOYS BASKETBALL
By Bill Dickens
© East County Sports.com 
CHULA VISTA (12-1-16) – It began with a night of gloom as the visiting Mount Miguel Matadors fell behind host Bonita Vista 12-0 in the Baron Matador Classic Wednesday (Nov. 30).
The Barons hit 5 threes in the opening quarter.
The Matadors, however, bounced back and swiped a 64-63 victory.
"We knew we had to buckle down to turn the game in our favor and we were able to do that," said Matadors coach JAY ROWLETT.
By halftime Bonita Vista was clinging to a 34-33 advantage. Mount Miguel took control in the second half but could not pull away.
"Bottom line is we hung in there," Rowlett recalled. "I'm very proud of our guys because they just kept coming."
DARIAN NORWOOD, a 6-foot-4 senior, carried the torch for the Matadors, rolling a double-double of 23 points and 15 rebounds. In his first two starts Norwood has produced 41 points and 16 rebounds.
JAMES ALLEN flipped in 19 points and shoveled 6 assists for the Matadors, who also got 10 points from RICKY HARVEY.
Not to be overlooked was MARQUISE EDWARDS, who pounded the boards for 16 rebounds.
Mount Miguel led 58-49 with five minutes left, but moments later the Barons' Anthony Mendoza hit a three to bring it to within 60-56.
Mount Miguel scored eight unanswered points in the second quarter to tie the game 30-30. The Barons parlayed their early shutout run into a 18-5 lead with under two and a half minutes remaining in the first quarter.
Mount Miguel:  Darian Norwood 23 (15 reb, 1 ast, 2 stl), James Allen 19 (6 ast, 3 stl), Ricky Harvey 10 (3 reb, 2 ast, 3 stl), Marquis Neal 6 (2 ast, 1 stl), Marquise Edwards 4 (16 reb, 1 ast, 2 stl), Devon Brown 2 (2 reb).
GROSSMONT 45, VINCENT MEMORIAL 29 – The Grossmont Foothillers "Scuba Warriors" toppled Vincent Memorial in the second round of the Game on Challenge tournament Wednesday (Nov. 30) in Spring Valley.
Coach FRANK FOGGIANO's Foothillers are playing their first six games on the road after a faucet was inadvertently left running for several days over the Thanksgiving holidays. Thus the gym floor buckled and was deemed unplayable and now is in the process of being replaced.
Foggiano said that the team's practices have been relegated to the ancient "old gym" across the quad.
"We're getting our work in, and Monte Vista coach MIKE TULLY is really helping us by giving us gym time on his court."
Grossmont rolled over Vincent Memorial on the strength of DOMONIQUE GUEVARA, who poured in 17 points, collected a dozen caroms, recorded 8 steals and dished 2 assists. In his first two games Guevara has logged 33 points, 20 rebounds and 11 steals.
The pivotal quarter in the contest was the 3rd period when Grossmont pounced on the Fighting Scots to take command of their second win in as many starts.
Grossmont:  Domonique Guevara 17 (12 reb, 2 ast, 8 stl), Branik Brown 7 (2 reb, 1 stl), Hunter Gaines 6 (4 reb, 2 ast, 1 stl), Austin Odom 5 (2 reb, 1 ast, 1 stl), Jamie Odom 4 (2 reb, 2 ast, 1 stl), Mykol Rodriguiz 3 (2 reb, 1 stl), Desain Crawford 3 (1 reb, 1 ast, 1 stl), Hunter Mulder (3 reb, 1 stl), Morgan Stidum (1 ast, 1 stl), Damageae Gant (1 reb, 1 ast, 1 stl).
GRANITE HILLS 74, HOOVER 47 – The host Granite Hills Eagles outscored perennial power Hoover across the board as they captured Wednesday's (Nov. 30) first round of the Eagle Invitational.
Six-foot-8 senior RYAN KELLY coined double-doubles of 20 points and 10 rebounds to spark the Eagles. He was 5 for 10 from the field and 10 of 13 from the free throw line.
"Kelly played really well," noted Eagles coach RANDY ANDERSON. "We did a good job of getting him the ball. Had great hustle and intensity by the entire team in the first quarter."
CAMERON SPITZER chipped in with 19 points, including a pair of 3s and 5 for 5 free throw shooting.
MOSES SMITH punched in 10 points and JORDEN ROGERS also hit 10 points for the Eagles.
Granite Hills shot 54.2 from the field, hitting 32 of 59.
Granite Hills:  Ryan Kelly 20 (10 reb, 4 ast, 1 blk), Cameron Spitzer 19 (6 reb, 5 ast, 2 stl), Moses Smith 11 (3 reb, 1 stl, 2 blk), Jorden Rogers 10 (3 reb , 2 ast, 1 stl), Darien Cossio 6 (2 reb, 4 ast, 2 stl, 1 blk), Aaron Cobb 3 (1 stl), Austin Ballo 3, David Coffey (1 reb), Cody Cox (1 reb).
FOOTHILLS CHRISTIAN 75, ORANGE LUTHERAN 68 – Sensational JAYLEN HANDS had 22 points, 13 assists and eight rebounds to lead Foothills Christian to a third-straight win at the BattleZone Tournament at Centennial High Wednesday (Nov. 30), this time over Orange Lutheran, 75-68.
The guard was solid at the line, as well, in the win, going 10-for-12, on a night when the rest of the team faltered from the stripe in the fourth and finished at 65 percent as a team (15-23).
The win sets up a meeting with defending national champion and the current No. 1 team in the country, Chino Hills on Friday night (Dec. 2).
Sophomore guard JAREN NAFARRETE had 17 points, including three three-pointers for Foothills.
T.J. LOWERY proved key for the Knights, coming up with key buckets on the way to 11 points, as all five starters finished in double figures for FCHS.
Senior KALE BALDADO had 13 points, while fellow senior JORDAN VAN OMMERING added 12 for the Knights. The pair combined for five three-pointers.
Orange Lutheran got as close as 69-62 with under a minute remaining in the contest.
Nafarrete and Van Ommering had the three-ball working early in the fourth to get up to a 64-53 lead.
Both teams put together impressive runs to open the second half.
The Knights started the third with a 16-2 spurt behind the scoring of Nafarrete and Lowery to go up 53-37, but OLHS turned in a 9-0 run of its own to bring it to within 55-48.
Baldado hit a bucket late in the first half for a 37-35 halftime lead behind 14 from Hands.
Van Ommering hit a three late in the first half that gave Foothills a 34-33 lead. Earlier Nafarrete hit a three to tie the game at 29.
Baldado had a three early in the second and Hands added a pair of field goals for a 22-21 advantage for FCHS.
MORSE 48, MONTE VISTA 38 – The Monte Vista Monarchs put three players in double figures but did not net a single free throw as they dropped an Eagle Invitational contest at Morse Wednesday (Nov. 30).
The big difference is Morse nailed 12 free throws.

DEONDRE McHAYLE and DERRICK WILEY shared the sparse scoring attack with 14 points apiece, and DAVID GARCIA pitched in 10 more.
"We competed but we were short," said Monarchs coach MIKE TULLY. "We didn't get into the bonus and they did. The fouls were pretty even. We played really, really hard. We tied it at the half (17-17), then fell behind, then cut it to 2.
"We played really hard for 3½ quarters. Had too many turnovers that led to them getting some easy buckets."
Monte Vista:  Deondre McHayle 14, Derrick Wiley 14, David Garcia 10.