Matadors take Pilots to school; Helix wins
Updated: December 3, 2016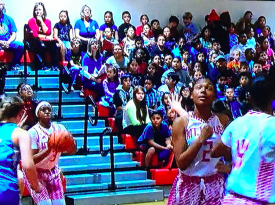 2016-17 EAST COUNTY PREP GIRLS BASKETBALL
By Bill Dickens
© East County Sports.com
SPRING VALLEY (12-2-16) — Mount Miguel put on a unique event in Friday's (Dec. 2) Matador Classic. The Matadors invited students from Avondale Elementary to be their guests at a non-league duel between Mount Miguel and Our Lady of Peace.
Matador coach ROBBIE SANDOVAL, himself a graduate of Avondale, said he wanted to introduce the youth of Spring Valley to Mount Miguel's varsity girls basketball program.
The coach passed out red rally towels and various other items to the capacity crowd of 882.
"It was super-packed," said Sandoval proudly. "We had our student body, ROTC, cheerleaders and several other on-campus organizations in attendance.

The basketball game was almost irrelevant in the festive mood of the crowd, although they cheered enthusiastically as the Matadors walloped OLP 67-35.
"Every time we made a basket the crowd would make a high pitched squeak from the youngsters," Sandoval recalled.
DESTINI ANDERSON scored 22 points and grabbed 7 rebounds to pace the Matadors.
SATERA BATES pitched in 19 points and 6 rebounds, 3 assists and 5 steals plus a block, while CAMARA DOUGLAS contributed 16 points and 7 rebounds.
Mount Miguel: Destini Anderson 22 (7 reb, 1 ast, 4 stl), Satera Bates 19 (6 reb, 3 ast, 5 stl, 1 blk), Camara Douglas 16 (7 reb, 3 stl, 2 blk), Laila Smith 6 (3 reb, 8 ast, 2 blk), Michelle Corley 4 (2 reb, 2 stl), N.Maga (3 ast, 4 stl), Tiaja Bennett (1 reb, 1 ast, 1 stl).
HELIX 55, ST. JOSEPH's (Santa Maria) 48 – Helix bolstered up their offense led by 15 points from DANIELLE SIMMONS, 12 from CAMRYN OWENS and 11 from TALIAH HOOKER to take a 19-13 first quarter lead over St. Joseph's of Santa Maria in Friday's (Dec. 2) second round of the Sweet Sixteen Tournament.
New head coach FREDDIE GARRETT helped direct the Highlanders to a 45-35 lead after three quarters.
Nine players contributed to the scoring for the Highlanders (1-2) as Helix rolled over St. Joseph's 55-48 in the first victory of the season.
DANIELLE SIMMONS paced the Highlanders with 15 points while CAMRYN OWENS added 12 and TALIAH HOOKER chipped in with 11.
Helix will face an opponent to be determined at 10 a.m. Saturday (Dec. 3) in the Sweet Sixteen Tournament.
Helix: Danielle Simmons 15 (6 reb, 2 ast), Camryn Owens 12 (4 reb, 5 ast), Taliah Hooker 11 (3 reb, 1 ast), Diamond Whitley 6 (3 reb, 1 ast), Melat Ezana 4 (2 reb), Charity McWashington 2, Mariyah Howard 2 (1 reb), Olivia Missouria 2 (1 reb), Kaliah King 1 (1 ast), Janae White (2 reb).
ROCK ACADEMY 45, CHRISTIAN 28 – Rock Academy jumped out to a 9 point advantage in the first quarter and managed to maintain the lead through the rest of the contest in Friday's (Dec. 2) Calvin Christian Fastbreak Tournament.
MARISSA GILES led the Patriots with 19 points.
Christian will meet their next opponent at 1 p.m. on Saturday (Dec. 3).
Christian:  Marissa Giles 19 (2 reb, 3 stl), Jasmyn Crawford 5 (3 reb, 2 stl), Brooke Owen 2 (1 reb, 1 stl), Hayley Robinson 2 (4 reb), Cipriana Hudson (6 reb).
EL CAMINO 63, GRANITE HILLS 47 – The Eagles haven't found their wings yet as they suffered defeat at the hands of the Warriors in Friday's (Dec. 2) Excalibur Tournament in San Marcos.
They will play either Escondido or Oceanside at noon Saturday (Dec. 3) in San Marcos.
EL CAPITAN 44 MISSION BAY 24 – No report
Holiday Bash Tourney
At STEELE CANYON – No report
Non-League
GROSSMONT at HOOVER – No report
VALHALLA vs. TBA – No report
WEST HILLS at VISTA – No report