Napa continues to be Cougar country
Updated: December 4, 2016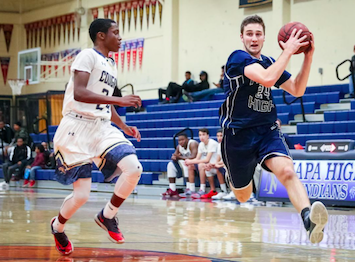 Steele Canyon's DARREN SPENCE pursues Napa's Zach Blackwood on Saturday. / photo by LuckyDuck Images
2016-17 EAST COUNTY PREP BOYS BASKETBALL
By Bill Dickens
© East County Sports.com
NAPA (12-4-16) — Steele Canyon unleashed a high-scoring attack in Saturday's (Dec. 3) Wine Valley Tournament and continued on to capture the consolation championship with a 76-60 win over Bethel of Vallejo.
All-Tournament pick GAGE SANDERS led the charge with 18 points, including 3 triples and 5 assists as the Cougars improved to 2-1.
Steele Canyon continued its onslaught in the middle two quarters 50-26 over the Jaguars and then breezed to a 76-60 victory.
Nine Cougars contributed to Steele Canyon's scoring totals.
"The bench came in and played well," said Cougar coach DEREK STEPHENS. "Everybody scored. We passed the ball really well, had a lot of assists (23)."
NICK BARNS nailed a trio of three-pointers and finished with 11 points for the Cougars.
As a team Steele Canyon drilled in 9 triples.
TYLER SMITH was a force inside, dropping in 9 points, wrestling down 11 rebounds and blocking 8 shots.
KOBE SANDERS led the passing parade with 6 assists and his brother Gage Sanders had 5.
THOMAS FISHBURNE pitched in with 5 assists. He also scored 7 points and recorded 3 steals.
DIAR SADIQ added 8 points and 6 rebounds, while JALEN SAYLES pushed in 8 points, snared 4 rebounds and dealt 3 assists.
Not to be overlooked was KYREE WOODS who had 8 points and 6 rebounds.
Steele Canyon:  Gage Sanders 18 (2 reb, 5 ast, 1 stl, 1 blk), Nick Barns 11 (1 reb, 2 ast, 2 stl), Tyler Smith 9 (11 reb, 8 blk), Kyree Woods 8 (6 reb, 1 stl), Diar Sadiq 8 (6 reb, 1 ast, 2 stl, 1 blk), Jalen Sayles 8 (4 reb, 3 ast, 1 stl), Thomas Fishburne 7 (2 reb, 5 ast, 3 stl), Kobe Sanders 5 (2 reb, 6 ast, 1 stl, Darrin Spence 2 (1 reb, 1 ast, 1 blk).
CHRISTIAN 64, HIGH TECH-NC 46 – In Saturday's (Dec. 3) semifinal of the Greater San Diego Shootout, which tipped off at 8:30 a.m. at the RAC, did not seem to catch the Patriots with their eyes closed.
In fact Christian had a balanced attack. DOMANIC SAFARTA led the 3-point merry-go-round with 5 treys to finish with a game-high 19 points.
NASHOM CARTER dropped in 4 treys to finish with 16 points, 5 rebounds and 3 assists.
JACKSON LARSEN hit 6-of-12 from the floor to finish with 14 points to go along with 4 rebounds and 5 assists.
DANIEL WELCH added 7 points and 7 rebounds for the Patriots.
Christian:  Domanic Safarta 19 (2 reb, 5 ast, 1 stl), Nick Carter 16 (5 reb, 3 ast), Jackson Larsen 14 (4 reb, 5 ast, 2 stl, 1 blk), Daniel Welch 7 (7 reb, 1 ast, 1 stl), Patrick Roberts 6 (3 reb, 1 stl), Donte Bristol 2 (1 stl), Jack Mason (1 ast), Deshaun Lynch (1 reb, 3 ast).
CORONADO 61, CHRISTIAN 55 – In a battle of small school powers, the Coronado Islanders shuffled past host Christian 61-55 for the championship of the Greater San Diego Shootout Saturday (Dec. 3).
The unbeaten Islanders (6-0) took an early lead of 30-21 and never let go.
Christian's NASHOM CARTER nailed 20 points, snared 7 rebounds, dished 5 assists and swiped one pass, but it wasn't enough to send Coronado reeling.
DOMANIC SAFARTA dropped in 13 points, and JACKSON LARSEN banked in 10.
The Patriots were more effective on the boards than they were shooting. Larsen had 8 rebounds and Carter had 7 as the Patriots suffered their first loss in six games.
Carter and Safarta were named to the All-Tournament Team.
Christian:  Nick Carter 20 (7 reb, 5 ast, 1 stl), Domanic Safarta 13 (4 reb, 2 ast), Jackson Larsen 10 (8 reb, 2 ast), Patrick Roberts 4 (2 reb, 1 stl), Daniel Welch 2 (2 reb, 1 ast, 1 blk).
SANTANA 58, CLAIREMONT 47 – Undefeated Santana used a sound defense to push its record to 4-0 to lead the Sultans past Clairemont in Saturday's (Dec. 3) Greater San Diego Shootout.
NICK BERHALTER carried the torch for 18 points and 6 rebounds, and ANDREW HITCHCOCK hammered down 17 points, 5 steals, 5 assists, 3 rebounds and 2 blocks.
The Sultans raced in front 24-13 after one quarter and forced the Chieftains to play catch-up.
TC SIMMONS punched in 10 points, 5 rebounds, 4 assists and 4 steals, while BRANDON SIMMONS grabbed 9 rebounds to lead the Sultans on the boards.
Santana:  Nick Berhalter 18 (6 reb, 1 stl, 1 blk), Andrew Hitchcock 17 (3 reb, 5 stl, 5 ast, 2 blk), Zach Leggitt (1 stl, 1 ast), Brandon Simmons 4 (9 reb, 1 ast, 1 stl), TC Simmons 10 (5 reb, 4 ast, 4 stl), John Bobof 5 (6 reb, 3 ast, 1 stl), Simone Maritano 4 (2 reb, 1 ast, 3 stl).
FOOTHILLS CHRISTIAN  65, ETIWANDA 60 – The Knights pulled away in the second quarter for a 15-point lead, which they would extend to 17 early in the third, however, Etiwanda would eventually close the gap to 58-56 in the final minute of the game.
KALE BALDADO hit a three-pointer that gave Foothills Christian a 30-21 lead with under three minutes left in the second quarter, then JAYLEN HANDS made a pair of buckets, followed by a three-pointer from JORDAN VAN OMMERING that upped the Knights advantage to 38-23 at intermission.
After Etiwanda kept chipping away and finally closed to within a basket on an 8-0 run with less than a minute to go in the game, Van Ommering and T.J. LOWERY combined for five points to reassure the lead.
The Eagles cut the lead down to five points twice in the third period, but Hands hit a three-pointer with 3:44 left in the third to make it 58-48.
Hands, Van Ommering and Baldado combined for 31 points in the first half.
FCHS improved to 4-1.
🏀Another well played possession sums things up for @FCHSBBALL in hf 1
FC tops the 7-0 run w a 11-2 run to close the 2nd
FC 38 Eagles 23 H pic.twitter.com/EjMKUYX8pU

— Matthew Kovach (@MattyK31) December 4, 2016
OTAY RANCH 76, HELIX 66 – Coach JOHN SINGER's Helix Highlanders received an unexpected boost when the football team lost Friday night to Cathedral 35-28. Although Singer was obviously not thrilled by that outcome, he will be happy to welcome JAYLEN ARNOLD and CARSON BAKER to his basketball team next week.
"I'm used to this happening, and I'm not pleased that our football team lost. But I have to pick up the pieces and go on with our basketball team," Singer said.
Bottom line, Helix could be the best team in the Grossmont Conference, again.
In Saturday night's Hilltop Tournament action Helix came up short against Otay Ranch. Of course, once the reinforcements show up the results of a game like that will probably change.
DYLAN LEE paced the Highlanders with 14 points and AMARI GREEN and JAYLEN HINSON popped in 12 apiece for a fairly balanced attack.
"Once we get all of our guys together I think we're gonna be okay," Singer said.
Helix:  Maurice Holmes 16, Dylan Lee 14, Jaylen Hinson 12, Amari Green 12, Maurice Holmes 7, Kevin Howard 2, Ilias Beltz 2, Javon Davis 1.
VISTA 67, WEST HILLS 39 – Wolf Pack coach JEFF ARMSTRONG has talked about facing Top 10 teams early in the season, and Saturday (Dec. 3) his club crashed into one of them in the West Hills gym in the Horsman-Wolf Pack Tournament.
The Pack pushed the Panthers off the line with a 14-11 first quarter lead, and the game was close until the final eight minutes when Vista rolled off a 24-7 surge.
MARQUELL COOL kept his head above water against the Panthers, pouring in 16 points and 5 rebounds. He also tossed in a pair of treys.
CAMERON BARRY was off the mark all night but he did collect 7 rebounds, 4 assists, one steal and 3 points.
West Hills:  Marquell Cool 16 (5 reb), Nathan Ball 8 (2 reb), Chris Moyer 7 (3 reb, 1 ast, 1 stl), Cameron Barry 3 (7 reb, 4 ast, 1 stl), Matthew McDonald 2 (1 reb, 1 ast), Michael Totah 1 (1 reb), Chris Schroeder (1 reb).