ROUNDUP: Eagles knock off Morse, get rematch with Poway
Updated: December 8, 2016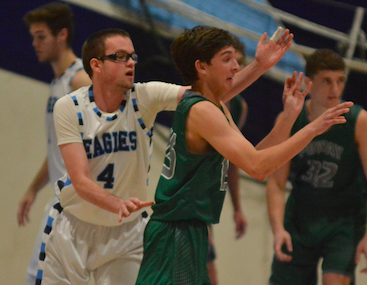 Poway and Granite Hills will meet in Saturday's Eagle Invitational final in a rematch of an early tournament game last Friday. / EastCountySports.com photo
2016-17 EAST COUNTY PREP BOYS BASKETBALL
By Bill Dickens
© East County Sports.com
EL CAJON (12-8-16) — Led by the double-double of 20 points and 15 rebounds by 6-foot-8 RYAN KELLY, Granite Hills (2-1) upset previously undefeated Morse 52-47 in the semifinals of the Eagles Invitational on Wednesday (Dec. 7).
"Ryan Kelly was a man in the 4th quarter," said Eagles coach RANDY ANDERSON.  "He was 9-10 at the free throw line in the 4th period and had 13 of his 20 points in that quarter. His teammates did a good job of getting him the ball and he did a great job of carrying us on his shoulders."
The Eagles pulled away in the second half.
"We got stronger as the game went on," Anderson noted. We scored more in each quarter."
AUSTIN BALLO came off the bench to pitch in 10 points and grab 5 rebounds.
"Austin Ballo did a great job in his first extended varsity action," Anderson said.
Granite Hills will host Poway in the championship game of the Eagle Invitational on Saturday (Dec. 10) at 7 p.m.
Granite Hills:  Ryan Kelly 20 (15 reb, 3 ast, 2 stl), Austin Ballo 10 (5 reb, 1 ast, 2 stl, 2 blk), Moses Smith 9 (1 reb, 1 ast, 2 blk), Jorden Rogers 9, Darien Cossio 2 (3 reb, 1 stl), Cody Cox 2, Cameron Spitzer (2 reb, 1 ast, 1 stl, 1 blk), Xsavier Smith (2 reb).
HELIX 65, LA JOLLA 57 – The Helix football players are already leaving their mark on the basketball court.
JAYLEN ARNOLD, who was less than five days out of football, erupted for 30 points and 10 rebounds in Wednesday's (Dec. 7) Hilltop Tournament semifinals over La Jolla.
DYLAN LEE chipped in with 20 points and 3 rebounds, including a trio of 3s.
La Jolla, led by Harvard-bound Reed Farley, handed the Highlanders a playoff defeat last season at their home gym.
Helix (2-2) will play on Friday (Dec. 9) against Canyon Crest at Hilltop at 7:30 p.m.
Helix:  Jaylen Arnold 30 (10 reb), Dylan Lee 20, Jaylen Hinson 6, Maurice Holmes 4, Carson Baker 3, Amari Green 2.
WEST HILLS 76, MADISON 46 – CAMERON BARRY rolled in 22 points and NATHAN BALL banged in 18, and MARQUELL COOL sank 16 as the Wolf Pack scored a season-high in sinking Madison in Wednesday's (Dec. 7) Horsman-Wolf Pack Tournament action.
The Wolf Pack ran the table against Madison in gaining a victory over the Warhawks.

Barry and CHRIS MOYER were named to the All-Tournament team.
West Hills:  Cameron Barry 22 (4 reb, 2 ast, 3 stl), Nathan Ball 18 (5 reb, 3 ast, 2 stl),  Marquell Cool 16 (3 reb, 4 ast, 4 stl), Chris Moyer 6 (2 reb, 1 ast, 2 stl, 2 blk), Tyler Brower 3 (1 reb), Adam Dillion 3, Matthew MacDonald 2 (1 reb, 1 stl), Scott Bettoney 1, Brandon Peterson (1 ast, 1 stl).
SANTANA 68, SOUTHERN CAL YESHIVA 24 – Santana made it look easy as the Sultans rolled to an 18-0 first quarter lead in Wednesday's (Dec. 7) non-league encounter with Southern Cal Yeshiva.
NICK BERHALTER set the tone for the rout for Santana with 23 points, 9 rebounds and 3 assists.
ANDREW HITCHCOCK punched in 14 points toward the blowout, SIMONE MARITANO added 10 points and 5 assists.

Santana:  Nick Berhalter 23 (9 reb, 3 ast, 1 stl), Andrew Hitchcock 14 (3 reb, 1 ast, 1 stl), Simone Maritano 10 (4 reb, 5 ast, 1 stl), John Bobof 8 (1 reb, 2 ast, 2 stl), Brandon Simmons 6 (3 reb, 1 ast, 2 stl), Zach Leggitt 5 (5 reb, 2 ast), TC Simmons 3 (4 reb, 4 ast, 1 stl), Cole Kincaid 2 (5 reb).
MIRA MESA 65, MOUNT MIGUEL 53 – DARIAN NORWOOD slammed a double-double of 18 points and 11 rebounds, while DEVON BROWN scored a season-high 15 points to go along with 7 rebounds, but it wasn't enough as Mira Mesa clipped the Matadors in Wednesday's (Dec. 7) Baron Matador Classic. It was Mount Miguel's first loss.
"We made a lot of unforced turnovers," said Matadors coach JAY ROWLETT. "The game went back and forth. We're working hard at not playing with only one individual. We're trying to involve everybody in our lineup in the games, not just one player. If we can do that we should be successful."
Mount Miguel will host Ramona on Friday (Dec. 9) at 7 p.m. After that the Matadors will travel to Las Vegas for tournament action.
Mount Miguel:  Darian Norwood 18 (11 reb, 1 ast), Devon Brown 15 (7 reb, 2 stl, 1 stl), James Allen 9 (3 reb, 2 ast, 2 stl), Ricky Harvey 7 (3 reb, 2 ast, 3 stl), Marquise Edwards 6 (8 reb, 3 ast, 1 stl), Mugabe Miller (2 reb, 1 ast, 1 stl), Markeece Dunbar (1 stl), Marquis Neal (1 stl).
VALHALLA 48, LINCOLN 41 – The Norsemen won the Baron Matador Classic game to avenge a summer defeat of 60 points to the Hornets, as Valhalla improved to 3-0.
The Norsemen were led by KAI KOMAKI, who scored 20 points, while RAMZI SULTAN and MALIQUE SHAW both had double digit rebounds to lead the Norsemen in the paint.
The Norsemen travel to Patrick Henry Thursday night for their fourth game in the Baron Matador Classic.
EL CAPITAN at HOOVER – No report from the Eagle Invitational.