ROUNDUP: Locals sweep wins Wednesday
Updated: December 22, 2016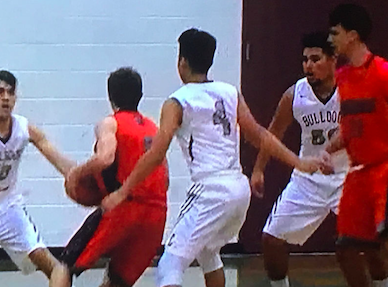 Valhalla drives against Calexico on Wednesday.
2016-17 EAST COUNTY PREP BOYS BASKETBALL
By Bill Dickens
© East County Sports.com
NATIONAL CITY (12-22-16) — In a semifinal Sweetwater Xtreme Glass Holiday Tournament game Wednesday (Dec. 21) Helix clipped Patrick Henry 56-49, dealing the Patriots (9-1) their first loss in 10 games.
Having sunk one previously undefeated team, the Highlanders will go for another dunking when they face Serra (8-0) for the championship of the Sweetwater Xtreme Glass Holiday tournament at 8 p.m.
Helix is on a roll, as are the Conquistadors so it should be a bucket-to-bucket affair.
Helix coach JOHN SINGER said, "We're playing well but we've still got to tie it together."
JAYLEN HINSON scored 13 points to lead Helix, while AMARI GREEN had 12 and JAYLEN ARNOLD pitched in 11.
Helix: Jaylen Hinson 13, Amari Green 12, Jaylen Arnold 11, Dylan Lee 8, Jumar Wynn 6, Carson Baker 6.
WEST HILLS 51, BISHOP'S 41 – CAMERON BARRY drilled in 16 points, nailing 7 of 13 shots from the field, including a pair of 3-pointers as the Wolf Pack shattered the
Sweetwater Xtreme Glass Holiday Tournament floor to best the Bishop's.
MARQUELL COOL spun in 13 on 4 for 18 shooting and 5 for 5 from the free throw line.
NATHAN BALL tossed in 10 points, while CHRIS MOYER snagged a game high 7 rebounds.
The Wolf Pack led 15-6 after one quarter and never surrendered the lead.
West Hills: Cameron Barry 16 (2 reb), 2 stl), Marquell Cool 13 (1 reb, 2 stl), Nathan Ball 10 (3 reb, 2 ast, 3 stl), Brandon Peterson 6 (1 stl), Chris Moyer 2 (7 reb, 1 stl), Adam Dillion 2 (1 reb, 1 stl), Matthew MacDonald 2 (2 reb, 1 ast), Scott Bettoney (1 reb, 2 blk),Tyler Brower (1 reb).
VALHALLA 54, CALEXICO 34 – TREY SCHMIKE led Valhalla with 13 points. No further information reported for this San Ysidro Cougar Classic game.