ROUNDUP: Helix, Santana wrap up tourney titles
Updated: December 24, 2016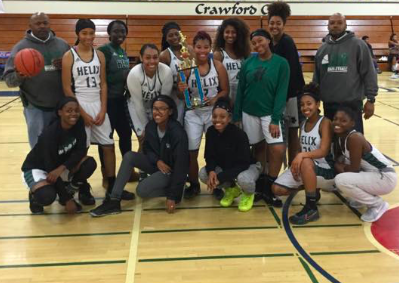 The Helix Highlanders following their Crawford Tournament championship game win over Grossmont High Friday night.
2016-17 EAST COUNTY PREP GIRLS BASKETBALL
By Bill Dickens
© East County Sports.com
EL CAJON (12-24-16) — The Helix Highlanders handed coach FREDDIE GARRETT his first championship with the 49-30 conquest of Grossmont Friday (Dec. 23) in the Crawford Invitational.
CAMRYN OWENS paced the Highlanders with 15 points and DANIELLE SIMMONS pitched in 12.
Owens tallied three treys, TALIAH HOOKER had a pair of threes, and OLIVIA MISSOURIA popped in one triple for Helix (6-3), which led 26-14 at the half.
TYANA WARSAW had a double-double for previously undefeated Grossmont (11-1) with 13 points and 13 rebounds.
The normally high-scoring ATHENA SOTELO was held to 5 points, 4 rebounds, 4 assists and 3 steals.
"Helix blew out every team in the tournament by 30-40 points," observed Grossmont coach GRACE CAMPBELL. "For us to come into the championship game and put up a good fight without having two of my starters . . . It says a lot about the girls in my program."
Next up for Helix is a game against Paul Kane High in the Aztec Holiday Tournament at Montgomery on Monday (Dec. 26) at 6 p.m.
Helix:  Camryn Owens 15 (3 reb, 2 ast, 2 stl, 1 blk), Danielle Simmons 12 (6 reb, 4 stl, 4 blk), Taliah Hooker 8 (2 reb, 2 ast, 1 stl, 1 blk), Olivia Missouria 7 (1 reb, 3 ast), Diamond Whitley 4 (2 reb, 1 ast, 1 stl), Charity McWashington 2 (1 stl, 1 blk), Melat Ezana 1 (5 reb, 1 blk), Janae White (1 reb), Marina Smith (1 reb).
Grossmont:  Tyana Warsaw 13 (13 reb, 1 blk), Athena Sotelo 5 (4 reb, 4 ast, 3 stl), Candace Henderson 8 (2 stl), Sabrina Yohannes 4 (4 reb).
SANTANA 42, EL CAPITAN 39 – It was close all the way for the championship game of the Braves/Vaqueros Holiday Invitational on Friday (Dec. 23), but Santana took home the title.
MARIE COOK led the Vaqueros with 13 points and STEPHANIE ADAMS rolled a double-double of 12 points and 15 rebounds.
GRACE BURKETT left the game with an injured left hand and McKENZI KYGAR rolled an ankle.
Santana led 13-7 at the end of one, but the Vaqueros stormed back to within 15-13 in the second period.
The Sultans, however, led 23-18 at halftime.
El Capitan whittled the lead to 36-35 in the fourth.
With the win, the Sultans avenged a home loss on their home floor to the Vaqueros last week.
El Capitan:  Marie Cook 13 (2 reb, 2 ast, 2 stl), Stephanie Adams 12 (15 reb, 1 ast, 3 blk), Jordan Grandy 9 (5 reb, 2 ast), Devon Bullock 5 (3 ast), Danielle Pimentel (1 ast, 2 stl).
Santana:  Scoring not reported.
GRANITE HILLS 49, VALHALLA 19 – CHASE ROBLES blew the doors off with a career-high 26 points to go along with 3 rebounds, 2 blocks and 3 steals for Granite Hills in Friday's (Dec. 23) Crawford Invitational as the Eagles brought home the tournament consolation championship.
Robles was also named to the All-Tournament team.
SHANICE LACY was big on the boards with 10 caroms and 3 blocks for the Eagles (5-4) as they defeated Valhalla.

"Robles played a helluva game," said a delighted Granite Hills coach CURTIS NORWOOD. "She was everywhere. Lacy's presence down low was dominating, and Ripberger set the tone for us today.
"This was the best game of the year for us. We did everything that we do in practice. I was excited for our girls.
"Freshman ALEX PURNELL did a good job. Tonight was a breakout performance for the Eagles."

Granite Hills:  Chase Robles 26 (3 reb, 3 stl, 2 blk), Anyang Agoth 7, Shanice Lacy 6 (10 reb, 3 blk), Kani Kubari 4 (12 reb, 7 ast, 6 stl, 6 blk), Shelby Ripberger 2 (3 stl), Melissa Mendoza 2 (2 reb), Alex Purnell 2.
Valhalla:  Scoring not reported.
EL CAJON VALLEY 51, JULIAN 7 – El Cajon Valley jumped out 18-3 and 29-0 in the first two quarters against the Julian Eagles in Friday's (Dec. 23) Braves/Vaqueros Holiday Invitational encounter.
LEANNA WATSON rolled a double-double of 33 points, 11 rebounds, 4 assists, 5 blocks and a steal for the Braves.
SUMAYA HAMEED scored 12 points, logged 9 rebounds, 3 assists and 3 blocks for El Cajon Valley.
"I was trying not to run the score up but it was hard," said Braves coach CARLOS MOSS. "We took third place in the tournament.
"Leanna hit the 1000 point mark in the El Capitan or Mission Bay game," he noted.
El Cajon Valley:  Leanna Watson 33 (11 reb, 4 ast, 5 blk, 1 stl), Sumaya Hameed 12 (9 reb, 3 ast, 6 stl, 3 blk), Lilian Akintende 3 (6 reb, 5 ast, 4 stl), Vean Gorgees 2 (6 reb, 4 stl), Erica Bazile 1 (5 reb), Rania Noori (4 reb, 3 ast, 5 stl), Keariel Brewer (3 reb), Narmen Marcus (2 reb, 1 stl).