ROUNDUP: Norse knock off Serra; Grossmont play opens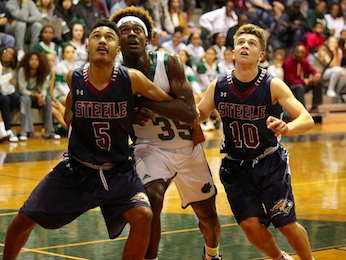 Helix's JAYLEN ARNOLD battles with Steele Canyon's JALEN SAYLES (5) while THOMAS FISHBURNE moves in. / photo by Antonio McIntyre
2016-17 EAST COUNTY PREP BOYS BASKETBALL
By Bill Dickens
© East County Sports.com
EL CAJON (1-14-17) — Valhalla, which has been the underdog most of the season, pulled the Great Escape in Friday night's (Jan. 13) non-league encounter with the Serra Conquistadors.
The Norsemen (16-2) stunned the Conquistadors (17-1) with some last second heroics to finish with a 55-54 victory.
Valhalla was led by RAMZI SULTAN with 16 points and a big third quarter from KAI KOMAKI, who nailed a trio of 3-pointers to finish with 12 points. 

JONAH HOWARD contributed 11 points, while MALIQUE SHAW crashed the boards for 15 caroms to go along with 9 points and 7 blocks.
"We really played good defense in the whole game," said Valhalla assistant coach SCOTT STURGEON. "Shaw had a big block (7 in the game) which made Serra hesitant to go to the rim when Malique was there to meet them."
Valhalla:  Ramzi Sultan 16 (9 reb, 1 ast, 1 blk), Kai Komaki 12 (3 reb, 1 ast, 2 stl), Jonah Howard 11 (4 reb, 2 ast, 1 stl), Malique Shaw 9 (15 reb, 2 ast, 7 blk), Ty Schimke 4 (2 ast), Evan O'Neil (4 reb, 2 stl).
EL CAPITAN 47, MONTE VISTA 38 – The El Capitan Vaqueros made the most of the least in Friday's (Jan. 13) Grossmont Valley League opener as they posted their first victory of the season by knocking off GVL foe Monte Vista with a 47-38 win over the Monarchs.
DEONDRE McHAYLE has had to play solo most of the season, however he still managed to post a dozen points to lead the Monarchs.
McHayle has been playing against multiple defenses all season.
"El Capitan played harder than we did," said Monarchs coach MIKE TULLY.
El Capitan:  No scoring report.
Monte Vista:  Deondre McHayle 12, Derrick Wiley 7, David Garcia 7, Arman Johnson 4, Gabrial Galvez 4.
WEST HILLS 53, GROSSMONT 42 – The West Hills Wolf Pack upended the defending Grossmont Hills League champion Foothillers Friday (Jan. 13).
The ODOM brothers ganged up for 33 points – JAMIE with 18 and AUSTIN with 15 to overcome the Pack.
CAMERON BARRY led West Hills with 16 points, while NATHAN BALL pitched in 12 and BRANDON PETERSON chipped in with 10.
"They played harder than us, I thought," said Foothillers coach FRANK FOGGIANO.
West Hills:  Cameron Barry 16, Nathan Ball 12, Brandon Peterson 10, Marquell Cool 6, Chris Moyer 5.
Grossmont:  Jamie Odom 18 (3 reb, 2 ast, 3 stl), Austin Odom 15 (1 reb, 1 ast, 1 stl), Hunter Gaines 6 (2 reb), Damageae Gant 2 (1 reb).

HELIX 62, STEELE CANYON 56 – GAGE SANDERS knocked down 4 three-pointers to finish with 19 points in Friday's (Jan. 13) Grossmont Hills League encounter in La Mesa.
Steele Canyon played without 6-foot-3 KYREE WOODS who injured his foot in practice this week.
"He was planning to play but the doctor called him and told him that his foot was broken, so he couldn't play," said Cougars coach DEREK STEPHENS.
"Our kids played really hard, but we got in foul trouble," Stephens continued. "Helix was able to exploit our size differential. We were ahead the whole game up until towards the end of the fourth quarter.
"Helix made shots at the end. It was a pretty close game."
JAYLEN ARNOLD had his finest game of the season with 22 points for the Highlanders, while MILES NORRIS poured in 21 points.
Helix:  Jaylen Arnold 22, Miles Norris 21, Amari Green 9, Jaylen Hinson 5, Carson Baker 3, Dylan Lee 2.
Steele Canyon:  Gage Sanders 19, Tyler Smith 9, Jalen Sayles 8, Thomas Fishburne 8, De'Angelo Lewis 8, Kobe Sanders 2, Nick Barns 2.


CHRISTIAN 73, SAN DIEGO 66 – The Christian High Patriots proved that they belong among the Central League's best as they dusted off San Diego 73-66 in Friday's (Jan. 13) contest.
NASHOM CARTER rolled a double-double of 31 points, 12 rebounds and 6 assists, while DOMANIC SAFARTA scored 26 points including 7 threes as the Patriots clipped the Cavers.
"We rallied from behind, took the lead and finished strong," said Patriots assistant coach TIM BROWN. "Domanic got hot in the first half and Nashom took over in the second. Our defensive intensity really picked up in the second half. We went from zone to man-to-man."
Christian:  Nashom Carter 31 (12 reb, 6 ast, 3 stl), Domanic Safarta 26 (1 reb, 2 ast), Jackson Larsen 7 (4 reb, 1 ast), Javier Jimenez 4 (2 reb, 1 ast), Patrick Roberts 2 (4 reb), Jack Mason 2, Daniel Welch 1 (4 reb, 3 blk).
GRANITE HILLS 67, EL CAJON VALLEY 39 – In a battle of Madison Avenue, Granite Hills opened the Grossmont Valley League season with a lopsided victory over El Cajon Valley in Friday's (Jan. 13) action.
JORDEN ROGERS had the hot hand with 18 points, 6 rebounds, 2 assists and 3 steals for the Eagles.
RYAN KELLY scored 12 points and was 6 for 6 from the free throw line. He logged 9 rebounds, 3 assists and 2 steals for Granite Hills.
CAMERON SPITZER tossed in 11 points including a trio of threes, 5 rebounds, 3 assists and a steal.
MOSES SMITH chipped in 9 points and was 3 for 3 from the line. He had 2 rebounds, 2 assists, and 5 steals.
XSAVIER SMITH tucked in 8 points, 7 rebounds and assist and 2 blocks.
"We played with good energy," said Granite Hills coach RANDY ANDERSON. "We're starting to get healthy again. We had some guys with the flu last week."
Granite Hills:  Jorden Rogers 18 (6 reb, 2 ast, 3 stl), Ryan Kelly 12 (9 reb, 3 ast, 2 stl), Cameron Spitzer 11 (5 reb, 3 ast, 1 stl), Moses Smith 9 (2 reb, 2 ast, 5 stl), Xsavier Smith 8 (7 reb, 1 ast, 2 blk), Cody Cox 6 (2 reb, 1 blk, 1 stl), David Coffey 1 (2 reb, 1 ast), Atticus Jordan (2 (1 reb), Aaron Cobb (2 ast, 1stl).

El Cajon Valley:  No report.
MOUNT MIGUEL 61, SANTANA 39 – Don't count out the Mount Miguel Matadors, who pulled off a 61-39 Grossmont Valley League victory over Santana on Friday (Jan. 13) in a league opener.
RICKY HARVEY hit 3 threes and so did MIKEECE DUNBAR. Harvey finished with 9 points and Dunbar finished with 15 to lead the Matadors.
DARIAN NORWOOD finished with 11 points, 9 rebounds, 3 assists and 3 steals.
MARQUISE EDWARDS crashed the boards for 10 caroms for Mount Miguel.
For Santana, JOHN BOBOF poured in 13 points, 5 rebounds, an assist and a steal, while TC SIMMONS racked up 10 points, 4 rebounds, 2 assists, a steal and 2 blocks.
"It was only a 7-point game at the half," said Matadors coach JAY ROWLETT. "In the second half we played great defense. They only scored 12 points in the second half. It was a great defensive effort by everybody."
Mount Miguel:  Mikeece Dunbar 15 (1 ast, 1 stl), Darian Norwood 11 (9 reb, 3 ast, 3 stl), Ricky Harvey 9 (5 reb, 2 ast, 5 stl), James Allen 5 (6 reb, 5 ast, 6 stl), Devon Brown 4 (4 reb), Marquise Edwards 4 (10 reb, 1 ast, 2 stl), Mugabe Miller 3 (2 reb), Marquis Neal 2 (1 reb, 1 ast, 2 stl), Raymond Lucas (1 stl), Justice Chima (1 reb).
Santana:  John Bobof 13 (5 reb, 1 ast, 1 stl), TC Simmons 10 (4 reb, 2 ast, 1 stl, 2 blk), Brandon Simmons 6 (6 reb), Andrew Hitchcock 4 (2 reb, 2 stl, 2 blk), Simone Maritano 2 (3 reb, 3 ast), Cole Kincade 2 (5 reb, 1 ast), Nick Berhalter 2 (3 reb, 1 ast), Zach Leggitt (2 reb) 1 ast, 1 stl).