ROUNDUP: El Cap completes sweep
Updated: February 15, 2017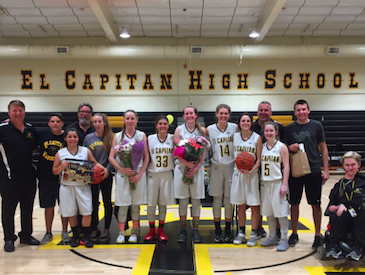 The Grossmont Valley League champion El Capitan Vaqueros following their game Tuesday night in Lakeside.
2016-17 EAST COUNTY PREP GIRLS BASKETBALL
By Bill Dickens
© East County Sports.com
LAKESIDE (2-15-17) — El Capitan came out swinging in their Grossmont Valley League final home game on Wednesday (Feb. 14), knocking off Valhalla 56-22.
"Our Seniors did not disappoint in their last regular season home game," said Vaqueros coach DARIN CURTIS.
"(Valhalla) Coach (MARC) CARTER is doing a good job with the girls he has, but MARIE COOK came out firing and got us off to a fast start.  It was our best shooting game of the season and the shots we did miss were rebounded by GRACE BURKETT.
"MELISSA REYES had her best game of the season and came through with some valuable minutes.  Her defense really picked up tonight; she took a steal the length of the court to finish with a left hand layup and one. She was unable to shoot the free throw, but should be back ready for playoffs.
"Despite battling illness this week, McKENZI KYGAR came off the bench and was able contribute at both ends of the court.
"The not-to-be-out-done freshmen fulfilled their roles as well, DEVON BULLOCK ran the offense, JORDAN GRANDY led our defense and knocked down her 3 pointers.
"STEPHANIE ADAMS had another all around outstanding game."
El Capitan jumped out to a 17-0 lead after the first quarter.
El Capitan:  Stephanie Adams 21 (13 reb, 2 ast, 4 blk, 2 stl), Marie Cook 17 (2 reb, 4 ast, 2 blk, 3 stl), Jordan Grandy 8 (6 reb, 6 ast, 2 stl), Grace Burkett 3 (10 reb, 1 ast, 2 blk, 3 stl), Melissa Reyes 4 (3 reb, 1 ast), Kortni Kygar 3 (2 reb, 3 stl).
Valhalla:  No report.
HELIX 42, GRANITE HILLS 21 – The Highlanders skated past Granite Hills behind the 13 points of CAMRYN OWENS and the 11 of DANIELLE SIMMONS, who also grabbed 8 rebounds in Tuesday's (Feb. 14) Grossmont Hills League encounter.
JANAE WHITE and OLIVIA MISSOURIA each added 6 points for Helix.
Helix:  Camryn Owens 13 (2 reb, 1 ast, 1 blk, 4 stl), Danielle Simmons 11 (8 reb, 1 ast, 2 blk, 1 stl), Janae White 6 (4 reb, 1 stl), Olivia Missouria 6 (1 reb), Mariyah Howard 2 (2 reb), Taylor Garrett 1 (1 reb), Charity McWashington 1 (1 stl), Talia Hooker (3 reb, 1 stl), Diamond Whitley (1 reb, 1 ast, 1 blk), Tokwaje Kwai (2 reb), Melat Ezana (1 reb).
Granite Hills:  No report.
SANTANA 39, STEELE CANYON 28 – Santana held on to overpower Steele Canyon in Tuesday night's (Feb. 14) Grossmont Hills League game.
MARIANNA MARTINEZ led the Cougars with 12 points and 6 rebounds.
"The girls played good," said Cougars coach PETER RUIZ. "I'm trying to keep them focused on the playoffs. We're playing for power ranking at this point."
The Sultans are competing for a first-round bye in the upcoming Division 3 playoffs. They currently sit as the No. 4 seed with one game remaining.
Steele Canyon:  Marianna Martinez 12 (6 reb, 1 ast, 1 stl), Elizabeth Bott 5 (2 rb, 2 ast), Lala Wadley 5 (2 reb, 1 ast, 4 stl), Makayla McCarthy 2 (1 reb, 2 ast), Dejia Ruiz 2 (2 reb), Reagan Jordan (7 reb, 1 blk, 1 stl), Tayanna Mason (1 reb), Nina Taft (3 reb).
Santana:  No report.
GROSSMONT 48, MONTE VISTA 36 – The Grossmont Foothillers outlasted Monte Vista in Tuesday's (Feb. 14) Grossmont Valley League contest.
CANDACE HENDERSON led all scorers with 20 points, 4 rebounds and 5 steals.
TAISHA SILAS added 12 points and ATHENA SOLTELO pitched in 11 points, grabbed 5 rebounds, dealt 8 assists and made 4 steals.
JAZMINE LEE grabbed 8 rebounds and EMILY BARNES brought down 7 boards.
Grossmont, the defending section champions in Division 3, figures to be the No. 3 seed when the playoffs get underway next week.
Grossmont:  Candace Henderson 20 (4 reb, 5 stl), Taisha Silas 12 (3 reb, 2 blk), Athena Sotelo 11 (5 reb, 8 ast, 4 stl), Jazmine Lee 3 (8 reb), Emily Barnes 2 (7 reb).
Monte Vista:  No report.