Kelly not about to let Eagles' flight end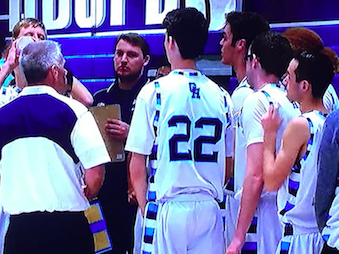 Granite Hills huddles on Wednesday night.
2016-17 EAST COUNTY PREP BOYS BASKETBALL
SAN DIEGO CIF DIVISION 3 PLAYOFFS
GRANITE HILLS 59, SAN DIEGUITO ACADEMY 53 (OT)
By Bill Dickens
© East County Sports.com
EL CAJON (2-23-17) — When it comes to crashing the boards, Granite Hills' senior center RYAN KELLY can hold his own against the best in the county.
He proved that down the stretch as the Eagles eliminated San Dieguito Academy 59-52 in overtime of Wednesday's (Feb. 22) San Diego CIF Division III playoff contest.
The 6-foot-8 Kelly made the final save with 14 rebounds against SDA.
The game came down to the final seconds in regulation, but Granite Hills pulled away in overtime.
"I was so tired, but I just kept pushing," said Kelly, who kept crunching the middle. "You just can't give in in a situation like that.
"All I could think when I had the ball in my hand was I couldn't let my team down. I didn't want our season to end that way."
CAMERON SPITZER scored 17 points for the Eagles, including 2 treys.
"I tried to block out everything and focus on what I was doing at the free throw line," said Spitzer, who sank 14 charity shots. "All I was thinking about was if I could make those free throws we'd win the game and we could all go home."
JORDEN ROGERS rolled a double-double of 12 markers and 11 rebounds, while MOSES SMITH hauled down 12 rebounds.
The Eagles will host No. 10-seeded Sage Creek on Saturday at 7 p.m. Sage Creek held seventh-seeded Christian and their sharp shooters to just 40 points on Wednesday night.
Granite Hills:  Ryan Kelly 23 (14 reb, 2 ast, 2 stl, 1 blk), Cameron Spitzer 17 (3 reb, 1 ast, 2 stl), Jorden Rogers 12 (11 reb, 1 ast, 1 stl), Moses Smith 6 (12 reb, 1 ast, 2 stl), Xsavier Smith 1 (5 reb, 1 stl), Aaron Cobb (2 reb).