Highlanders' playoff win like day at beach
Updated: February 26, 2017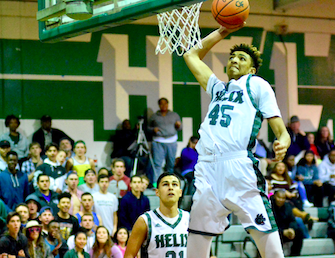 Helix's MILES NORRIS throws down a jam in the first quarter Saturday night against visiting Serra. / EastCountySports photo
2016-17 EAST COUNTY PREP BOYS BASKETBALL
SAN DIEGO CIF DIVISION 2 SEMIFINALS
HELIX 80, SERRA 36
By Ramon Scott
EastCountySports.com
LA MESA – Most observers were correct to assume that the result of the rematch between Helix and Serra would be different than the team's first meeting earlier this season in the championship game of the Sweetwater Lions Club Classic.
That night, a Miles Norris-less Highlanders dropped the tournament title game to the then white-hot Conquistadors, 57-48.
Saturday night, Norris was in the lineup and his impact was felt early and often as the Highlanders jumped out to a 14-0 lead in an 80-36 playoff rout of the Conquistadors.
In fact, his absence was felt, too, after the junior big man was saddled with his second foul just six minutes into the game. He would hit the pine and Serra was able to stem the tide and keep its fans in the game – at least through the first half – taking just a 35-20 deficit into halftime.
Norris would return to start the second half and it was more of the same, as the Scotties pulled away with a 22-4 run en route to their 16th-straight victory.
Now the Highlanders are one date away from a championship game berth in Division 2 and they host – not the second-seeded Rancho Bernardo Broncos – but the 10th-seeded Westview Wolverines, who spun a 39-37 upset on Saturday night.
Norris, who notably missed the first half of the regular season while waiting to gain his eligibility following a fall semester transfer, had nine points in the second half to go with his six points over those first six minutes to lead Helix with 15 points.
Juniors AMARI GREEN and JAYLEN HINSON had back-to-back threes in the second period, as Helix led 26-7 with Norris accepting his temporary banishment.
Green finished with 14 points (nine in the first half), including 4-for-4 from the foul stripe.
Helix was 20-for-23 at the foul line for the contest.
Senior JAYLEN ARNOLD added 11 points, while junior CARSON BAKER scored eight of his 10 points in the first half.
Senior DYLAN LEE was 6-for-6 at the line on the way to 10 points, while Hinson finished with nine markers.
Helix hosts Westview on Wed., March 1 at 7 p.m. with a title-game berth on the line. The Highlanders will be considerable favorites to advance to Jenny Craig Pavilion where they would face a more formidable foe in either Canyon Crest or Orange Glen.
Other Helix scorers: Marcus Holmes 3, Wooden 2, Maurice Holmes 2, Dunn 2, Davis 2.
FOOTHILLS CHRISTIAN 64, MATER DEI CATHOLIC 57 – The Knights' JAYLEN HANDS stayed focused and determined when facing his old school.
And the senior's sharpness was evident in a 33-point, 10-rebound night against the Mater Dei Catholic Crusaders in an Open Division quarterfinal at Cuyamaca College Saturday night.
Hands was cool from the get-go, especially from downtown, as he combined with teammate JORDAN VAN OMMERING for a pair of triples early for a quick 11-2 spurt.
The Crusaders were continuously able to march back into the game several times and their first rally brought them quickly back to within 11-9.
5-foot-9 sophomore guard JAREN NAFARRETE had a pair of acrobatic putbacks in the opening quarter's final minutes, including one at the buzzer which gave the Knights a 15-10 edge.
Mater Dei was able to match the Knights into the locker room, trailing just 31-29 at intermission.
Foothills Christian (24-5), however, came out with some steam in the second half to build a 10-point lead.
Van Ommering picked up a loose ball near the lane and flipped to Hands for a jam that make it 35-29.
After the Knights extended the lead to 44-34, the Crusaders came back and cut it to 44-40 before Hands sank a short jumper to end the third at the buzzer for a 46-40 lead.
Mater Dei made its closest run, pulling to within 46-44 with 6:40 left, but KALE BALDADO had a basket-plus a foul conversion, then Van Ommering added a bucket on a breakaway pass from Hands to get the lead back up to 55-46.
Van Ommering finished with 12 points.
The Knights will face St. Augustine at Cuyamaca College on Tuesday night at 7.
At this time, the Saints are expected to be without star TAESHON CHERRY, who is facing a one-game disciplinary suspension for excessive technical fouls.