Sultans can't stand Hornets' swarm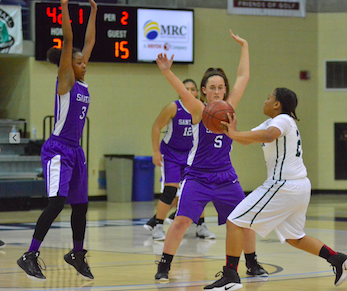 Santana's JANICE DEGUERIO (left) and MANDI STABLEIN (5) defend against Lincoln on Friday. / photo by Ramon Scott
2016-17 EAST COUNTY PREP BASKETBALL
SAN DIEGO CIF DIVISION III CHAMPIONSHIP
LINCOLN 59, SANTANA 25
EastCountySports.com staff report
SAN DIEGO – The deep muster of the Lincoln Hornets was too much to withstand for the Santana Sultans, who fell to the top-seeded co-champs from the Eastern League, 59-25, in the San Diego CIF Division III championship game at Jenny Craig Pavilion Friday afternoon.
The whirlwind of the Hornets started with an 8-0 run, as Lincoln solidly built a 34-15 halftime lead.
Senior JANICE DEGUERIO got Santana's first basket with 3:40 left in the first quarter off an offensive rebound.
Junior KOBIE HOLLAND led the Sultans with 8 points, while fellow junior LESLIE BLACK had one of her finer games of the season, contributing six points.
Black hit a hard-thrown running shot off the backboard to make it 23-12, but Lincoln quickly answered with a three.
Holland scored a basket at 1:36 of the first which closed the lead to 13-6. She made an inside basket on an entry pass from Deguerio with just over 2 minutes remaining in the first half to make it 34-15.
Santana senior center SIERRA SIMANEK had five points.
Sultans' junior MANDI STABLEIN hit a long field goal with 1:10 to go in the first which made it 15-8.
Lincoln limited Santana (18-12) to no made three-point field goals.
Lincoln (27-4) shared the basketball well to get the best look from a bevy of players, as eight Hornets registered points, led by 5-foot-7 senior guard Jeriah Drake, who had 15 points, most of the damage coming in the second half.
Senior Tarazjanae Cooksey had an early break away that made it 8-0 Lincoln.
Mariah Wonders opened the game with an inside hoop for the Hornets.
Lindsey Latson got a basket plus the foul at 5:10 of the first making it 6-0.
Keyona Leonard scored the second basket of the game and had 13 points for the Hornets.
Lincoln freshman guard Maria Flores made a three-pointer that made it 13-4 with 1:50 left in the first quarter, then added a field goal with :40 left that made it 17-8.