ROUNDUP: No. 1 RB edges No. 3 Eagles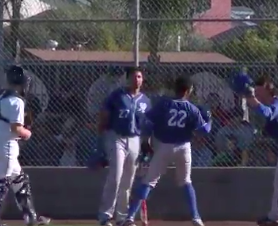 Rancho Bernardo's Calvin Mitchell is greeted at home plate after his fourth-inning home run against Granite Hills Tuesday.
2017 EAST COUNTY PREP BASEBALL
By Bill Dickens
© EastCountySports.com
EL CAJON (3-8-17) — When No. 3 Granite Hills collides with No. 1 Rancho Bernardo, a low-scoring game is sure to be part of the outcome.
In Tuesday's (Mar. 7) Hilltop/Lolita's Tournament opener the two teams scored a run apiece in the 4th inning. Rancho Bernardo eventually scored the game-winning run with a tally in the 7th to beat the Eagles 2-1.
Jameson Hill went the distance on the mound for the Broncos, allowing only one run, while SEAN ROSS worked 6 innings for Granite Hills. He allowed 5 hits, one earned run, walked 2 and struck out 4.
JOSH VERDON pitched one inning in relief, allowing one hit, one run and one earned run for the Eagles.
Verdon singled with two outs in the fourth inning to tie the game at 1-1.
It was a frustrating challenge for the Eagles, but TREVOR HAZELHURST had 2 hits in 3 at-bats, as did Verdon.
The Eagles hit into a double play to end the game.
Rancho Bernardo won the game in the final frame on a single by Alika Williams, who drove in Justin Pablo with the winning marker.
In the bottom of the 7th TREVOR OMAHEN was hit by a pitch. Two strikeouts later, the game ended on a pop fly to first base.
Rancho Bernardo's CALVIN MITCHELL homered in the fourth inning for a 1-0 lead.
.@Calvinmitch_14 blasts a solo home run in RB's 2-1 win over Granite Hills

See the rest of the highlights tonight at 10:45 on @fox5sandiego pic.twitter.com/Q0klA7L1yN

— Jacob Roth (@Jacob_Roth21) March 8, 2017
MONTE VISTA 11, MORSE 2 – A year ago Monte Vista struggled offensively. Runs came at a premium.
But the Monarchs came out swinging against Morse, pounding out 11 hits in an 11-2 victory over the Morse Tigers in Tuesday's (Mar. 7) Bully's East Tournament opener.
DIEGO SANDOVAL was 3-for-4 with a double, a triple and 4 RBI.
But Sandoval wasn't a solo act. JOSE ALVAREZ chipped in with a 2-for-4 effort, scored twice and drove in 2 runs.
ABRAHAM SANCHEZ gathered up 3 hits, scored 3 runs and drove in a pair, while DAVID GARCIA was 2-for-5 with 3 runs scored and one RBI.
The beneficiary of the Monte Vista season-opening onslaught was JUSTIN SCHWEIZER, who pitched a complete game with no earned runs and 9 strikeouts.
SANTANA 15, HILLTOP 1 – The Santana Sultans have scored 32 run in two games and don't figure to stop there as they proved on Tuesday (Mar. 7) in the Hilltop/Lolita's Tournament.
Santana punched out 15 runs on 17 hits against the Hilltop Lancers.
Ten Sultans collected hits, starting with leadoff man TRISTEN SALINAS, who was 3-for-4 with 2 doubles to lead the Santana onslaught.
TC SIMMONS was 1-for-3 with 2 walks and 3 RBI.
ANDERS TOLHURST was 2-for-3 with 2 runs scored, a stolen base and a sacrifice fly.
AIDAN RASMUSSON had 2 hits, as did NOAH NUNEZ, EMORY ALLEN-FOX and NOAH JACKSON.
FOOTHILLS CHRISTIAN 21, MARANATHA 1 – Foothills Christian made it look easy as they pounded out 21 runs on 20 hits against Maranatha Christian in Tuesday's (Mar. 6) Bully's East Tournament at Barona.
The Knights teed off against the Eagles behind the heavy hitting of JOSH GATES and JUSTIN EICHER, each of whom got 3 hits to propel Foothills Christian past Maranatha in a lop-sided victory.
Gates also handled the pitching as he spun 5 shutout innings with 6 strikeouts.
BAILEY LINK clubbed a triple and stole a base for the Knights (2-0).  He finished 4-for-4 in the contest with the bat, and Gates was 3-for-3 with 4 RBI.
Logging doubles for the Knights were BRADLEY BROWN, BAILEY LEWIS and Eicher.
Link, Eicher and JOE KANG each stole a base.
"Both of my pitchers only walked one batter," noted Foothills Christian coach DAVE LEWIS. "We had no errors for the second straight game.
"My freshman catcher, JACK WURTS, is doing an unbelievable job," Lewis added. "This has allowed me to move Link to shortstop, which has made our defense so much better than it's been in the past. The kid doesn't say much but he's key to our defense."
VALHALLA 4, RANCHO BUENA VISTA 3 – The Valhalla Norsemen opened their 2017 campaign by defeating Rancho Buena Vista 4-3 in the Hilltop/Lolita Tournament Tuesday (Mar. 7) in Vista.
The Norsemen overcame an early 2-1 deficit in the 4th scoring on an error and a RILEY O'SULLIVAN single.
Senior ED DEMPSEY started for Valhalla working 4 innings giving up two runs, three hits, walked two and struck out three.
O'Sullivan recorded the last three outs for the save. He was also 2-for-4 with an RBI.
LEWIS DIRKES drew a bases-loaded walk for an RBI in the top of the seventh for a two-run lead.
CALEB ST. CLAIR was the winner, pitching two innings, recording a strikeout.
ED DEMPSEY went for innings for Valhalla as the starter, allowing a pair of runs and striking out three.
RYAN PEROT had two hits and a run for the Norsemen.
MOUNT MIGUEL 11, HIGH TECH-SD 7 – CONNOR WHITE slugged 2 doubles and drove in 4 runs for the Matadors who opened the season with a victory in Tuesday's (Mar. 7) Bully's East Tournament action.
Junior JOSEPH MENDOZA swatted 2 singles, sophomore TREVOR DARBY also collected a pair of base hits, as did sophomore CAMERON BEAUZEC.
Sophomore NICO CAMACHO collected 2 singles among the 12 hits by the Matadors.
The Matadors received four innings from Darby and three from Beauzec to carry the pitching load, which allowed only 2 earned and 6 hits over seven innings.
POWAY 3, EL CAPITAN 2 (8 inn.) – El Capitan snapped a 1-1 tie in the 6th inning of Tuesday's (Mar. 7&) Hilltop/Lolita's Tournament game.
STEVIE MONTEJANO singled, TYLER LINDSAY reached base on an error and Montejano advanced. The Vaqueros tied the game on a sacrifice fly by TREVOR SHENEFIELD.
BLAKE PAYTON gave an overpowering performance, pitching six innings and struck out 9 for the Vaqueros. He also accounted for a double and one of the two runs the Vaqueros scored against the powerful Titans.
JUSTIN ZAMORA was 2-for-3 at the dish in the losing effort.
GREAT OAK 6, STEELE CANYON 3 – The Cougars fell behind Great Oak Temecula 6-0 after three innings and could not recover in a 6-3 Pirate Baseball Classic encounter Tuesday (Mar. 7).
The Cougars staged a comeback with 7 hits and 3 RBI but could not overtake the Wolfpack.
In the 4th inning Steele Canyon scored on a one-out single by JOSH ESQUIBEL and a base hit by LUKE ARIAS.
In the 5th inning the Cougars collected a freebie on a wild pitch. AARON TAYLOR reached base on an infield single and MATTHEW BRINKMEIER got hit by a pitch. He eventually scored on a wild pitch. Later in the frame ANTHONY MATA singled in Taylor and the Cougars added a run on an infield out.
Arias was 2-for-3 with an RBI and TREVOR DICKEY was 2-for-3 with a stolen base.
Four Steele Canyon pitchers paraded to the mound, but it was too little, too late. NOAH NADEAU was the losing pitcher.
Tue., Mar. 7, 2017
Bully's East Tournament
MATADORS 11, KNIGHTS 7
High Tech-SD  020 221 -  7  6 1
Mount Miguel  323 210 – 11 12 6

MONARCHS 11, TIGERS 2
Monte Vista 101 023 4 – 11 11 2
Morse       100 000 1 -  2  3 2
Schweitzer and N/A. Morse batteries N/A.

KNIGHTS 21, EAGLES 1
Maranatha      000 001 0 –  1  4 1
Foothills Chr. 007 752 x – 21 19 0 
Smith, Spank (3), Godwin (4), Salmeri (4), Hewitt (5) and Bridger. 
Gates, Stallard (6) and Wurts. WP-Gates (1-0). LP-Spank (0-1).

36th Annual Pirate Baseball Classic
WOLFPACK 6, COUGARS 3
Great Oak     123 000 0 – 6 10 0 
Steele Canyon 000 120 0 – 3  7 1
Mabee, Chamberlain (5), Peppler (5) and Bowser. 
Nadau, Garmo (3), Kenney (3), Back (5) and Arias. 
WP-Mabee. LP-Nadau (0-1).

Hilltop/Lolita's Tournament
BRONCOS 2, EAGLES 1
Rancho Bernardo 000 100 1 – 2 6 0
Granite Hills   000 100 0 - 1 6 2
Hill and Costas. Ross, Verdon (7) and Fenn. 
WP-Hill. LP-Verdon (0-1). HR-Mitchell (RB) 4th, solo.

TITANS 2, VAQUEROS 2 (8 inn.)
El Capitan 001 001 0 – 2 6 3
Poway      010 000 1 – 3 3 1
Payton, Lindsay (7) and N/A. Olivo, Bentley (7) and DJohnson. 
WP-Bentley. LP-Lindsay. 

SULTANS 15, LANCERS 1
Santana 140 362 0 – 15 17 1
Hilltop 100 000 0 -  1  2 2
Salinas, Linscott (5), Jackson (7) and Allen-Fox, Saergent (6). 
Hilltop batteries N/A. WP-Salinas (1-0). LP-N/A.

NORSEMEN 4, LONGHORNS 3
Valhalla  010 200 1 – 4 6 2
RBV       200 000 1 – 3 5 3
Dempsey, CSt. Clair (5), RO'Sullivan (7) and Hageman. 
Peterson, Steinhauser (6) and Costa. WP-RO'Sullivan (1-0).