ROUNDUP: Wolf Pack, Norse, Hillers win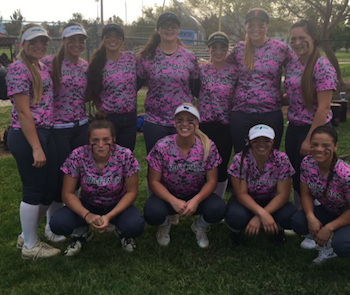 2017 West Hills Wolf Pack Varsity
 2017 EAST COUNTY PREP SOFTBALL
By Adam Paul
EastCountySports.com
SANTEE (3-14-17) – In a Jaguar Classic slug-match the West Hills Wolf Pack held their turf as they bit the tournament host Valley Center Jaguars, 10-6, on Tuesday.
Things didn't start off good for West Hills as Valley Center pushed across three runs in the top of the first inning to lead 3-0.
However the Wolf Pack didn't panic as SIERRA SCHLICHTING (2-3, 3 R, SB) led off with a walk, stole second base and  came in to score on a double by RYLEIGH DOBYNS (3-4, 2 R, RBI, 2B, SB) to make the score 3-1.  So with one down and Dobyns on second, up stepped ALEX GUAY (1-2, R, 2 RBI, HR) who on a 2-1 count took the SHELBY SMITH offering and slammed it over the fence for a
So with one down and Dobyns on second, up stepped ALEX GUAY (1-2, R, 2 RBI, HR), who on a 2-1 count, took the SHELBY SMITH offering and slammed it over the fence for a two-run blast to tie the score 3-3.
Valley Center scored a run in the top of the second to retake the lead 4-3. Trailing once again the Wolf Pack went back to business.
Leadoff batter Schlichting laced a single, she advanced on a sacrifice, Dobyns roped a single and stole second, Guay walked, HALEY VALLES came in to run, ALYSSA BUBAR (2-3, 2 R, 3 RBI, SB) singled driving in a couple of runs. Schlichting, Dobyns, Valles and Bubar all scored in the inning to give West Hills a 7-4 lead after three innings of play.
The Jaguars of Valley Center wouldn't go down without a fight as they were able to push across a couple of runs in the top of the fourth to pull within 7-6.
A couple of innings later and still only leading the one run, West Hills padded their lead as Schlichting again led off with a single, the next two batter retired for two outs, Guay walked, Valles came into run, Bubar ripped a single to center which scored Schlichting, the center fielder misplayed the ball. ASHLEIGH HARTWIG (3-4, 2 RBI, 2B, SB) singled which drove In a run and BROOKE SNYDER singled in the last run to make it a four-run contest.
CARLY BURSCH in the top of the seventh was able to retire the Jaguars in order including a groundball to short to end the ball game and give the Wolf Pack the victory.
On the day in the circle, Bursch tossed 6 innings while giving up 6 runs of which 4 were earned on 13 hits while walking 2 and fanning 4.
VALHALLA 4, UNIVERSITY CITY 0 – The Norsemen took advantage of the opportunities afforded to them and took a lead early on and didn't look back as they claimed the shutout Jaguar Classic victory.
With one out, RACHEL SHELSTROM (2-2) drew a walk, a couple batters later with 2 outs VICTORIA VILLEGAS reached on an error, KELLY OLSON followed also by reaching on an error, Shelstrom scored and Villegas advanced, Olson stole second, ALEXIS INGRASSIA (1-3, RBI) singled in a run as well to give Valhalla 3-0 lead.
Valhalla in the top of the fourth would tack on another run but in quite the most unconventional way.
With one out, SAMMY GREEN (4 SB) reached on an error by the third baseman, she advanced to second, she stole third and decided to try and steal home but this time delayed it and took off and was called safe on the delayed steal.
Valhalla pitcher LILY METSCH shut down University City and its offense as she tossed 4 innings of no-hit ball in the victory, TORI BASSETTE got some work in as she struck out 3 while giving up 3 hits.
GROSSMONT 4, DEL NORTE 2 – Despite trailing early on the Foothillers were able to get the bats going and double up the visiting Nighthawks in Jaguar Classic pool play.
The Nighthawks led early on 2-0 heading into the bottom of the third when Grossmont cut into the lead with a run to make it 2-1.
Grossmont in the bottom of the fifth tacked on a run to tie the game when CHLOE CAMARERO blasted her first home run of the season to make it 2-2.
The Foothillers scored two more in the bottom of the sixth inning thanks to a walk by AMBER WILSON, ALLY ALLMAN reached on an error and the ball got away which advanced both Wilson and Allman, her sister AMBER ALLMAN came up and smashed a double scoring both Wilson and Allman to break the tie and give Grossmont a 4-2 lead.
DESTINY BACON also had an RBI for the Foothillers.
Pitching wise, SAMARIA ROOPE tossed 6 innings and fanned 5 for the victory.
VISTA 4, SANTANA 3 – A late rally by the Vista Panthers stun the Santana Sultans in Jaguar Classic action out in Santee.
Vista struck first as they were able to put a 2 run spot on the board to lead 2-0 early on. The Sultans had a couple of opportunities to get into the game early on but couldn't cash in. It wouldn't be until the bottom of the fourth inning when Santana finally broke through.
Leading off was ASHLEY MADRIGAL (2-3, R, 2B) who roped a double, she would come around to score when SHELBY HOLMQUIST (3-3, RBI) laced a single to right field to pull within 2-1.
A couple of innings later in the bottom of the sixth, the Sultans struck again. Holmquist led off with a single, she advanced to second on a sacrifice bunt, and advanced to third on the groundout by MADISON MENDEZ, MACKENZIE BENNETT (2-3) walked, DESIREE LYNCH came into run and stole second, KRYSTEN SERVICE (2-3, 2B) walked to load the bases with two outs, CASSIDY MATTHIE (1-4, 2 RBI, 2B) bombed a long ball to center that looked like it was going to go out but it hit the fence for a two-run double to give the Sultans a 3-2 lead.
Unfortunately, the lead didn't last as the Vista Panthers rallied in the top of the seventh thanks to back to back walks of the first and second hitters. The next two batters would be retired and it looked like the Sultans would get out of the jam but a single to left scored both runners to give the Panthers a 4-3 lead of which they wouldn't relinquish.
In the loss Mendez tossed 7 innings, giving up 4 runs of which all 4 were earned on 6 hits, walked 2 and struck out 1.