Hawks on carousel in Senior Day opener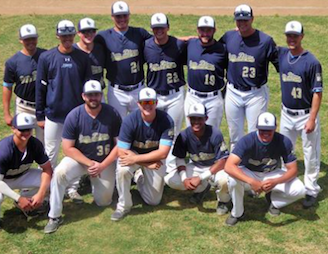 2017 SAN DIEGO CHRISTIAN COLLEGE HAWKS BASEBALL
EastCountySports.com staff report
BARONA – San Diego Christian College senior AUSTIN YEOMAN drove in three runs on Senior Day, but it was a quartet of underclassmen that helped the Hawks rack up a 19-1 victory in the opening game of a Golden State Athletic Conference doubleheader against Arizona Christian on Thursday at Barona Field.
The win gave the Hawks the series after defeating Arizona Western on Wednesday, 12-4, although the visitors came back to salvage a game in the nightcap last night, 6-2.
Junior CAEDEN BARNES homered and drove in three, junior VAHN BOZIAN had four RBI, junior leadoff man JUSTIN HAWKS also recorded three runs batted in, and junior catcher BOBBY MEAD also knocked in three in the rout.
Senior CALEB RODUSKY got the nod and went six innings, allowing one run, for the win.
The Firestorm took the nightcap, 6-2, after taking a 4-0 lead in the first.
The bright spot for the Hawks in the loss was another homer from the bomber Bozian, his 10th of the season.
In the series opener on Wedensday, the Hawks opened the bottom of the first with a 4-hit rally.
Hawkins started it off with a triple over the center fielder's head, scoring on a Bobbly Mead ground out. Singles by Bozoian and STEVEN PICO set the table for JOSH SIDLEY's double over the fence in left center, scoring Bozoian for a 2-0 lead.
In the third, singles by Bozoian and Pico again set the table, then Sidley's single loaded the bases. BROOKS FAGES lined a 2-run single to center, and TYLER SCHINDEL followed with another RBI single to right.
BROCK MOSIER drove in another Hawk with a single bringing the score to 7-0.
The final two runs of the inning came when Hawkins hit his second triple of the game to right-center scoring Mosier. Hawkins scored when the throw to third got away. The seven-run inning gave SDC a strong 9-0 lead after three innings.
In the fourth, Fages added to the lead with a long bomb to right center field.
In the fifth, a walk to Hawkins and a double by Bozoian increased the lead to 11-0. The offensive output ended in the bottom of the seventh with the combination of a TYLER WILSON single, a Zach Ambrose double, and a Meade RBI ground out.
Supported with early runs, Hawk starter MARK YOUNG (4-5) used 11 strikeouts to hold the Firestorm scoreless through seven innings. They did rally for a Jake Howard 3-run homer in the eighth. Matt Meggars finished the last inning in relief as ACU scratched out another run to finish the game.
The Hawks' record is currently 15-20, 10-17 in the GSAC. Arizona Christian is to 23-20 overall and 13-13 in the GSAC.