Griffins' Van Til is PCAC Player of Year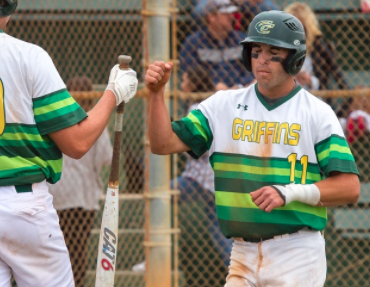 2017 GROSSMONT GRIFFINS BASEBALL
By Ramon Scott
EastCountySports.com
EL CAJON – Grossmont College sophomore CABOT VAN TIL, who didn't even become a full-time starter until the 17th game of the season, was named the Pacific Coast Athletic Conference Player of the Year, the team announced late Monday night.
Van Til, a Patrick Henry High grad, was one of several Griffins to be named to the All-PCAC Team, according to the Grossmont College team.
Pitchers DONAVON MCCRYSTAL (West Hills) and TIM HOLDGRAFER, catcher TREVOR BEARD, infielders JUSTIN BURKEY and REECE HERNANDEZ (Santana), and outfielders ROBERT BOSTEDT (Granite Hills) and DAVID MALDONADO were also honored on the all-league team, the Griffins said.
Burkey was also named PCAC Player of the Week for last week's playoff performance, which included a two home run game.
Against PCAC opponents, Van Til was even more devastating than his season-long average of .460 would suggest. He hit safely in all but two of his conference starts.
Grossmont pitcher HAYDEN SHENEFIELD and infielders MICHAEL DIFFLEY (Granite Hills) and NOAH STROHL were honorable mention recipients, according to the Griffs.
Grossmont head coach RANDY ABSHIER was also named PCAC Coach of the Year for the second consecutive season.
Grossmont, seeded second in the Southern California region, will host 11th-seeded Cypress College in the Super Regionals this week at Noel Mickelsen Field on Friday (2 p.m.) and Saturday (11 a.m.), with a third game, if necessary.