Helix 5-star Norris commits to Oregon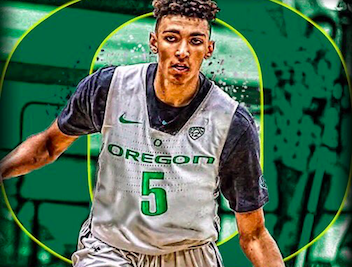 EDIT: @PLATINUMGANDE
2017 EAST COUNTY PREP BOYS BASKETBALL
SAN DIEGO – On Tuesday, Helix junior MILES NORRIS was ready to take to Instagram to make his official four-year college commitment.
But a late change in plans landed the local high school basketball superstar at a local television studio to make his choice known on a live broadcast.
And while Norris said that few knew his choice going into the declaration, an easy peak at the green t-shirt under his trademark sweat jacket easily revealed the hint that surprised very few experts.
The Oregon Ducks football program is garnering national headlines for his hot start to the 2018 recruiting cycle, but Dana Altman and his basketball program aren't far behind after landing the Highlanders' 5-star center/forward.
Oregon Ducks: How 5-star PF Miles Norris is ranked by key recruiting sites
A look at how Miles Norris is rated by Scout, Rivals, 247Sports and ESPN
On Wednesday, Oregon landed its first commitment of the 2018 recruiting class, as Rivals five-star power forward Miles Norris announced his commitment to Oregon over fellow finalists Arizona, Gonzaga, San Diego State and UCLA.
And the best news for Helix basketball fans, as well as, high school basketball fans around the county, is that Norris still has one season left in La Mesa, where he led the Highlanders all the way to the CIF State Division IV title game.
Fans will have a chance to see one of the nation's elite players for what should be another deep run into the postseason despite expectedly tougher playoff assignments.
#MilesNorris of Helix High School commits to Oregon on KUSI Wed. night… pic.twitter.com/srsPuRZ8dv

— Ramon Scott (@RamonScottPoker) May 11, 2017
The 6-foot-9, 190-pound transfer from Mater Dei Catholic in Chula Vista took two unofficial visits to Eugene, but said Oregon's style of play was a major factor in his decision.
"I chose (Oregon) because it felt like an overall perfect fit for me on and off the court as well," Norris said. "I feel like I'm going to excel in the style of play and love the overall culture and atmosphere of the school."
Here's what Scout had to say about Norris' game:
"Norris is a talented power forward who still has a long way to go physically, but his broad shoulders give reason to believe that his currently slight frame will end up holding a lot of weight. He has a definite plus skill in his rebounding ability; he's terrific on both the offensive and defensive glass, especially given how much weight he currently gives up. He has a nice feel as a shot blocker and finishes around the basket."
Over the past two seasons, Oregon has seen a rise to national prominence, upending Duke to reach the Elite Eight before a Final Four run this year.
That success has translated to significant wins on the recruiting trail as well.
In the class of 2015, Dana Altman signed Tyler Dorsey, his first five-star recruit, and junior college national player of the year Chris Boucher, then followed it up by inking West Linn point guard Payton Pritchard, the four-time state champion and three-time state player of the year.
Emerging as a national power, Oregon took a step forward in the 2017 recruiting class, signing five-star point forward Troy Brown Jr., battling for five-star prospects like Cathedral Catholic's Brandon McCoy (UNLV)  and signing a trio of highly-rated four-star pledges in Abu Kigab, V.J. Bailey and Kenny Wooten Jr.
With Norris, Altman sends a strong message that the Ducks intend to be a national player on the college basketball scene for years to come.
Whether Norris winds up in the one-and-done category likely only depends on the physical development of the currently sleek and slender star.
Contributing to this report — Andrew Nemec
anemec@oregonian.com
@AndrewNemec