SENIOR DAY CELEBRATIONS
2017 EAST COUNTY PREP SOFTBALL
By Adam Paul
EastCountySports.com
The softball staff would like to congratulate the seniors on their hard work during the regular season and wish them well in the playoffs. Also would like to wish all the seniors best in their future endeavors whether it is playing softball at the next level or just going to school for their education.
Covering this group of seniors the last couple of years has been a lot of fun and I look forward to seeing what happens next.
To celebrate the seniors here are photos from each teams Senior Day celebrations.
El Capitan Vaqueros
SAVANNAH MINSHEW, ZANNDRA RAGOLE, GRACE BURKETT, MARIA LOTTA, AMANDA VASQUEZ, and HANNAH HARVEY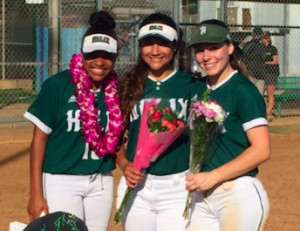 Helix Highlanders
EMILY COALE, GABRIELA OLIVARRIA and GIGI CROSS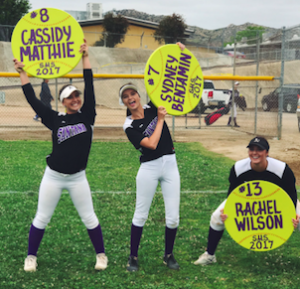 Santana Sultans
RACHEL WILSON, CASSIDY MATTHIE and SYDNEY BENJAMIN
Granite Hills Eagles
BRIELLE TYSELING, KAREN CREECH, CASSIDY SHEW, HALLE KYLER, and LAYLA MACK
West Hills Wolf Pack
ALEX GUAY, SIERRA SCHLICHTING, RYLEIGH DOBYNS, BROOKE SNYDER, and MELISSA CASTILLO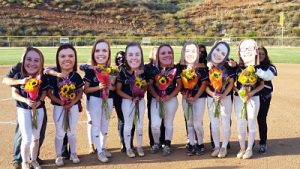 Steele Canyon Cougars
RACHAEL HAESSLY, GENTRY HOFFMAN, EMMA DODSON, MACKENSIE PEARLSTEIN, MAKAYLA STROMENGER, MAKAYLA MCCARTHY, SAMANTHA MILLER and MARIANNA MARTINEZ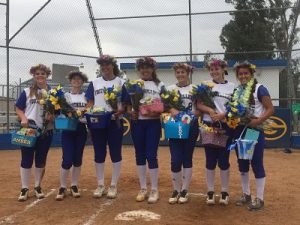 Grossmont Foothillers
CHLOE CAMARERO, TAYLOR BAEZ, CASSIDY DAVILA, MOANA PISIA, AMBER ALLMAN, DESTINY BACON, JESSICA WILSON, and ALEXIS COLLINS
Valhalla Norsemen
ALEXIS INGRASSIA, SARAH BOTTE and TORI BASSETTE
Christian Patriots
KATIE LEPETRI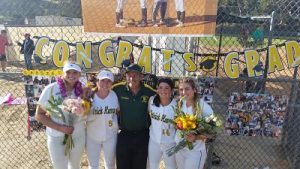 Patrick Henry Patriots
MADISON JAMES, CASSIE VAN TIL, CRISTIONA CACCAMISE, and HANNAH MCEWEN