Griffins club Vikings in regional opener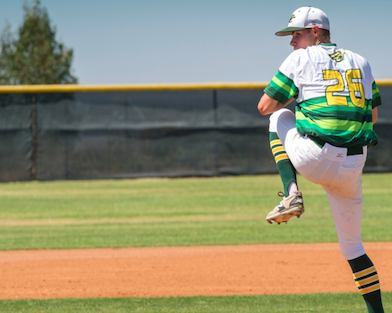 Shenefield
2017 GROSSMONT GRIFFINS BASEBALL
By Ramon Scott
EastCountySports.com 
EL CAJON – The Grossmont College Griffins hit three solo home runs over the first four innings en route to a 7-2 win over visiting Long Beach City College in the opening game of the 2017 CCCAA Southern Sectional Regional at Noel Mickelsen Field.
JALE SIM, MICHAEL DIFFLEY and CABOT VAN TIL all connected for long balls as Grossmont assumed control of the series. Game two is Saturday at 1 p.m. with a third game Sunday at noon, if necessary.
Grossmont (34-7-1) took a 1-0 lead on a single up the middle by NOAH STROHL, which scored DAVID MALDONADO.
In the second, Sim homered to right, then Diffley connected for one down the left field line.
In the fourth, Pacific Coast Athletic Conference MVP Cabot Van Til hit a home run to right for a 4-0 lead.
That would be sufficient support for El Camino Real's HAYDEN SHENEFIELD, who went the distance to improve to 7-0 this season. He allowed seven hits, two walks and struck out four.
Shenefield lowered his season ERA to 1.70, although he has made only six starts. He only made it to the Griffins rotation back on April 4.
A few early relief outings made it look as if his relief appearances gave him mixed results, but now he fills out a true championship-caliber rotation.
The Vikings put together their best scare in the fifth, scoring two runs on one play when a sacrifice and a throwing error cut the lead in half.
But the Griffins would answer with a pair in the sixth, as Van Til doubled to right, scoring ERIC DE LA ROSA. Maldonado singled to score Van Til.
Van Til raised his season average to an astonishing .450.
JUSTEN BURKEY added a RBI single in the eighth.
The Griffins are now 2-0-1 against Long Beach (30-15-1) this season.
In the other side of the SoCal bracket, Orange Coast defeated El Camino, 5-4, as the Pirates scored three in the bottom of the eighth.
Grossmont College President Dr. Nabil Abu-Ghazaleh threw out the ceremonial first pitch here Friday.
Long Beach vs Grossmont
@ El Cajon, Calif. | Noel Michelsen
5/19/2017 at 2:00 PM
| FINAL | 1 | 2 | 3 | 4 | 5 | 6 | 7 | 8 | 9 |  R |  H |  E |
| --- | --- | --- | --- | --- | --- | --- | --- | --- | --- | --- | --- | --- |
| Long Beach (30-15-1) | 0 | 0 | 0 | 0 | 2 | 0 | 0 | 0 | 0 |  2 |  7 |  1 |
| Grossmont (34-7-1) | 1 | 2 | 0 | 1 | 0 | 2 | 0 | 1 | X |  7 |  11 |  4 |
Long Beach

HITTERS
AB
R
H
RBI
BB
SO
LOB

Val Stammler

 cf
4
0
0
1
0
1
1

Antonio Monroy

 ss
3
0
0
0
1
0
1

Reese Berberet

 3b
4
0
0
0
0
0
3

Vincent Byrd II

 1b
4
0
2
0
0
0
0

Tyler Wilber

 2b
3
0
1
0
1
0
0

Jared Mayeda

 dh
3
0
0
0
0
0
2
   

Andrew Jaekel

 ph
1
0
0
0
0
0
0

Zach Martinez

 rf
4
0
0
0
0
2
1

Robert Barham

 c
4
1
1
0
0
1
0

Collin Perez

 lf
4
1
3
0
0
0
0

Jacob Gregg

 p
0
0
0
0
0
0
0
   

Jacob Zinger

 p
0
0
0
0
0
0
0
   

Jacob Alcorn

 p
0
0
0
0
0
0
0
Totals
34
2
7
1
2
4
8
BATTING
2B: Collin Perez 2
RBI: Val Stammler
Sac fly: Val Stammler
GIDP: Jared Mayeda; Andrew Jaekel
BASERUNNING
SB: Val Stammler; Robert Barham
FIELDING
E: Val Stammler
HITTERS
AB
R
H
RBI
BB
SO
LOB

David Maldonado

 cf
4
2
2
1
1
1
0

Reece Hernandez

 2b
3
0
1
0
1
0
0

Justen Burkey

 3b
5
0
1
1
0
1
3

Noah Strohl

 1b
5
0
2
1
0
1
2

Trevor Beard

 c
4
0
0
0
0
1
1

Jale Sim

 dh
2
1
1
1
2
0
1

Eric De la Rosa

 lf
4
1
1
0
0
1
2

Michael Diffley

 ss
4
1
1
1
0
0
0

Cabot Van Til

 rf
3
2
2
2
1
0
0

Hayden Shenefield

 p
0
0
0
0
0
0
0
Totals
34
7
11
7
5
5
9
BATTING
2B: Cabot Van Til
HR: Jale Sim; Michael Diffley; Cabot Van Til
RBI: David Maldonado; Justen Burkey; Noah Strohl; Jale Sim; Michael Diffley; Cabot Van Til 2
Sac: Reece Hernandez
BASERUNNING
SB: Noah Strohl
FIELDING
E: Noah Strohl; Michael Diffley 3
DP: Reece Hernandez 2; Justen Burkey; Noah Strohl 2
Long Beach

PITCHERS
IP
H
R
ER
BB
SO
HR

Jacob Gregg

 (L, 3-5)
4.0
5
4
4
3
2
3

Jacob Zinger

2.0
4
2
2
0
2
0

Jacob Alcorn

2.0
2
1
1
2
1
0
Totals
8.0
11
7
7
5
5
3
PITCHING
Batters Faced: Jacob Gregg 20; Jacob Zinger 10; Jacob Alcorn 10
PITCHERS
IP
H
R
ER
BB
SO
HR

Hayden Shenefield

 (W, 7-0)
9.0
7
2
1
2
4
0
Totals
9.0
7
2
1
2
4
0
PITCHING
Batters Faced: Hayden Shenefield 37