Carlsbad knocks out Henry in title tilt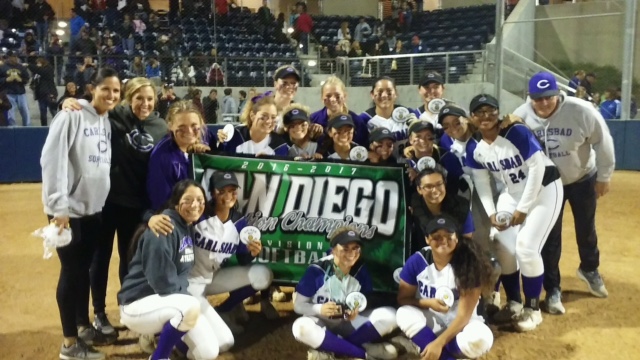 Carlsbad Lancers Celebrate CIF/Photo by Carlos Arias
2017 EAST COUNTY PREP SOFTBALL
By Adam Paul
CIF SAN DIEGO SECTION PLAYOFFS
UCSD
CIF DIVISION I CHAMPIONSHIP
#6 Carlsbad 5, #1 Patrick Henry 3: Lancers pull away late in back and forth affair to claim first Championship in three years.
The Patriots looked to rebound from last years loss in the championship game against Rancho Buena Vista and things looked good this time around as MADISON JAMES took the circle but in the first inning after getting the first two outs the Lancers would get back to back base hits which would lead to an early 1-0 lead.
Patrick Henry in the bottom of the third inning with one was able to get something going as HANNAH MCEWEN (1-3, R, 3B) walked, she stole second base, CASSIE VAN TIL (2-4, RBI) laced a single, and CC CACCAMISE (1-3, R, RBI) singled in McEwen to tie it at 1-1, ANDREA WRIGHT (2-4, RBI) would drive in Caccamise to give the Patriots a 2-1 lead.
The Patriots threatened in the bottom of the fourth inning as McEwen roped a fly ball that went all the way to the wall in which she would race around and end up at third base. Unfortunately she would be stranded to end the inning.
Carlsbad would get a runner on in the top of the fourth inning as Hannah Lutz singled but she would be stranded.
Another opportunity presented itself for the Patriots in the bottom of the fifth with one down, James walked with one out, MAGGIE ZIMMERLY came into run, Wright singled but both again would be stranded.
With the score still 2-1 and the game moving into the latter innings the Lancers knew they had to get something or they were going to run out of time. Leadoff hitter Deshea Hill laced a single, and Lutz took the James offering and absolutely crushed it deep over the center field fence which gave Carlsbad a 3-2 lead.
With the Patriots now trailing, heading to the sixth inning they knew their chances were running out. With one down, ARIANA RIOS (1-3, R) singled, and she would come into score on a two out knock by Van Til to tie the score 3-3.
However the Lancers finally got to James in the top of the seventh inning with a walk by Alana Snow, a single by Jordey Brown-Smith and a bases clearing ripped triple by Deshea Hill to make it 5-3.
Even though the Patriots would get a single by SAVANNAH CHAPMAN (2-4), unfortunately it was little too late as LAUREN NETT would hit a grounder to third for the final out of the game thus allowing the Lancers to capture the CIF Division I Championship.
For the Patriots, James took the loss going all 7 innings, giving up 5 runs on 9 hits, 1 walk and striking out 5.
After the game, Van Til was awarded the SPORTSMANSHIP AWARD by the CIF San Diego Section.