Masterful Monarchs back in title chase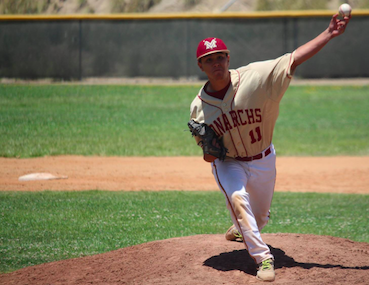 FRANCISCO GUTIERREZ delivers to Olympian on Saturday in Spring Valley.
2017 EAST COUNTY PREP BASEBALL PLAYOFFS
By Ramon Scott
EastCountySports.com
SPRING VALLEY – The Monte Vista Monarchs might be an underdog heading into next week's fourth round of the San Diego CIF Division IV playoffs, but after another outstanding pitching performance on Saturday, the Monarchs might as well be considered contenders.
FRANCISCO GUTIERREZ (2-3) fired a three-hit shutout, striking out five and walking none to lift Monte Vista past visiting Olympian, 5-0, in an elimination game on Saturday.
Monte Vista pitchers – including outstanding starters JUSTIN SCHWEIZER and IVAN PLAZOLA – have allowed just three runs in three tournament games.
And Monarchs senior ANDREW GONZALES wasn't going to leave his high school career behind without some noise.
Gonzales was 3-for-3 with run-scoring singles in each of the first two innings, helping his squad the 5-0 lead after just two frames. He has a team-high 29 RBI this season and is hitting .383.
He had a bloop single, which scored KRYSTEN CAMACHO, then a subsequent error allowed Gutierrez (single) to score.
In the second, he had a hard single to left, driving in senior JOSE ALVAREZ and Camacho (single).
Junior DIEGO SANDOVAL added a sacrifice fly in the first inning, which gave the Monarchs a three-run first.
Monte Vista (20-12) now must solve the Chula Vista Spartans, which notched the Monarchs and Plazola, 3-1, on Friday.
The Spartans' Antonio Garcia outdueled Plazola in that one. Now the Monarchs, facing elimination once again, head back to Chula Vista on Tuesday at 3:30.
The Monarchs last won a CIF title in 1998 under MARK SMELKO. Monte Vista's last appearance in the finals came in 2000.
Rnd 3 – Sat., May 27, 

2017


SDCIF Playoffs – Rnd 3


DIVISION III
MONARCHS 5, EAGLES 0




Olympian

       

ab r h bi Monte Vista

     

ab r h bi


Ridgels cf

      

3 0 1 0

  

Gutierrez p

      

4 1 2 0


Matagamba dh

    

2 0 0 0

  

KCamacho 2b

      

4 2 1 0


Peralta ss-dh

   

1 0 0 0

  

DGarcia ss

       

2 1 2 0


Spillane 1b

     

2 0 1 0

  

Gonzales 3b

      

3 0 3 3


Rio ss-1b

       

1 0 1 0

  

DSandoval c

      

2 0 1 1


Dorado 3b

       

3 0 0 0

  

Sanchez 1b

       

3 0 1 0


Contreras lf

    

3 0 0 0

  

Matanane 1b

      

0 0 0 0


Murphy c

        

2 0 0 0

  

Plazola cf

       

3 0 0 0


Munoz c

         

1 0 0 0

  

Gulley lf

        

3 0 1 0


Roberts ss

      

2 0 0 0

  

Alvarez rf

       

3 1 1 0


Vasquez ss

      

1 0 0 0


Lewis 2b

        

2 0 0 0


Zazueta rf

      

2 0 0 0


Jimenez ss-3b

   

- - - -


TOTALS

         

25 0 3 0

  

TOTALS

         

27 5 12 4


 


(5) Olympian

    

(18-14) 000 000 0 - 0 

 

3 1




(4) Monte Vista

 

(20-12) 320 000 x - 5 12 3



GWRBI-Gonzales.
E-Zazueta, DGarcia 2, Sanchez.
DP-Oly 1, MV 1.
LOB-Oly 4, MV 6.
SB-DGarcia, Gonzales. SF-DSandoval.

PITCHING SUMMARY
Olympian 

          

ip

  

h

  

r er bb so


 

Knupple

  

L

       

5.0 11 

 

5

  

5

  

1

  

0


 

Bradley

          

1.0

  

1

  

0

  

0

  

0

  

0


Monte Vista


 

Gutierrez W(2-3) 7.0

  

3

  

0

  

0

  

0

  

5