Stars' pitching is the cat's meow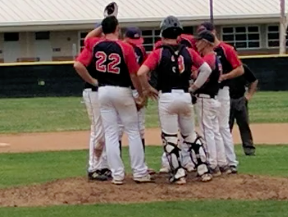 2017 SAN DIEGO STARS BASEBALL
By Nick Pellegrino
Special to East County SportsCHULA VISTA (6-14-2017) – Turn-of-the-century American cartoonist Tad Dorgan loved to play with linguistics, inserting many unique words, phrases and other expressions into his work, including his popular cartoon panels in Inside Sports magazine. Many of this verbiage from the 1920s are still utilized today.
One famous Dorgan line was "the cat's meow" regarding things that are outstanding.
Such is the case with the San Diego Stars pitching staff of late, proving there is "more than one way to skin a cat."
Following the recent effort by Dallas Seidel, who carried a no-hitter into the 8th inning over the weekend, some could argue that fellow starting pitcher Jeremiah Wylie did even better in the Stars comfortable 8-1 pasting of the San Diego Mavericks
on Tuesday
(June 13) at Olympian High.
Wylie, the former Helix High and San Jose State right-hander who now pitches for San Diego Christian College, dominated the Mavericks with 14 strikeouts in spinning a 6-hitter. The lone run was unearned.
"When I graduated from Helix, I was barely 17-years old," recalled Wylie. "I was an okay pitcher back then. But now I'm 20 and filled in."
At least one MLB scout, who was sitting with the media, seemed interested. Even though pro baseball's draft will conclude this week, many future prospects may remain in college, so there is a chance to sign as a free agent for not only Wylie, but several other members of the Stars.
"I've got three years' more experience since Helix, added Wylie. "I'm getting bigger, much stronger, and older and stronger.
His variety of pitches is also evolving.
"My fastball was my out-pitch today," he added. "But when catched-up to it, I was able to go to my curveball and curve to get batters out."
It's a switch from last summer with the Stars, when problems on the mound, hitting and defense led to one the few losing summers in the 37-year history of the program under owner/field manager Mickey Deutschman.
"It was shaky – even I had t to catch at times," Wylie added. "Now we have a complete staff. And getting a complete game today will help us get through the rest of the week."
The upcoming schedule finds a Wednesday home game against the undefeated San Diego (Poway) Crush at West Hills High, then a
Saturday 
doubleheader against defending Western Baseball Association.
Obviously, Deutschman is pleased with the club's sixth consecutive victory heading into some big showdowns over the balance of the week.
"The pitching has been great by five or six guys, not just one or two," the skipper noted. "And everyone is hitting the ball."
Against the Mavs, the offense came early and often.
Dallas Seidle became the fifth member of the Stars to homer. His shot to left in the 3rd inning opened the scoring. He finished 2-for-3 with a walk, a line out, so in his final at-bat, Seidel was hit by a pitch. He leads the Stars with a .433 batting average.
Thrd baseman Joey Krug batted 2-for-5 with a RBI.
Meanwhile, catcher Hank Gonzales, who has been hyped-up after being invited to Petco Park for a series of showcases with the San Diego Padres all week, posted another multi-hit contest, going 3-for-4 with a pair of doubles and two RBI.