Stowers powers Bells in grand style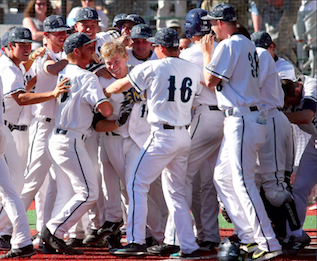 Kyle Stowers in mobbed by his Bellingham teammates following his walk-off grand slam home run.
2016 FOUR-YEAR COLLEGE BASEBALL STARS
.@KyleStowers hits a WALKOFF GRAND SLAM for BHAM! 🔔⚾️🔥 @espn @WCLBaseball @SportsCenter @StanfordBSB @paulsilvi #SCtop10 @Kenny_Mayne #bells pic.twitter.com/FiB6If66iq

— Bellingham Bells (@bhambells) July 3, 2017
BELLINGHAM, Wash. – For a young college baseball player still trying to establish his footing on the collegiate level, KYLE STOWERS is having a great summer playing ball in the pacific northwest.
Playing in the college-player only wood bat West Coast League all the way up the pacific coast in Bellingham, Wash., – Stowers has spent his summer looking to hone his craft in preparation for his upcoming sophomore year at Stanford University.
On Sunday, Stowers, who starred locally at Christian High, took the game into his own hands, with a walk-off grand slam to help the Bells claim a 5-3 win over the Walla Walla Sweets. The win helped the Bells to stave off elimination in the first half playoff race.
The win helped the Bells to stave off elimination in the first half playoff race.
With the bases loaded off of a pair of singles by Austin Pinorini and Austin Shenton and a walk from Max Flower, Stowers came up to the plate. He demolished a towering drive over the right field to the delight of the fans at Joe Martin Field.
Stowers has been playing extremely well in his time in Bellingham so far. The slam was his fourth home run already this year.
"I'm loving [playing in Bellingham], it's been the time of my life getting to focus on baseball, and having fun with a bunch of good guys," said the wavy-haired Stowers, who looks to be having fun in the sun despite the distance from Palo Alto and San Diego.
On Monday night, Stowers scored in the top of the 16th inning on a Colin Ridley single in a 12-10 win over Walla Walla.