Hawks' Fortini named GSAC's top '16-'17 SID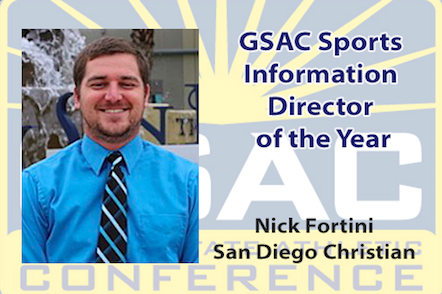 2017 EAST COUNTY ALUMNI
EastCountySports.com staff report

SANTEE (Tue, Aug. 8, 2017) – San Diego Christian College Sports Information Director NICK FORTINI was named Golden State Athletic Conference 2016-17 Sports Information Director of the Year, the circuit announced Tuesday.
Fortini, a former All-CIF San Diego Section second team soccer star from West Hills High, just completed his fourth year at San Diego Christian and is responsible for coordinating game management for all home events, maintaining statistics for all sports, producing and distributing media releases and managing the department's website (sdcchawks.com) along with its social media channels.
As an Assistant Athletic Director, Fortini also oversees apparel and uniform ordering, budgets for select sports, and handles all athletic event contracts.
"I feel honored and humbled being named the GSAC SID of the Year," Fortini said. "We have an unbelievable group of SID's in the conference who push me to be better each day. We all strive to enhance the coverage of our student-athletes by showcasing their hard work and dedication to their sport."
Fortini also served part of the 2016-17 school year at GSAC associate member, Lewis-Clark State College. He accepted the role of SID at Lewis-Clark in early January. A large part of Fortini's duties at Lewis-Clark were directed towards the NAIA Baseball World Series. He served as the Media Coordinator for the world series which hosts 10 of the top teams in the NAIA.
"(Fortini) takes great pride in his work and leads the Sports Information department with excellence and humility." San Diego Christian Athletic Director Carolyn Peters said.
Fortini also contributes his time at the conference level as well as the national level. He has served on the GSAC Player of the Week voting committee the last two years, served as the tournament director for the GSAC Baseball Tournament, and served on the NAIA National Player of the Week voting committee in multiple sports. He has also been an active member in the GSAC SID Business Development meetings.
Fortini's responsibilities also include writing all the press releases for San Diego Christian's 11 varsity intercollegiate sports. He also has active relationships with local media outlets and has produced online video broadcasts of home athletics events for volleyball, men's and women's soccer, men's and women's basketball, baseball, and softball. Some of his work has been featured in the San Diego Union Tribune and EastCountySports.com.
"Nick is a true warrior and handles every challenge he faces at SDC head on," Peters said. "This honor is well deserved. We are blessed to have Nick be a part of the SDC Athletic Department."