2017 EAST COUNTY PREP GIRLS GOLF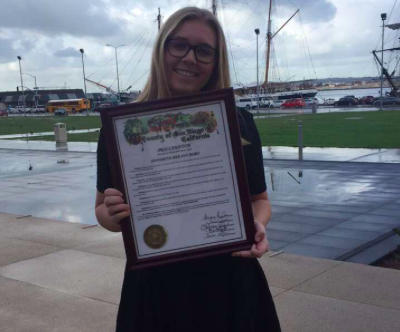 EL CAPITAN's BREANN HORN holds a declaration from the County of San Diego naming a day in her honor last January.
2017 EAST COUNTY PREP GIRLS GOLF
EastCountySports.com staff report
Tuesday, Sept. 5
Grossmont Hills League
Helix 267, Valhalla 278 at Sycuan Oak Glen (35). Med: J. Lau (H) 41.
El Capitan 254, Steele Canyon 293 at Sycuan Oak Glen (36). Med: Horn (EC) 40.
Tuesday, August 22, 2017
VALHALLA 260, GRANITE HILLS 303 – The Norsemen defeated the Eagles on the Ivanhoe course at Cottonwood Golf Course.
Natalie Huerta was the medalist with a score of 44 for Valhalla.
Ashlee Ksiazek and Lily Metsch each shot a 46 for the Norsemen, who take on Santana on Thursday August 24th at Sycuan Golf Club.
Thursday, August 17, 2017
WEST HILLS 272, GRANITE HILLS (H) 310 – West Hills jumps out to a 2-0 start, defeating Granite Hills.
Junior SIERRA STREIT was medalist posting a 41, having scored 7-pars for the round.
VICTORIA NEASE shot 52 and HALEY TRITTHART Haley Tritthart had a 55 for the Wolf Pack.
Wednesday, August 16, 2017
EL CAPITAN 251, GRANITE HILLS (score unavail.) – The Vaqueros' BREANN HORN started her senior campaign with an even-par 36 over the Sycuan Resort Oak course.
Senior SYDNEY GEORGE carded a 47 for the county third-ranked Vaqueros.
Tuesday, August 15, 2017
WEST HILLS (H) 284, GROSSMONT 324 – The Wolf Pack's SIERRA STREIT, runner-up in the Grossmont Valley League match play championship last year, was the medalist in the first match of the year.
Streit had four pars on the way to shooting a 44 as the Wolf Pack improved to 1-0. West Hills travels to face Granite Hills on Thursday.
HELIX (H) 261, SANTANA 305 – The Highlanders opened the season with a win over the Sultans behind sophomore JAMIE LAU's three-over 38 over the Mission Trails front nine (par 35).
Junior KRISTINA LAU shot a 43 for the Highlanders.